ADOPTION PENDING
Please read our dog bios carefully to be sure that the dog you are applying for suits your family and lifestyle. At Pound Dog Rescue, we believe in the benefits of post-adoption training for our dogs and their families. This allows for continued socialization, and learning and helps to create a well-mannered and balanced dog. Post-adoption training is a requirement in our adoption process.
Do you need a dog that will snuggle with you all day and enjoys long walks?  Then you need Sabirah. This affectionate 2-year-old Shih Tzu loves to cuddle. Her favourite thing is to cuddle, preferring to flop gently over the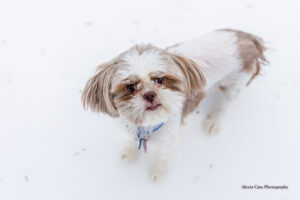 top of a willing lap. The name Sabirah (Saa-BIH-R-aa) is Arabic and means "of great patience".
Sabirah is crate trained and sleeps wonderfully through the night. At the first sign of noise or an alarm clock, she too will alarm out of excitement to see you. 6:30 am is her preferred wake-up time. When jumping out of the kennel into the arms of her foster parents, her little tail wags and spins like an excited propeller. Perhaps she is attempting to fly, but given her past extreme confinement, she is really happy to be out with a caring human. We then race outside to spin excited circles in the yard, and we're really happy when our Shih Tzu friend is there to run with us. Going outside to pee first thing in the morning is so much fun!
Sabirah is okay in the car and so far only travels in her crate. At a minimum she should always be seat belted in as her desire to flop on the driver would be dangerous for travel. She does make a bit of noise in the car, but that is mostly just nerves. We believe that with more time, she will be a fine car traveller. She usually calms down after a few minutes of soothing from her human companion.
Don't let her small size keep your walks too short. She loves a good 3 km walk every morning with a very happy trot. Sometimes her exuberance will trip the walker, but it's just because she's so excited to be outside for a walk. Winter is much harder on her though, yet cold weather can be dealt with as she loves clothing! Full-length sweaters with hoods are great when going outside in the cold. We would encourage the use of boots in time as they will probably help her greatly in the winter. Sabirah struggled to maintain her body temperature during the immediate recovery from her Spay surgery. It's unknown if this will happen again if she needs to have another surgery, but it's important information to have before. Her love of clothing has helped her recover further. If it is still too cold to go outside, you may need to keep her busy in the house. She does seem interested in small balls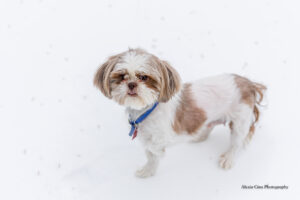 that are her size.
Sabirah would enjoy being on her own, or with another dog that is her size. Larger dogs are quite scary to her, but she seems to enjoy the company of dogs that are the same size. Snuggles can be achieved with other like-minded dogs. We are unsure of how she would be with a cat as she has never met one.
Sabirah is still a little nervous in the house. Her foster home is quite busy with two teenagers and three other dogs. As such, she spends much of her time monitoring the situation from a footstool under a desk. This stool is beside the heat vent too, and she really likes that. Sabirah does not like being cold, so being wrapped up with a human and a blanket, or a gentle heater is wonderful. An adult only home would be her wish.
We do not recommend her for an apartment or other joined housing, while she is small in size, she has a significant howling alarm system whenever anything unknown happens outside, or at the door. She takes great pride in the fact that she can indeed howl. This behaviour will need some attention once she has a chance to settle into her new family home. She will need to learn when it is appropriate and for how long.
Sabirah loves attention and will celebrate every time her favourite humans enter the room.  And, by celebrate, we mean spin in tight, fast, excited circles.   Spinning is how Sabirah expresses her joy and excitement.   As she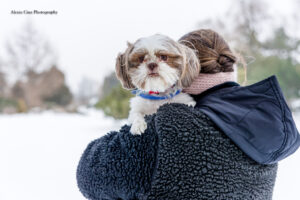 becomes familiar with her family and her daily routine, the spinning will reduce but they will never stop.
She can manage to go upstairs quite well, but she is still learning the downstairs process. Be careful not to carry her everywhere or you will end up with a warm sack of potatoes as opposed to a dog. She must be given the confidence to do her own tasks.  She has a long body and has not found the coordination to get down a full flight of stairs, she is currently working on just two or three steps down.  With enough support, patience, and practice, Sabirah can conquer any challenge.