ADOPTION PENDING
Please read our dog bios carefully to be sure that the dog you are applying for suits your family and lifestyle. At Pound Dog Rescue, we believe in the benefits of post-adoption training for our dogs and their families. This allows for continued socialization, and learning and helps to create a well-mannered and balanced dog. Post-adoption training is a requirement in our adoption process.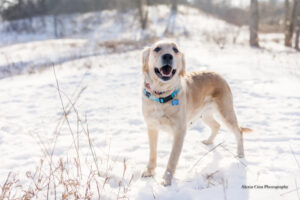 Hello everyone! I'm pleased to introduce you to Rose, this sweet girl is a 4 year old Golden Retriever who is ready to steal your heart. Rose is quite petite for a golden retriever weighing in at around 50 pounds and her hair is not as thick and fluffy as you might expect. It's quite smooth and soft, with some light feathering around her chest and arms. We are noticing her tail is starting to fluff out a bit more with a healthy diet and we imagine her coat will continue to come in as she continues with a healthy diet, walks and love.
Upon her arrival in foster care, Rose was a very scared dog and would have her tail tucked between her legs, unsure of everything around her. Seeing as her first 4 years of her life she was used for breeding purposes; she has never known the life of a family pet and has been working hard on building trust with the people and world around her. With some time and patience, Rose has really come out of her shell and has a huge desire for physical attention now. She has such a sweet little face and will nuzzle her way through your arms and hands begging for pets if you are sitting on the couch, she absolutely loves head pats, more than any dog we've ever come across.
Since Rose loves physical attention, she also has grown to enjoy being brushed and if we are brushing her foster brothers she wants in on the action. This is a great thing since she is a golden retriever, she does have a double coat and is prone to shedding (especially during those dreaded shedding seasons!). She will require regular baths and brushing to maintain her beautiful coat. When she first arrived in foster care, she had spots of hair missing and some scabbing but with a few gentle baths, regular brushing and good nutrition, her coat is starting to look more typical of a golden retriever. She is very motivated by head pats – so as long as you are praising her during these grooming sessions she will be a happy girl.
As Rose has started to feel safe in our home, her personality has really started to shine. She loves stuffy toys and thrasher-type toys, she will go grab her favourites and bring them to bed to cuddle with – she LOVES big dog beds and takes up all the space she can. Rose also enjoys playing with her two foster brothers and being part of the pack. A home with another dog would be great for her as she loves to follow their lead and learns a lot from watching them, she would do well with a dog that is not too high energy as she is generally calm. But with saying that, Rose finds her energy bursts in the morning and wants to party (her foster brothers don't quite agree with this approach), but she really has a zest for life, and it's been so rewarding seeing her flourish and learn how to be a dog. At the same time, Rose can be quite startled by loud noises or sudden movements but that is getting better as each week passes and she explores city life more. That brings me to the next point Rose is still living with the trauma that she suffered while being a puppy mill mama and can be insecure in the home at times, especially with certain doors and stairs still being a work in progress (we are in a bungalow with one set of hardwood stairs that are not her favourite). It's going to be important that her forever family demonstrates patience with her as she continues to grow and move through these obstacles that she has in her mind so she can trust you and the home she is living in. During her time with us, she has gained a lot of confidence outside of her confined crate space and she loves to sleep on dog beds while we work from home. She will start to whine which can escalate to barking and scratching in the crate when she is crated, but she will settle down after a while. Rose will go in the crate but sometimes requires a bit more encouragement as she does not enjoy it, so her forever family will need to continue working with her on that. Although it is important that Rose learns she doesn't need to be always attached to her people, she would not enjoy a home where her people are gone for a full workday or most of the day. Someone home more than away will be best for her.
Rose is coming to learn that the outside world is not as overwhelming as she once thought it was when she initially joined us. She wouldn't leave the front porch for the first while and we could only go for approximately 5–10-minute walks before she got spooked or overwhelmed and tried to pull her way back home, or just stand still and freeze. She had very limited leash experience prior to foster care and would just thrash and flail at the end of the leash. Rose has since made huge progress with walking on a leash and is learning how to properly follow her handler. She is being walked on a martingale for safety as she is a flight risk and needs to be safe while walking with no risk of slipping out of her lead. Rose does not take treats on her walks which can make it a bit tricky for training, but she does respond well to praise and head pats and that has been working well when training her to walk alongside you rather than into you. She likes to aim for your legs and bounces into them repeatedly while walking, so she needs to continue with training on her leash to gain confidence on how to properly do this and walk in a straight line. Rose is continuing to enjoy longer walks, slowly adding small increments of time onto them as her confidence grows. Loud cars can be startling to her, but once they pass she shakes it off and as more continue to pass she gets conditioned and they bother her less and she is easily redirected to focus back on the walk. Continued exposure to these things will just help this sweet girl gain more confidence. She will need though a quieter home environment in a small town, rural area, or quiet subdivision.  City living or on main roads will be far to much for her.  When it comes to car rides, she won't jump in on her own and needs some help but she remains calm the entire drive. Then when it's time to get out of the car, she wants to jump out so it is important that she is safely secured in the vehicle to remove the risk of her escaping.
In terms of other animals, Rose is currently being fostered with two large-sized dogs and 1 cat. She gets along famously with all the animals and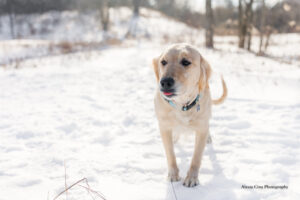 is super keen on getting to know the cat (he is very dog-savvy). In the evenings when we are relaxing watching tv, you will find all three dogs and the cat snoozing together, it's quite the pack and she loves to be a part of it. Rose has demonstrated a couple of instances of resource guarding with other animals if she is particularly fond of a toy, but then on other occasions brings out the toys to share. Animals that she lives with should be respectful of her clear communication, but otherwise, she is not bothered by other animals in her space and can be found sleeping next to her brothers on the dog beds. She has not demonstrated any resource guarding of toys, food or beds with people. She would do well in a home as a solo dog or with other respectful dogs, and she can also live with cats.
Rose is very food motivated and finishes all of her meals like a typical golden retriever, no issues with appetite over here! She is fed twice a day alongside her foster brothers and very quickly picked up on the feeding times and routine. The moment we grab the bowls she is wagging her little bum and smacking her tail around waiting for that food to hit the bowl. She also does this thing where she walks backwards while we are coming towards her with the bowl, there is just so much eagerness and excitement to the ritual of feeding that it's become fun for us now seeing her get so excited. She isn't a fan of people walking past her while she eats, so we are working on that by doing things around her while she is eating and she is getting better at just continuing to eat even if there are things happening around her. You have to just remember that so many things are still very new to her, like grinding coffee beans and making a smoothie, those used to be sounds that would make her jumpy but as she has heard them more and more living with us it becomes less of a big deal and she can eat with that going on around her.  Because she is still adjusting to all things house dog, we are looking for a calm and quiet, adult only home for her or one with older teens.  She just won't enjoy the noise and activity that comes from a home with children.
In regards to her activity level and her daily routine, she is happy with her efficient daily walks to gather and learn the typical sights and sounds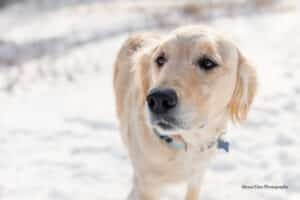 of living in the city, as mentioned above we are working on increasing the time on her walks but that is a work in progress as she learns her leash etiquette. Rose only had a couple of accidents in the house while she was learning, but since then she has been fully housebroken and does all her business outside. She will usually start circling or go to the back door to let you know that she needs to go.
Roses forever family will need to understand the patience and work that it will take to help rehabilitate her and incorporate her into their family. It will not be overnight but rather it will take some time, patience and care. With all of that being said, Rose has made tremendous progress while we've had her and we know that in her forever family it won't take long for her to settle and enjoy her new life.
This sweet girl is just waiting for her forever family to take her in and make her feel safe and loved for the rest of her life. Rose has really started to shine over the last few weeks and has become such a fun spunky dog, she is going to light up someone's life and that's all she wants to do for you. Her forever family is going to be so incredibly lucky to have her in their lives, she just wants to love you for the rest of hers. If Rose sounds like the right dog for you, please apply!