AVAILABLE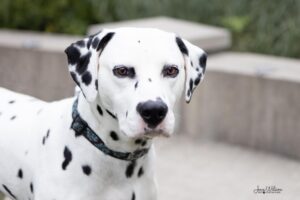 Meet Apollo – a silly sweetheart of a Dalmatian with a whole lot of love to give & a big bright future ahead of him.
Apollo is an approximately 4 year old Dalmatian. Weighing in at 75 lbs, his size matches his big heart and his big appetite. Apollo is a puppy mill survivor and has adapted beautifully to pet life, finding every comfy corner of the house. He especially adores his crate, which is his safe space to relax, retreat, unwind, and best of all – eat! Apollo is happy to spend most of the day snoozing in his crate and has been comfortable alone for up to 6 hours during the day. He sleeps through the night in his crate, although he'd also love an opportunity to impress you with his snuggling skills in a big, soft bed too.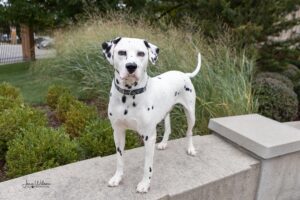 While he does loves his treats, his most favourite activity is accepting love and going for exploratory walks. No amount of pets or snuggles will ever be too much for this sweet boy. He adores affection and is a total sucky love bug! He returns his affection by leaning his head or full bodyweight into you as he gets his loving touches. The most direct route to winning Apollo's heart is most definitely through regular walks! When his leash hooks on and his paws hit the pavement, Apollo blossoms into his full, confident self. He takes in all of the smells & sights, bounces from side to side of the path while looking back for your affirmation, and stops occasionally to see if you have any treats for him. He appears to carry an unlimited amount of pee for marking along the way and prefers to perform his daily constitution while on his walks and rarely does his business in the yard at home.
Apollo will let you know he's ready for a walk by vocalizing his excitement with little grumbles, yips, and sneezes. He will thrive and remain very content with at least two 30-minute walks each day. He'd even love a jogging partner who likes to pack on the kilometres! Apollo has a big heart & big energy to match, so he'd love to keep up with you on all your adventures. As much as he enjoys being on the go, he also LOVES sniff walks where he can take ample time to take in all the smells of the neighborhood, trail, or city. Dalmatians are high energy dogs who need physical exercise every day to be happy, but he'd be okay with a moderately active home so if you're at least a daily walker looking for a companion on your hikes, read on!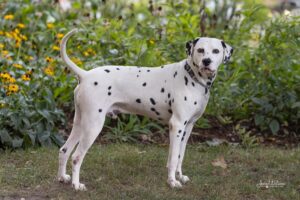 When Apollo isn't on a walk, his joyful presence in the yard is simply heartwarming. He springs around with the vigorous energy of salt & pepper shakers, showing off his desire to romp and play. He adores playing fetch and keep away, yet he does need to be reminded from time to time that clothes are not toys. He is very responsive to correction & redirection. This occasional playful mouthing happens outside & inside the house, but he's starting to figure out which toys are acceptable and which things are off limits.
When he is bored, Apollo is often inclined to grab a shoe, small electronics, or clothes to get your attention, but he's never destroyed anything that's not a toy. If he has something off limits, he very obediently drops them when reminded they are not for playing. Apollo is a sweet, curious pup who will always be interested in investigating his surroundings. He is also experiencing a lot of things for the first time, including playing with toys. With love and patience, he will continue on his learning journey and discover the ranges of his playful heart.
Apollo also has a fairly high prey drive, chasing small animals in the yard and while on walks. He will need a person who is willing to keep up with him and has no small animals, cats, or small dogs. He also requires his people to be able to manage a 75lb dog on a walk should a squirrel run by and spark his desire to chase.  Otherwise he is quite good on his walks and is great on leash!
Apollo has a bunch of other endearing quirks that are unique to him. For example, when he hops onto the bed, rather than walking from spot to spot, he crawls around on his belly like a seal while looking as cute as possible to convince you he needs more attention. He also runs out joyfully into the yard every morning with a big spring in his step and immediately starts chewing on the tall grass with a happy little sparkle in his eye. When he prances through the yard, it almost is like he's a bucking horse with how bouncy he is! He also likes to stick very close to his people, often leaning his head & shoulders fully against you even as you walk. This means Apollo will keep you on your toes as you anticipate his movements! He does not have issues telling you how he feels, often grumbling or squeaking talkatively depending on his mood. He also will try to stop and say hello to every person he sees on his walks, winning over the hearts of everyone in the neighborhood and on the trails.
As much as Apollo has blossomed in his foster home, he is still working on some things too. Apollo was a little fearful of some people when he first came into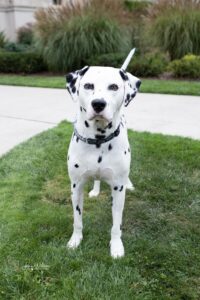 foster care while highly favoring others. Apollo's adoptive family will have to commit to building a strong, balanced relationship with him that he knows he can trust completely. Once you gain his trust, he will be a fiercely loyal companion ready to go on all the adventures life has to offer. Apollo has also shown occasional resource guarding behaviors, trying to protect his favorite people and comfy spots. These resource guarding behaviors have decreased in frequency and are now very rare, but he needs a family who will continue to be patient with him and work through these rare tough moments. Whatever new adventures life presents, Apollo will be able to conquer them and will maximize his confident, goofball potential with the right loving family to support him.
Apollo's ideal home would with an active family who are experienced with larger breeds. It will be very important for him to have a secure, fully-fenced backyard. He will need to be the only dog in his household. Apollo is not very spatially aware and often crashes into his foster parents as he races carefree through the yard. When he's with his pack, he tends to stay glued to your hip and finds himself underfoot quite often, so he would not be suitable for a family with young children (under about 12 years of age) or folks who are less stable & not quick on their feet. Lastly, PDR requires that all adopted dogs complete at minimum Level 1 obedience training with their new family, which will hugely benefit Apollo as he is smart and eager to please his loved ones.
Overall, Apollo is a beautiful dog with a joyful, goofy soul who deserves to live the rest of his years in comfort. Earning Apollo's deep love will be a special treasure for whoever welcomes him into their home. "I know I'm super handsome, but I'm so much more than that! I have a big personality, a big brain, and an even bigger heart. I'm looking for the right family to bring me along on all of their adventures in life. I can't wait to meet them soon!"