AVAILABLE
Please read our dog bios carefully to be sure that the dog you are applying for suits your family and lifestyle. We at PDR believe in the benefits of post-adoption training for our dogs and their families. This allows for continued socialization, learning and helps to create a well-mannered and balanced dog. Post-adoption training is a requirement in our adoption process.
Before I get into his bio details, I need to impress upon everyone that we are looking for a VERY specific home for Barry. Please read his bio in detail if interested in him.  Barry's forever home will need experience with fearful dogs, have the patience and right environment for a dog who might take years to truly come out of his shell.  Barry is gorgeous, no doubt about it. You might look at his face and feel compelled to help, but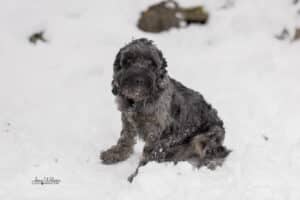 please be honest if he is the right dog for you. If you cannot imagine owning a dog who flinches when touched, runs and hides from you when approached, and does not want to spend cuddle time with you yet, then Barry is not the dog for you. And that is totally fine! Barry is safe and loved by his foster mom, we will take the time needed to find the right home for this sweet but very sensitive and fearful boy.
Barry was brought into our rescue after spending his first years in a puppy mill. He is a 2-year-old male Cocker Spaniel x Poodle with a gorgeous blue merle coat. Fortunately for Barry, he didn't produce the colour of puppies that the mill wanted so he was released into rescue. This was a blessing for Barry as he is a very sensitive and sweet boy and the lack of socialization, exercise, affection and positive attention was very difficult for him. He is very soft souled and tender hearted and the mill environment really crushed his spirit. The good news is life is only getting better for Barry from here on in and he is slowly moving forward at his pace. He is so capable and resilient; I just know that the right person is going to see a different dog emerge in the next few years. In his time with me Barry has made a lot of progress in some key areas even if he isn't fully confident about them yet. This will give you a good idea of what living with Barry is like and what he needs help to continue to evolve with.
First, let's talk about Barry in his home environment. He is crate trained and actually finds his crate to be one of his safety zones he escapes to when afraid. That being said, he is choosing to be out of his crate for most of the day now, parking himself in a corner of the room near me while I work from home during the day. Of all the places he could hide, he still chooses the corner closest to me, a corner that is completely open with nowhere to hide. This shows that although he is still insecure about a lot of human interaction, he wants to be near me and not alone. This might seem like a small thing, but for Barry this is a huge step. He can be found cuddling with the other dogs in the home, but it is rarely if ever based on him initiating it. He is a very submissive dog and it would appear he hasn't built up a lot of confidence yet where other dogs are concerned. For this reason and others, he could live with another very kind, quiet and gentle dog, but he would also be ok without it. He would not be able to handle living with an energetic, in your face or loud dog, he finds that way too overwhelming to be able to relax in their presence. Barry is also not comfortable with the busyness of children or louder people, so he will be best suited to an adult only, laid back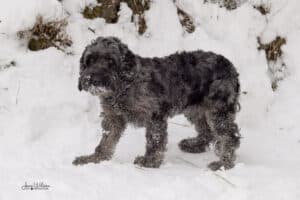 home. He still gets startled by me after 4 months if I stand up quickly or come into the room when he wasn't expecting it and will either retreat to his crate initially or back to the corner near my working space. I suspect he could live with a kind cat as he has shown no prey drive at this time and is more apt to run and hide if one were to tell him off. Barry sleeps quietly in his crate overnight but is an early riser. You can be sure he will have to go out for his morning bathroom excursion around 6am and he sticks pretty closely to this timeline. If you don't let him out, unfortunately he will end up having an accident in his crate. This is likely a throwback to the timelines at the mill and it is very much part of the functioning of his bodily routines. That being said once he goes outside, he is fine to go back to sleep for awhile. This schedule could evolve over time, but his future adopter should know that being up between 6 and 6:30 am is pretty much a given, the closer to 6 the better. Barry eats well, is not picky about his food and is now on a top-quality diet, but he is a little shy to eat around people. He prefers to eat in his crate without prying eyes and in the beginning would only eat his meals at night time when everyone went to sleep or during the day if I left the house. Although he will eat outside of his crate now right near me, it should be expected that this behavior will revert back as he transitions in his new home with his new family. Barry has no concept of playing with toys or with his person but he is beginning to show interest in toys when they are in his space; playing with his person is not anywhere on his radar at the moment, it's too much for this shy guy. Barry is very quiet and only recently started barking with excitement when I return home. Barry will need a quiet suburban or rural home and would love a secure yard to spend time in with his people when the nicer whether gets here. If you love gardening, I can see him happily lounging near you while you work away.
Outside of the home, Barry's confidence is really beginning to grow when it comes to his daily walks or car rides. He still carries himself a little lower to the ground, but his body is relaxing and he actually keeps up a good pace with you. He is a fabulous walking buddy, ignoring other dogs and most people and happy to just truck along beside you. He prefers rural areas and LOVES trails and green spaces. Walking down a busy urban street will be way too much for him at this time. He is a flight risk as his instinct is to run if he gets startled, so he must be walked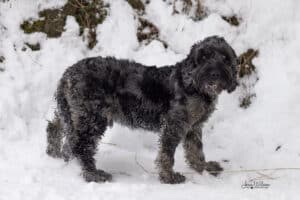 on a martingale safety collar to prevent him from slipping a harness or other collar and taking off. If he gets free, he is not trusting enough to come back to people and he is not street smart enough to dodge unsafe situations. He can not ever be off leash outside of a fully secured space. He rather enjoys riding in the car and watching the world go by and is much happier to sit in the passenger seat beside you, buckled in for safety. He even understands what Starbucks is now and gets excited to get his Puppucino! Barry will often sniff at people after they walk by but don't expect him to be ready to meet a lot of strangers out on walks yet. That will come in time and people ALWAYS want to pet him because he is so handsome, but you have to allow him to have his space and only experience quiet and calm introductions right now. He has not shown one ounce of aggressive behaviour, he would rather hide than be in an uncomfortable situation. 
Barry has so much potential and with the right person/family, he is going to be such a gentle and devoted family member. He is a very special dog that has had a rough start, but has a true desire to move forward in his life. He just needs his future family to understand that although he is an adult dog, he knows nothing of the world outside of a barn and he has truly lacked kindness from people. It is going to take time to build that trusting relationship with him, but he is worth ever minute of patience and compassion you send his way. The name of the game with Barry is confident but kind leadership, to always push him just a little further after each milestone so that he knows good things wait for him on the other side of his fear. If you think you have the heart, the experience, the patience and time to give our sweet boy the companionship and the understanding, safe home he deserves, please drop us a line. I'd love to chat with you about him.