ADOPTION PENDING
Please read our dog bios carefully to be sure that the dog you are applying for suits your family and lifestyle. At Pound Dog Rescue, we believe in the benefits of post-adoption training for our dogs and their families. This allows for continued socialization, and learning and helps to create a well-mannered and balanced dog. Post-adoption training is a requirement in our adoption process.
Calling all miniature schnauzer lovers!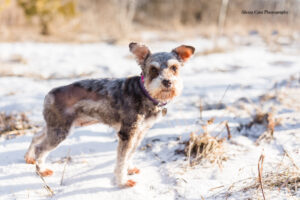 This beautiful girl is Vada and she is 5 years old. She is a solid little dog, weighing approximately 11lbs. She has a soft salt and pepper coat with the wiggliest nub of a tail and expressive, natural ears. It only takes a few minutes staring into those brown eyes to fall madly in love with her. From the moment I met her she exuded confidence and independence so I chose a German name meaning born leader – Vada.
Vada, or V, spent her first years as a breeding dog in a puppy mill but that is all behind her now and she is ready to take on the world. She is a curious, intelligent girl who chose to trust me from day one. She has not shown a lot of fear about most household things, adapting to many of the creature comforts of a home very quickly. She can shut down a little bit under stress but with encouragement she can bounce back quickly. She needs a dedicated family who can see her the rest of her way to a loving family member, ready to participate in every aspect of their life. Vada has shown herself to be a typical schnauzer is every way – she is spirited and playful, brave but not aggressive, bright and friendly. She has a bit of that schnauzer stubborn streak that lovers of the breed will find as endearing as I do, understanding that it is perfectly manageable with experience, training and consistency. She's a sweet little clown who has been so much fun to have in my home.
Vada would be suitable for most home types with a few things to keep in mind. Vada has struggled a bit with separation anxiety and during those times she can be vocal. This will not be a surprise to those familiar with her breed. As such she needs a home where this kind of noise will not pose a problem for her family or their neighbors. Aside from these moments she has not shown herself to be a very loud or vocal girl but the breed can be known to bark. She has no mobility issues so home layout and stairs will not be a problem for her and she would love a yard but as long as there is easy access to a place to do her business she will be fine. She is not a dog who requires hours of exercise to be content but she is still an athletic dog with a lot of energy so she would love her new family to be up for a few healthy walks a day and lots of play. She walks quite well on the leash but she is still learning to pay appropriate attention to her handler – there is a whole new world out there that is just too exciting! She can be startled by loud noises when we're walking, such as big trucks, but she can power through with encouragement. Her new family will need to be dedicated to taking her to training classes, ready to put in the work needed to train this strong willed girl. Vada is intense and head strong but an experienced handler will find her cooperative if you set clear boundaries. She is not difficult in any way, she just needs a family who is familiar with the breed (or similar breeds), who is not thrown by her strong personality and determination. And her strength – she is surprisingly strong for such a compact girl!
Vada is an expert level cuddler. Cuddles with Vada often include hugs that you have to see to understand. And there is no amount of love or attention that will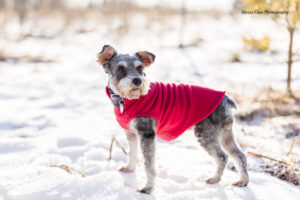 ever be enough for her so she has learned that sometimes she just has to relax BESIDE me on the couch and not ON TOP of me. Vada loves all things soft and cozy now – blankets, dog beds, sweaters – but especially the couch. She has a special request for a family that loves dogs on their couches and wants me to remind everyone that she has a low shed coat if that helps. Vada's wiggly nub of a tail as she greets me when I get home is all that's needed to turn a grey day sunny. She is full of love and excitement and can't WAIT to find her new family. And she is ready to be a walking or hiking partner, a camping cohort, a party thrower – whatever adventure you are up for Vada will be a happy participant. She loves to be with me wherever I am in the house, patiently waiting for her opportunity for more affection, listening intently as I describe the events of my day to her. She is a top-notch companion who believes it is her business to be up in your business!
When V came into rescue her coat was in a terrible state, full of mats and showing bald spots. Thankfully she met a lovely groomer who cleaned her up and revealed her inner beauty queen. After her groom we could see the extent of the balding on her back end which will likely be because of the poor diet provided in her former life. Something in that food made her itchy and as she rubbed herself on the walls of her enclosure she lost the fur. As she has now spent the last month+ on a high-quality diet I have started to see some new growth in those bald spots. These spots can still be itchy for her so I have also been giving her medicated oatmeal baths at home to help soothe the skin. As this regrowth could take quite some time her new family must be dedicated to helping Vada however she needs, including her regular grooming as required for her coat type and anything else she needs to feel some relief on her bald patches. She is an incredibly cooperative participant in a home bath so the task is simple. She is also easy to brush and handle in any way. She just wants love and to make her person happy. This also means that her new family must understand the importance of a high-quality diet for this sweet girl as we don't want to see her suffer any more.
Vada has been slow to grasp house training and I would consider this still a work in progress but I hope we've rounded a corner. When she came to rescue she would not stop to fully empty her bladder, instead just 'marking' here and there and everywhere. As she heals from her spay and is freed from those breeding hormones she is trending more to emptying her bladder at a single go. She has not marked in the house in weeks. She is also making most of her bowel movements outside although occasionally this will still happen in her crate. A family who was home more often than not would go a long way to bridging this final gap to housebreaking, but this is not mandatory. Her new family needs to understand that she could experience a setback in these housebreaking habits when she moves in but with consistency and positive reinforcement these are hurdles she can and will overcome. 
Vada is crate trained and is in the crate when I am out of the house or I cannot be in the room to monitor her. It was a big adjustment for her but she is happy to go in now for a treat and settles well. Right now she spends about 5 hours at a time in the crate as I come home from work on lunch to let everyone out. She would love company throughout the day with a family who was home more often than not but she can maintain this schedule if required. She eats her meals in her crate and does so happily and immediately. Her crate is in the living room so even when she has to be in there she is never far from the activity of the house. She is fine to be in there but she is not a dog who decides to go relax in her crate on her own – she would much prefer a lap or a couch! She is all about her people. Vada has also had a few car trips and although she is visibly nervous she settles and lays down. More exposure with positive destinations and this girl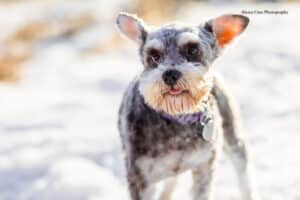 will be jumping into the car on her own.
Vada is being fostered with 3 other dogs without issue. As I stated before she can be intense in her desire for attention or play and that intensity is a bit much for her more timid foster siblings but she has never posed a threat to them. They avoid her exuberance and she is fine with that. Because of this I think she would be fine with a male dog sibling but it has to be a dog who can match her energy and handle her rougher style of play. Nothing out of the ordinary for a schnauzer, just not appropriate for her elderly or timid foster siblings. She would also like to be the only female dog in the home as she is a diva.  As she wants every drop of attention and affection that is being offered she would also be perfectly fine as the only dog in the home. She has shown herself to have a strong prey drive which is no surprise. Any bird, squirrel, or rabbit that we see on our walks is met with an immediate attempt to pursue so she should not be housed with any small animals. She has never met a cat but I suspect that she would give chase. I can't say what else would happen so any cats in the home need to be dog-savvy cats with a place to go to escape from her while she learns how to handle them.
Vada has met some older children in her time with me and she would give them 10/10, two paws up! She LOVED them and all of the attention that they gave her. They were kind and affectionate to her and they were coached that if she was crowding them too much that she could be redirected and she took it like a champ. V would be fine in a family with children as long as they were gentle and taught how to handle her. She can be excitable so small children will not be a match but children over 8 would be fine.
Vada is a smart girl who will excel in training. She is still learning her name but will come to me in the house when I call her and she goes into her crate when asked. Everything else is still to be learned but I am confident in her abilities.
V was spayed when she came into rescue and everything went as it should. She had some gastritis during her recovery but she is back to her normal self. She had a dental checkup at the same time and they found her teeth to be in great shape for her age so no action was taken. Her ears were a bit irritated so we treated ear infections and they no longer bother her. Aside from the bald spots I described earlier she is a normal, healthy dog with an athletic body and a sharp mind!
Vada is so happy with the start of her new life and can't even remember the old one. She's looking for a family who wants a dog to be a part of every aspect of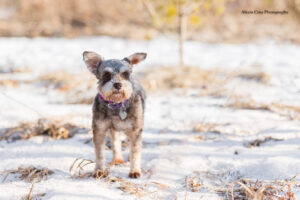 their lives. She wants adventure and exercise and couch cuddles. She loves big and she loves hard and she deserves to get all that love back in return. She's looking for someone who has experience with her breed or similar, who can help her shine through training and exposure to everything the world has to offer her. She needs a patient home who understands that although she has entered this new world with all the bravery she could muster, sometimes it's a little loud and overwhelming. She needs to be loved unconditionally for the rest of her life. In return she'll show you happy, goofy, love for the rest of her days and your life will be better for it. I'll miss this sweet, cuddly girl but I'm so excited to meet her forever family – could it be you?