ADOPTED
Please read our dog bios carefully to be sure that the dog you are applying for suits your family and lifestyle. At Pound Dog Rescue, we believe in the benefits of post-adoption training for our dogs and their families. This allows for continued socialization, and learning and helps to create a well-mannered and balanced dog. Post-adoption training is a requirement in our adoption process.
Meet Bessie: Your Perfect Companion for Cozy Moments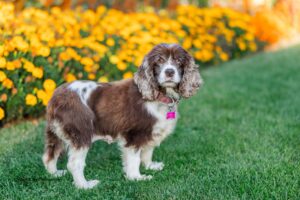 Are you searching for a furry friend to add warmth and love to your life? Look no further than Bessie, the sweetest 6-year-old Cocker Spaniel you'll ever meet. Bessie is the embodiment of sweetness and comfort, and she's ready to find her forever home. 

Bessie is a lovely, small, 6-year-old cocker spaniel. Average size for a female cocker spaniel is 20-25 pounds, Bessie was about 18 pounds at her last weigh in! She is a bit thin and could stand to gain a few more pounds but she will remain a bit small for her breed. Bessie has a beautiful brown coat with a cute white and freckled snout and white spots on her back and legs. She also has those long cocker ears and, the beauty she is, has heterochromatic eyes! One brown and one blue!  Bessie is sweet as pie, loves a snuggle, is a happy tail wagging girl, with a small streak of mischievous, playful spirit.  As I write this bio, Bessie is napping peacefully in a sunbeam probably dreaming of chasing her foster brother around the yard. 

For the first 6 years of Bessie's life, she was used for breeding purposes only. Since in foster care, this has been her first experience in a home, and she has fallen into the role of loved pet easily. Bessie loves people but is not the dog (at this time) to run up to newcomers as they arrive but will approach for pets and cuddles at her own speed. She is a complete suck and will melt for anyone willing to give her a scratch behind the ears or share their warm lap for a nap. 

Bessie isn't all snuggles however! The American Kennel Club describes Cocker Spaniels as merry and frolicsome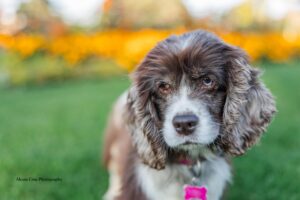 and that is Bessie to a tee! Bessie is excited to run out of her crate every morning and follow her big foster brother running around the yard with her tail wiggling the whole time. She has started in the last week to play fight with her big brother and it has been very fun to watch. Bessie welcomes her foster owners with happy wiggling butt every time we come home and does an adorable foot stomp of happiness when she sees her people. 

Bessie has also recently found her cute little voice. She had been pretty silent up until a couple weeks ago and now she has a very sweet little howling bark when she's ready for a morning pee and her owners are sleeping in too long for her liking. She remains quiet the rest of the day once she is freed from her crate. That being said, she is happy to enter her crate for sleeping, meals and while we are at work.  

Those cocker ears do put her at risk for ear infections and can have a build-up of yeast which she has been treated for in her foster home already. Her new owners will have to be diligent in checking her ears and knowing the signs of irritated ears. She's up to date on her vaccinations and is a healthy girl now. When she was first brought to Pound Dog she had a large, infected abscess on her back which was swiftly cured with antibiotics. As for her teeth, Bessie had quite a lot of tartar, so bad she needed dental surgery which we have done!  She had to have 14 teeth removed as they were so rotted.  Our vet says that she has a couple more that need to be kept an eye on but didn't need to be removed at this time.  They have been cleaned and now that she has proper nutrition and care she should be good for a few years before needing a dental again.  Whoever adopts her though needs to keep up on this and have her teeth monitored at her yearly checkups and be prepared to do a dental should she need it in the future.  This is common for mature dogs and nothing out of the ordinary.   She is able to eat kibble normally regardless of this and has quite a good appetite, so she should gain the weight she needs easily enough.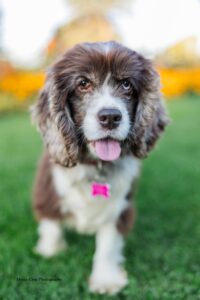 Bessie is not motivated by treats right now, she really doesn't show any interest, which means training is driven by praise and repetition. Similarly, Bessie isn't interested in toys at this point in her life, but she will steal a sock or mitten, so she'll need her owner to keep their eyes on her. 
If you prefer relaxed strolls in the park to intense hikes, Bessie is your kindred spirit. She's content with short walks and spending most of her time indoors, snuggled up with you. She does enjoy a short romp in the yard with her foster brother, she loves other dogs and would do well with another furry sibling but would also do well as the sole pet in the house. She can be spooked by the noise level and activity of children so would do better in an adult only home or a home with older,  gentler children over the age of 10. She is sweet and patient with toddlers and young children, safe around them, but will not want them in her day-to-day life.  
Bessie is on her way to being house-trained, will be accident free if she goes out for bathroom breaks often and especially after coming out of the crate, eating meals or waking up from a nap. While she is sweet, she also has a stubborn streak and while seeming to know what you want her to do, Bessie decides whether she'll do it immediately. She will require formal training to ensure she is as good a girl as she has the potential to be. 
An ideal home for Bessie would be with a person or family without small or loud children, either as the sole dog in the home or with a mature male dog that will respect her space. Bessie loves to romp around a yard but would also do well if she was able to go on a couple short walks per day. Bessie would prefer someone who is not going to push her to walk too far or too fast, who lives a quieter life, and someone with comfy and warm places to nap.  She requires a quieter neighbourhood without a lot of traffic noise or people coming and going.  

Of all the fosters we've had the pleasure to care and write bios for, Bessie has really stolen our hearts. She is extremely sweet and docile, her goofy and affectionate nature makes everyone who meets her giddy with joy a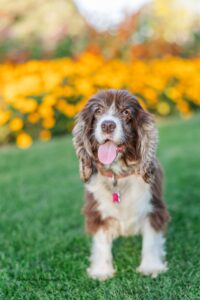 t the sight of her happy face and wiggly rear.
If you are ready to open your heart and home to a loving, low-energy companion, Bessie is waiting for you. Give this adorable Cocker Spaniel the chance to become a cherished member of your family.