AVAILABLE
Please read our dog bios carefully to be sure that the dog you are applying for suits your family and lifestyle. At Pound Dog Rescue, we believe in the benefits of post-adoption training for our dogs and their families. This allows for continued socialization, and learning and helps to create a well-mannered and balanced dog. Post-adoption training is a requirement in our adoption process.
Everyone meet sweet Etta. Etta is a Pointer and Mastif (Argentinian Dogo)cross. Etta is about 9 months old and weighs 45lbs. Etta will likely get to be about 60-70lbs when full grown. Etta is an absolutely beautiful dog. She is a white dog with gorgeous brown spots and markings all over her body. Etta has short, very soft fur but definitely sheds. Etta has beautiful golden eyes and has mastered the puppy eye look that melts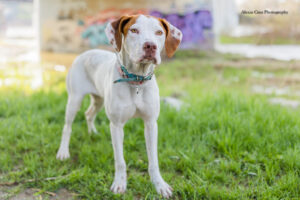 your heart. Etta is truly a sweetheart. She loves love.
 Etta loves her people and loves to snuggle with them. Etta is still a puppy and very much has puppy energy that needs to burned off every day. She is full of silly puppy behaviour and will have you laughing everyday with her silliness. Etta came into foster from a shelter where she was for many months. Unfortunately while in the shelter it was discovered that Etta had Giardia worm.  She came to foster care to get out of a kennel situation and get her worms gone once and for all.  She has been treated for this and no longer has symptoms of this parasite. Etta is a very healthy puppy with a big appetite and now that she is eating quality food she will likely start to put more weight on. Etta will need an active family as she has lots of energy. 
Etta would do best in a detached home with a secure, fully fenced in yard. Etta loves to run and needs an area to get that energy out. Etta is very vocal about the fact that she does not like to be in her crate at first and as such a detached home would be needed to avoid any noise complaints. She does quiet after a bit though.  Etta is still very much puppy. Etta has lots of puppy energy and will need someone who is willing to work with her on her socialization and training. Etta will need training classes and more than one level will be very beneficial to her.  Because of her breed mix, intelligence and full grown strength we are looking for a family for her that will commit to advanced obedience classes so Etta can be her very best dog.
 Etta does very well with her toilet training but does not have a signal to go out yet so will need someone who can take her out frequently. Etta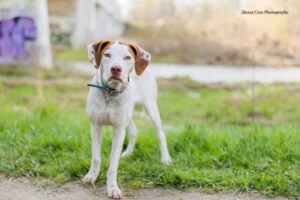 will likely have a few accidents when transitioning to her new home but once she knows the new routine she will be fine. Etta is crate trained and sleeps in her crate at night. Etta is very vocal when she is put in her crate during the day. If her humans are home during the day she does not like being in her crate and makes sure everyone knows this. Etta would not do well being in her crate for a full work day. She is still puppy and can't go that long in her crate without being let out. 
Etta likes to have 2 decent length walks through the day with time to run in the backyard as well to get her energy out. Etta does well in the car but does need to be secured as she is a curious puppy who still puts everything in her mouth including things accidentally left in the back seat such as water bottles. Etta needs a home with adults and older teenage children. Etta is still nervous of children when we pass them on our walks. Etta will also still nip a bit at hands and feet when she is very excited like all puppies do. Etta forgets how big she is and will bump into you when going up and down stairs so children or elderly or those with mobility issues in the home would not be a good idea. Etta definitely has a prey drive so no small animals in the home. She loves chasing after birds and squirrels . When on walks we use a gentle lead head halter because Etta can get quite pully when her nose picks up a good smell or if she decides to try and chase a bird or squirrel.  Etta would do well as an only dog or in a home with another dog who understands her puppy energy and enjoys playing. Etta currently lives with a senior dog and sometimes her energy is a bit too much for him. When the senior dog tells her to back off Etta is quite respectful of him but also needs her humans to remind her to back off. 
Etta is a very fun and silly girl. Etta loves to play fetch with her balls both in the house and in the backyard. Etta loves to look out the windows of the house to watch the excitement on the street. Etta has a silly quirk where she leaves a trail of water every time she drinks. It's as if she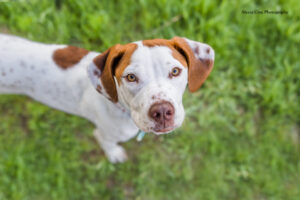 forgets to swallow and gets distracted and moves onto the next task with water still in her mouth. Etta loves to snuggle on the couch with her humans and if you let her on the bed she is even happier. Etta is an absolute sweetheart and needs to find her forever home ASAP so that she can continue with her training and make up for all the puppy experiences she missed out on while in the shelter.   Etta will be an amazing dog in her forever home and will be such a loyal, loving companion.