ADOPTED
Please read our dog bios carefully to be sure that the dog you are applying for suits your family and lifestyle. At Pound Dog Rescue, we believe in the benefits of post-adoption training for our dogs and their families. This allows for continued socialization, and learning and helps to create a well-mannered and balanced dog. Post-adoption training is a requirement in our adoption process.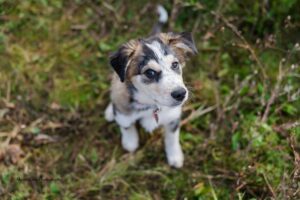 Meet the little guy who's sure to become the love of your life. Scout is a 16-week old Australian Shepherd  x Collie puppy, rescued from a puppy mill and is embarking on the happiest journey of all – finding his forever home.
 With his freckled nose, white-booted paws, and dip stick tail, Scout is just about as cute as they come. His incredibly loving and joyful demeanor just adds to his wonderfulness. Whether he's confidently ripping around the yard, yipping as he plays with his 90lbs foster brother, or biting the petals off flowers as he walks around the neighbourhood, his courageous spirit really shines through. He is also a little love bug, enjoy pets and snuggles. He even pins his ears back in delight as you approach him and wags his tail so hard his whole body wiggles. Scout is super bright and has learned to sit and come very easily in his foster home. 
Scout is HIGHLY food motivated. If he hears his foster brother crunching a treat, he comes flying over as fast as he can, slides into a perfect sit, and awaits his reward. If you're in the kitchen, you best believe he will be right there with you, laying at your feet in case you need any help cleaning up. Nothing is quite as cute as the burst of anticipatory energy he gets when you grab his food bowl. As you prepare his meal, he occasionally will let out a joyful (or impatient) bark, reminding you he is in fact very hungry and would appreciate if you picked up your pace. He prances and jumps with glee on the way to his crate (where he eats his meals) and then darts inside to GOBBLE it up. He's not extraordinarily picky when it comes to his high-quality dog food and dog treats, but he hasn't shown a lot of interest in having fruits or veggies added to his food. He's not hard to please when it comes to food, but it's clear he likes to stick to his dog food and the occasional egg or bit of meat. 
Scout is a little energizer bunny – ready to go go go as long as you are! Even as a small pup, he crushes 5+
kilometre walks without even appearing tired.   He is a high energy dog and will require his forever family to be very active and very outdoorsy people.  This is your hiking, biking, camping, exploring dog and he is an all-weather, all season dog, so bring on the snow!!  He loves being outside as well and has thoroughly enjoy having a large yard to play in and explore. He loves racing through the gardens, bushes, and tall grass, as well as getting into some puppy mischief with digging in the dirt and chewing on sticks. When the family is done moving, he crashes & naps hard as well, loving to snuggle up at your feet or next to you wherever you are. He is crate trained and loves taking naps in his crate too, but it's clear his truest love is being along for whatever the family is doing. Overall, he really just wants to be with the pack and is up for anything. 
Scout has loved having a foster brother and would enjoy another dog in the house . His foster brother is a 1.5 year old Great Dane x Black Lab, so he isn't scared of bigger dogs and has learned to play pretty rough. He enjoys his quiet moments too and would like a doggie sibling that knows rest and independence is important too. Scout would do well in a home with slightly older kids, about 10 years and older but would also be fine without kids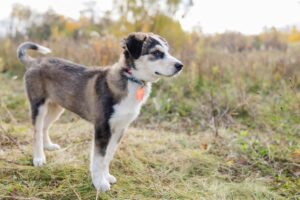 around. Scout adores his people and gets anxious when left alone, so ideally would go to a home where his people are around often. Scout has been crate trained and sleeps in his crate at night. He would do well with continued crating, especially for times when the family isn't home. He can be in his crate for 3-4 hours as needed during the day, but as a young puppy, he still needs frequent potty breaks. He does great in his crate overnight, usually sleeping from about 10pm to about 8am. If it wasn't apparent above, he needs a family who is ACTIVE and ready to keep up with him, including daily walks and outside time. Scout is also expected to grow into a larger breed dog so needs a family who is ready to love him as he grows. A home with a fenced-in backyard would be ideal for this active boy to accommodate his frequent pee break needs & to supplement his activity times with outside play.
 As much as Scout is a wonderful and special dog, he is still working on some things and comes with some little quirks. Scout is still working on his potty training. He's getting more consistent, but still has the occasional accident in the house. He'll need continued support, vigilance, and frequent potty breaks to support his continued house training. Scout is also a vocal dog, barking and talking joyfully as he plays, occasionally letting out a warning bark when he's investigating something new, and as noted earlier, yipping to let you know he's ready for his food! He won't be ideal in an apartment or other adjoined living situations.   Scout really does adore people, running up to folks on walks and jumping up for pets when new people come over. He also does a really good job entertaining himself too though! Playing with toys is one of his absolute favourite pass-times and he will hilariously run from toy to toy to toy as he burns through his boundless energy. He is a puppy and needs to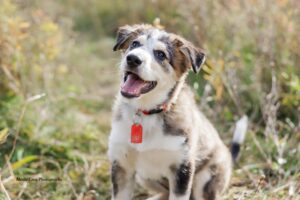 be reminded sometimes what is a toy and what is not (i.e. shoes, blankets, etc). 
Scout has been such a joy to his foster parents and he can't wait to meet his forever family. He is a really special boy and is ready for that special someone or family to share his deep love with as you adventure, play, eat, and snuggle for the rest of his days.