ADOPTION PENDING
Please read our dog bios carefully to be sure that the dog you are applying for suits your family and lifestyle. At Pound Dog Rescue, we believe in the benefits of post-adoption training for our dogs and their families. This allows for continued socialization, and learning and helps to create a well-mannered and balanced dog. Post-adoption training is a requirement in our adoption process.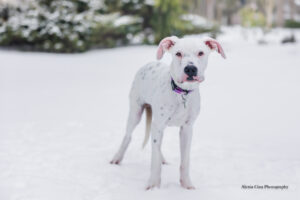 Let me introduce you to Bolt who is a loveable, happy-go-lucky, and goofy boy.  Bolt is a Pointer/ Dogo Argentino X who is about 7.5months old and currently weighs around 45lbs and will likely grow to be around 60-70lbs.  Bolt is a short haired dog who is almost all white, except for a small brindle patch on his bum, and some greyed out brindle spots throughout his body and face, which truly make him a unique looking boy.  Bolt has very floppy soft ears and he loves when you give him head and ear massages.  Bolt also has beautiful honey coloured eyes and when you look into his eyes you can see how loveable and loyal this boy really is.  Bolt has a truly remarkable temperament in that he is always very gentle, he is very snuggly and he gives off that 'old soul' feel.
Bolt had been surrendered to a shelter when his family was no longer able to care for him and the other dogs he was being housed with.  The wonderful people at the animal shelter could see his potential and given his breed they knew he would thrive in foster care with a rescue who would also find him the most suitable home once the time came.
Bolt has been an absolute sweetheart during his stay with us, he is a very calm boy when he is in the house and is happy to curl up on a pet bed with a tasty Nylabone chew or play with some toys in the house.  Bolt is being fostered in a home with other dogs and he has done exceptionally well with integrating with them.  Bolt is more than happy to play with the resident dogs, but he also accepts when they are done playing and will go and entertain himself just as well.  Bolt is typically very quiet in the home, and it's only occasionally that he will let out a few barks during playtime.  Bolt will sometimes bark at strange sounds if he doesn't understand where they are coming from, but he is very good with redirection when we ask him to stop.  Bolt is also living with our very dog savvy cat, I would say that 95% of the time Bolt has had extremely good interactions with the cat, he shows interest in her and would like to try to play with her, including climbing onto her cat tree.  He is still a puppy though and there have been the odd encounter that he will gave chase to the cat if she decides she wants to run or jump.  If Bolt were to have a cat in his forever home, they would need to be extremely dog savvy and able to hold their own, and their interactions would need to be very closely monitored.  Bolt is also living with two young teens in the house, as mentioned previously he is a very calm boy and does not try jumping on anyone, nor has he tried to mouth on anyone. He would be fine in a home with children 8yrs and older.   Bolt is very happy when any of the resident humans try to play with him, he enjoys a good game of fetch, but he does eventually get annoyed when you keep throwing the toy away and will just go lay down with it instead of bringing it back to you.  
Bolt has been doing very well with his house manners, he is showing an interest in some counter surfing which we have been working diligently on with him.  His house training is coming along really well and Bolt does not have any accidents in the house.  Bolt is currently learning some basic training such as "sit", "wait", "down" and "ah ah", Bolt is extremely food motivated and because of this training has been an absolute breeze so far, he is one smart cookie!  Obedience training will be a must with Bolt as it will help him develop a wonderful relationship with his new family, but also it will help him to understand what is expected of him and help set out rules in his new home.  Bolt will need a basic obedience and manners class  followed by an advanced obedience or level 2 class at minimum.  We will only consider a family for him who is committed to advanced levels of obedience for this dog and he will be adopted out on a contract which does require the advanced levels.  Bolt is going to grow to be a muscular dog and we need to ensure that his forever family does everything now while he is young to keep his socialization up along with his training and confidence building. We want Bolt to be a dog that can be taken anywhere and is a well-mannered and well socialized, excellent example of his breed.  He is not suitable for a 1st time dog owner and we will be looking for a family for him that has experience with large, power breeds and had dogs that were social and very well trained.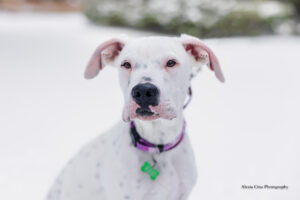 Bolt has been on many walks during his time with us here, he is such a gentleman when we go out and there is no barking or lunging at other dogs, he is just happy to be out and about smelling everything that he can.  We are currently walking Bolt using a gentle leader head halter, he does extremely well with this training tool and for about 90% of his walk he will be completely loose leash at your side.  Continued walking with Bolt and using positive reinforcement will have him being a stellar walker who you can take just about anywhere.  Bolt has been on a few car rides with us and I must admit that they are not his favourite thing, we currently use a crate when he is in the vehicle and he does get a bit anxious while we are driving.  Bolt is fully crate trained and currently eats his meals in his crate, sleeps overnight in his crate and will also go in his crate during the day if we have to step away from the house.  Bolt is very quiet in his crate until the morning comes when he hears you wake up.  He will start by just stirring a bit, but once he sees you he will start to sing to let you know how excited he is about getting out of his crate!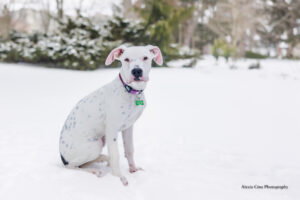 We believe that Bolt would do well in most home situations though he would love to have a backyard of his own to run around and play in.  Bolt would do well in a home with just adults, or with adults and children, and he would also be happy being an only dog, but would also integrate well with another young playful dog.  Bolt is looking for an active household who will take him for lots of walks and adventures, work with him daily on his training as well as take him through advanced levels of obedience, and someone who will make him a lifelong commitment and have him be a big part of the family.    Bolt does sometimes play strange when new people come into our home, however he is quickly won over using treats and lots of positive reinforcement.  At this time Bolt does have an extremely sensitive stomach, we are working towards ensuring that the food he is eating is the right balance for him and it is important that anyone wishing to adopt him understand that he may need a specialized diet for his entire life.
Bolt truly is a special boy who is very calm and sweet natured and loves to be a couch potato and snuggle up with you at the end of the day, but it's also important that his forever family understand the physical and mental needs that are required in taking care of a power breed to ensure they continue to have a well rounded dog.   Bolt is looking for a forever home with someone who will love and cherish him forever, are you that perfect family that Bolt has been looking for?  If you think that this is the dog for you please tell us in the application about your experience with power breeds!  There is room in the application at the end to expand on information you would like us to know so please, tell us about yourselves and your commitment to doing the best by the power breed dog(s) in your care, past or present!