ADOPTED
Please read our dog bios carefully to be sure that the dog you are applying for suits your family and lifestyle. At Pound Dog Rescue, we believe in the benefits of post-adoption training for our dogs and their families. This allows for continued socialization, and learning and helps to create a well-mannered and balanced dog. Post-adoption training is a requirement in our adoption process.
Curiosity and a playful nature were the inspiration for this sweet and darling Maltese's name. Meet Spirit, a 5yr old puppy-mill mama who is still a puppy at heart. Just like a puppy, Spirit is testing and learning about this strange new world in which she's loved and safe, and where she fits in. She's tried so many new things recently like going up/down stairs (no problem!), walking on a leash (nailed it!), cuddling on the couch (more blankets the better!) and playing with toys (yes please!). However, it's also been a confusing time for her and she doesn't always understand why things she's done her whole life are now being corrected, such as eating whatever she scrounges up or going to the bathroom indoors. Like a puppy, Spirit needs supervision and frequent reminders to ensure she's practicing her manners and keeping safe.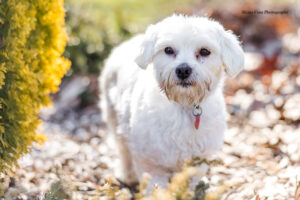 Spirit arrived into rescue a week before Christmas shaved down completely. What was left of her coat was in horrible condition and she had bite wounds on her neck. She's now in great health, having been spayed, immunized, eating a healthy diet, getting exercise, and had her oral health addressed. Any physical issues have healed, and she has a very healthy white coat that has emerged. Emotionally and mentally, Spirit is initially a nervous dog around new people and will shy away or bark at them. Treats go a long way in bringing her around but it can take time. Patience and kindness are the keys to her heart…and maybe some liver, she wants you to know that liver is a huge bonus if you have it. Spirit deserves a loving and experienced home that is dedicated to giving her the security and training she needs to help her learn good dog behaviors and increase her confidence. Her new family will need to continue her training and socialization. A commitment to attend obedience training will be a mandatory requirement for her adoption.
Spirit loves other dogs and has good manners while walking. She's only about 11 pounds but enjoys meeting any new dogs, from Yorkies to Great Danes, approaching them respectfully. She's enjoyed racing around the yard with visiting dogs and has attempted to play with her foster brother several times however he's a bit of a grumpy old man. Initially Spirit didn't mind sharing with other dogs, even her beloved bones, but as she is growing in confidence so is her desire to keep some things for herself. If she goes to a home with other dogs it will be best to let them have their own spaces and times for high valued items so she doesn't feel the need to protect them from others. After she settles in with you Spirit plays enthusiastically with her people and thinks it's all the better if the game involves treats. She is a huge fan of chase and hide and seek, but those are games you can do with her after she has been with you for a while, initially she will find them to be a bit much as she is getting to know you.  Either way, Spirit would be happy in a home with or without another dog so long as she gets adequate exercise and interaction. Currently she's going for two brisk 20-minute walks a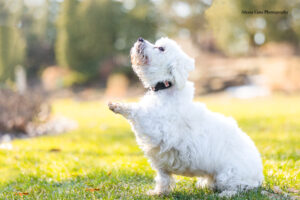 day but could easily do more if you'd like a walking partner!  Spirit would be fine in a home with a dog savvy cat but wouldn't appreciate a cat that would swat her, cause a fuss, or react to her in any way.  She would just want a cat that would co-exist peacefully. 
Spirit has come a long way and had some big successes like learning to sit (which is so hard when her tail's wagging all over the place!), allowing belly rubs, and accepting her crate but there are still things that are a work in progress. After living her entire life sleeping in the same place she goes to the bathroom, learning to do her business outside was initially a challenge. She's made huge improvements but does not yet understand how to ask to go out to do her business so you will need to play a proactive role in getting her outside regularly and rewarding her frequently for going in the correct location. Don't think that you can leave her out back to go alone though, she will beeline it back to your door for want of being with you and will completely forget to go to the bathroom, so be prepared to either walk her to go to the bathroom or hang around in the yard with her while she finds the perfect spot. 
Spirit is an alert barker and has a prey drive so has been working on not alerting at every new person, squirrel or noise. Most of the time she is quiet, and she will stop if you give her a very clear command to stop. You can rest assured though that no one will arrive on your doorstep nor shall a squirrel tread on your property without Spirit providing you a heads up. Because of this Spirit's best home would be a single detached house with a fenced yard, she truly will annoy your neighbours in attached housing and that is no fun for anyone. She would love a fully fenced yard to claim as her kingdom and so she can chase off all the little furry and feathery things that dare step foot into it; it's truly one of her favourite past times.
Spirit goes into her crate without complaint at night and stays there peacefully for 8-9 hours. She also goes in there without fuss while her people are out of the house. Her foster mom works from home so this has not been longer than a 6 hours to date. Spirit would not thrive in a home that requires she be alone or crated frequently for long periods during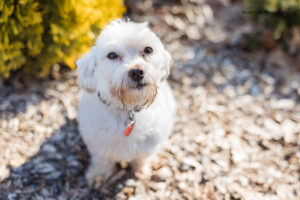 the day. She does not seek out her crate for naps and instead prefers the biggest, softest pile of blankets and pillows she can find. Spirit is quickly adapting to the luxurious lifestyle she was denied prior to rescue. If you're willing to snuggle and nap with her, be prepared to stay for a while! 
Spirit has exhibited stress when around young kids and has been generally indifferent to the dog-savvy teens living in her foster home. She readily accepts their attention, food/treats and walks when offered but doesn't seek them out for affection or play. Accordingly, Spirit is not a good match for a home with children as she finds the energy too much for her and is unable to relax in their presence. She also has a very clear preference for females as opposed to males, likely a throwback to her experiences in the puppy mill. She will gravitate towards and attach quickly to females and then in turn want to protect them from the males in the house. Spirit's ideal match will be a female only, adult home and if you are an active retiree or 'work from home' kind of person, you might be exactly what she is looking for.
Once you have her trust Spirit will be your devoted soul mate. Not only will she let you handle her easily for grooming, kiss your hand at every opportunity, burrow under the blankets to keep you warm, but she will allow you the incredible honour of rubbing her belly. Spirit needs a home that's as wonderful and loving as she is. She needs an experienced dog owner who will set a routine and boundaries, and yet give her the love and kindness to increase her confidence. If you have plenty of love to give, are a patient and experienced owner with ideally a fenced yard, and are looking for a fluffy little someone who wants to snuggle and give you unlimited love and kisses, then Spirit might be just the dog for you!