ADOPTION PENDING
Please read our dog bios carefully to be sure that the dog you are applying for suits your family and lifestyle. At Pound Dog Rescue, we believe in the benefits of post-adoption training for our dogs and their families. This allows for continued socialization, and learning and helps to create a well-mannered and balanced dog. Post-adoption training is a requirement in our adoption process.
Hello everyone, please allow me to introduce to you, Brownie!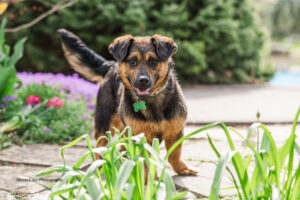 Brownie is a female, approximately 1 year old most interesting mix of dog we have ever seen, as she is German Shepherd and Corgi. Brownie looks like a typical Shepherd with the dark tan and dark brown/black fur, super fluffy right now as she did come from a super cold climate before landing in Southern Ontario. Her Corgi mix comes out in the fact that she has short stumpy legs that you just can't resist when you see her. When standing her front paws turn out so beautifully in ballet fashion. She weighs a petite 26lbs and will probably finish out around 28lbs full grown.
It didn't take us too long to find a name for us. We tried to play on her colours, or her origin, but things didn't pop out at us. Our daughter was really keen on naming her Brownie – just because she looks like a fudge brownie in colour.  She came to us from Northern Manitoba in an Indigenous community. She was rescued by our friends at Save a Dog Network and transferred to Pound Dog Rescue to help find her furever home.
Brownie does seem to understand and tolerate our routine at home. She gets regular crate time during the day just to help her get used to it. She eats her meal in her crate and at night she also sleeps in her crate. Because she was an outdoors dog in her early time of life, she does have continued training to do around being in her crate, especially when we are nearby in the room or leaving the house. We find if we aren't in the room, she will stay calm and quiet in there though. We are still working on her to get comfortable in there, but I do think it will take more time since we are only a temporary home her. Correcting the undesirable behaviour with stern "Ah-ah"will help her settle. If we are in a different part of the house and she can't see us, then she seems to be quiet with just a few small whimpers here or there. Brownie will go in her crate willingly for mealtimes. Might take a couple "in your house" and a point, but she will hop right in to eat her meal. She is very food driven so this helps a lot with training purposes.  Brownie's mealtimes are in the crate, as mentioned, with the door closed. She has free range to the water dish whenever she is out and about and has a healthy thirst.
We would consider Brownie a work in progress in the house-training department. Mostly due to her age and the fact that she was never in a house before. She has never had to worry about where she went before. Although she has been accident free for a little while now, transition periods should be handled with grace as she gets used to things. The key to her housetraining is supervision and taking her out regularly. You can't count on her to let you know that she has to go.  Brownie loves to pee and mark on her walks. Usually, she has 2 bowel movements per day, once in the morning and once in the afternoon or evening. She has no preference on where she goes, be it the back yard or on a walk. She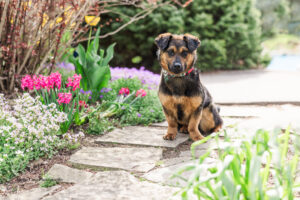 has been comfortable with both areas. She can last the whole overnight and does very well with that.
Brownie would benefit from a detached home with a fully fenced in yard. She does well with cats (doesn't seem to bother with them), other dogs, and older children (over 8yrs of age) . We have a dog  and they are best buddies; love to share the couch together, play, and hang out. Brownie is a lover, where she will just randomly walk by our dog and give her a kiss.
We have kids, an 8- and 11-year-old, and Brownie does quite well with them. The odd time she is too playful but that is normal for her spunky behaviour and age. If you do have kids, you need to figure out  care of their toys and not to leave them laying around the main space where the dog would be, especially stuffy toys or soft toys. She does tend to steal those. She can be a bit nippy, but that's really only when she is in her super playful mood or knows that she is going outside (she loves being outside!).
Brownie would greatly benefit from proper professional obedience training and supervised play times.
Brownie reacts to other dogs on the street with happy barks mostly. We think she just wants to meet everyone and play.  We have noticed a prey drive with birds, not so much with squirrels or rabbits that we have noticed.  Brownie is still learning to walk politely; again, being on leash is new to her.  She needs continued work with that and her obedience school training will really come in handy.
Brownie loves toys! Seems of all types, it doesn't matter to her. Toys with fabric or stuffy's don't last long with her, even the "durable" kinds. She loves squeaky balls, the spikey ones. She will chase those all over the house or yard. Fetch would be an awesome thing to master, she is already getting pretty good at it. Rope toys haven't piqued her interest yet, but tug of war she loves, especially with stuff she isn't supposed to have. Fortunately, she seems to know "drop it" as a command and will put it down so you can remove it.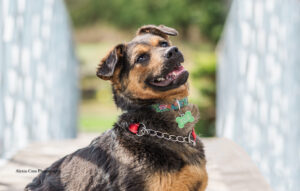 In conclusion, Brownie would benefit from a home with or without older children, in a detached home with fenced yard, and another dog would be a huge asset to help her learn the ropes around your home. We do not think this is mandatory though. She would really benefit from an active outdoorsy family. She loves to be outside and go for walks. She has a lot of energy and can be quite playful. Lots of walks and playtime are a must, but she does love to cuddle up and sleep too!  We are suggesting a detached home as we do know that she can get pretty unhappy with us leaving the house and in order to not upset neighbours.  This is all a learning curve for Brownie though as her life now as an indoor family dog is greatly different from her life before…with more time and gentle training she will be the greatest dog ever!!