ADOPTION PENDING
Please read our dog bios carefully to be sure that the dog you are applying for suits your family and lifestyle. At Pound Dog Rescue, we believe in the benefits of post-adoption training for our dogs and their families. This allows for continued socialization, and learning and helps to create a well-mannered and balanced dog. Post-adoption training is a requirement in our adoption process.
Hello everyone! I am so excited to introduce you to Nikki! Nikki is a 3 year old Shih tzu who weighs about 12 pounds. Nikki has the softest white fur with some light brown spots and has a beautiful fluffy tail. Nikki is playful, sensitive, sweet, and a ton of fun. She makes us laugh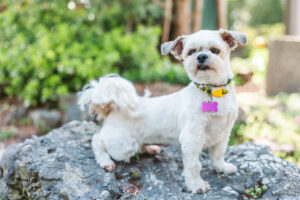 every single day with her goofy antics and sheer love of playing and zooming around the house and yard. Though Nikki loves play, she also loves sitting as close as possible and getting copious amounts of pets from her favourite humans. 
Nikki has some very adorable ways of engaging with us. She often runs up and sits right at our feet and looks over her shoulder lovingly in our eyes with her little tongue poking out of her mouth. She loves to make direct eye contact and stare deeply into your soul! She loves pets and scratches, so she'll sometimes use her paw to pull your hand into her chest for chest pets. Her little ears are like little satellites and are very expressive and move all over the place when she's listening. She's a sensitive girl who takes a bit of time to trust new people after falling on some hard times lately, but if you show her a bit of patience and kindness, she'll be all over you in no time! 
Nikki has great energy, but she will also match your mood. If you're up and about doing things, she's up and about doing things… Normally right under your feet. If you're gardening in the backyard? She'll help, she doesn't mind if you pet her with dirty hands! Making dinner? She'll be your sous-chef! If you want to sit on the couch and watch tv for 3 hours? Sure, she'll sit with you, as long as you are petting her! Sometimes she'll bring a toy over to play tug or fetch passively and then will settle again for some pets! Nikki is just interested in being your best friend and having great times together! 
Nikki's ideal home is one that be interested in training and playing with her! Nikki's favourite thing other than getting pets and scritches is playing! Fetch, tug, chase you name it she likes to play it. Nikki is a healthy young dog and has the energy of one!  She would love her forever person to continue to work with her and give her the mental and physical engagement opportunities that she enjoys so much.
Nikki loves walks and does well on leash! On occasion she will pull a bit when she's excited but if you say "ah-ah Nikki slow down" she does so… until she gets excited again and forgets her manners. The world is SO exciting so sometimes she forgets to it at a slower pace! Nikki goes on 1 – 2 walks per day at about 1 km each and that is a good amount for her and her little legs. Nikki LOVES our fenced backyard as she loves going out and playing fetch in the yard. She zooms around and will chase her toys or a ball for up to 30 minutes every day! A fully fenced yard is a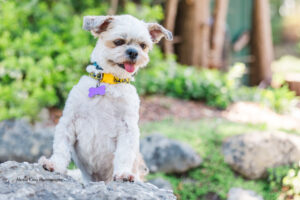 plus and would make both yours and her life easier, but if you are willing to walk her and play fetch inside then it's not required! 
Nikki is fine to travel in the car and we often crate her for her safety in the back seat. She has also sat out of the crate and seat belted in and she is fine with that as well. She does get a bit nervous at first and shakes a bit, but overall she handles car travel quite well.
When Nikki got here, she was already house trained and has done amazingly well with no accidents in the house! She goes outside when we open the back door and immediately goes and brings herself back in! She will also go to the bathroom on walks and doesn't mind that either! She sleeps the entire night without needing to go from 9 pm – 7 am and is fine being left alone for a few hours during the day without needing to go.  
Nikki lives with two other foster dogs and is overall good with them. Most of the time she just hangs out in the same space, but she can be a bit "in your face" with the other dogs when she wants to play. Nikki is a vocal player and will run around her dog siblings play bowing and grumbling and our other fosters don't like that. She would do fine with another small – medium sized male dog sibling who wouldn't mind her energy and would like to play with her. It depends on the other dogs patience level as Nikki learns the best ways to communicate. She LOVE her humans though and would be very happy to be the only dog in the home. Nikki has not been cat tested but would likely be fine with a cat that didn't run from her as she might think that's a game and would likely chase a cat that runs. 
Though once Nikki knows and trusts you she is like glue and follows you everywhere, she is not very good at first impressions. As I mentioned at the start of her bio, Nikki came to us after having a rough time recently and has been given reasons to distrust humans. Nikki takes some time to warm up to new people. When she first arrived to us, she was very vocal with her growls and snippy behaviour the first two days she was here. Once Nikki realized that we didn't want to hurt her and that we are nice people she instantly fell in love. She only puts up her defences because she's scared and insecure and doesn't want to be hurt. She's a very soft soul and since she's arrived into our care she's been learning how to trust humans again and was wonderful when at the vet and the groomer.  She warms up to visitors in our house slowly and is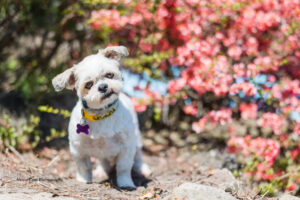 not a dog that wants new friends to be all over her when they first meet… but hey, I don't either. If you are slow and gentle with her and show her kindness, she warms up quickly. Once she's comfortable and trusts you she is your little shadow and constantly wants love. It is so important for her family members to realize that she cannot be grabbed or overpowered as she learns to trust you. Nikki needs a family where everyone is at least 14 years of age or older and that understands that though she is small she needs to be given bodily autonomy and treated with respect, especially in the first few days after her arrival.
Once she has a day or two to warm up Nikki adores being around her favourite people. However, Nikki does quite well when we leave the house or go to bed and leave her safely penned in another room. Nikki could do fine being left alone for a few hours every day so long as she gets time to play with her family when they get home and give her tons of pets and love. 
Nikki is a young dog in good health! She had a minor hernia repair in Pound Dogs care and was vaccinated, microchipped, and had all her basics covered. Though Nikki has no gingivitis and minimal tartar, she does have some wear on her teeth. As she's not much of a chewer in the home, we can assume this might be from bar biting or neglect. Her adopter will just need to keep an eye on her teeth as she ages, but that is true for all dogs, especially small breeds. Nikki arrived to us quite matted and was shaved right down. Being a shih tzu she will need ongoing grooming throughout her life to make sure she remains mat free and happy!
Nikki is a lovely and sweet dog who is full of life. She is truly a joy to be around and though she has a prickly exterior when you first meet her, we expect that to continue to dissipate as she has more positive experiences with people. She loves being loved but has been low on the priority list for a long time.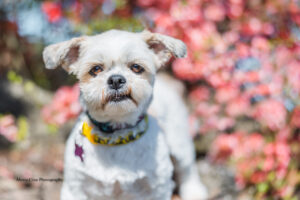 We cannot wait for her to light up someone's world with her spirited attitude and energetic vibes! From snuggling to playing Nikki is up for it and ready to find her forever home and best friend to take on the world with!