ADOPTION PENDING
Please read our dog bios carefully to be sure that the dog you are applying for suits your family and lifestyle. At Pound Dog Rescue, we believe in the benefits of post-adoption training for our dogs and their families. This allows for continued socialization, and learning and helps to create a well-mannered and balanced dog. Post-adoption training is a requirement in our adoption process.
Let me introduce you to Maude.  The biggest love bug you will ever meet.  Maude is a 7 year old white and red Cocker Spaniel that spent the first years of her life as a mill mama, having puppies for a person's profit;   but she has not let that get her down.  Now that she is fully vetted,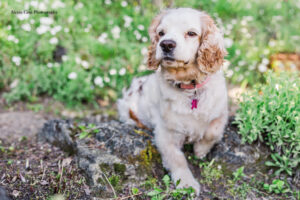 she is ready to start a new adventure with her forever family.  At 34 pounds she is the perfect size for any living situation.  Maude is spayed, housetrained, dental done and microchipped.

When she first arrived at my home she had never known what living in a house was like.  Most things associated with everyday life in a home were new to her and she was a bit overwhelmed.  But Maude is a very fast learner and within a few days she was going up and down stairs and the noises associated with everyday living do not upset her in the least.

Maude is very loving and just wants to be by your side at all times, she is the ultimate Velcro dog.  She seems to be willing to try anything as long as she is by your side.  Maude loves her walks and walks very well on a regular leash.  When walking she loves to watch the birds and visit with any person or dog she meets along the way.  Maude will sit when told at an intersection until she is given the OK to cross.  She does not pull, but if she sees a bird she loves to sneak up to it to see how close she can get.  She is interested in the bunnies and squirrels but does not try to chase. 

Maude is housetrained and prefer to use the potty when she is on her walks.  Right now I walk her about 2 km in the morning and 1 or 2 km in the evening and she goes out for a pee just before bed.   If you prefer shorter walks that is fine with her especially if it is raining.  Her housetraining has gone very well and she has not had an accident in the house for over a month.  When Maude goes to her forever home I would suggest taking her out in the yard every couple of hours during the day until she gets used to her new situation.  She is fine for 8 hours overnight and also when she is in her crate she is good for 6 hours with no accident.

Maude is a very quiet girl in the house and seldom barks.  When someone knocks at the door she will just trot over to say hello.  Noises outside the house such as cars, garbage trucks and people talking do not bother her in the least.  Because of this she would do well in a house, townhouse or apartment.  She does like being outside in a fenced in yard if someone is with her, but she wants to be with you whenever it is possible so if you go in the house so does Maude.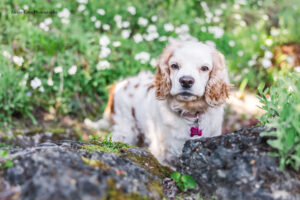 Maude is not fond of her crate but will go into it with no problems and long as she has her favourite pink flamingo stuffy with her (it will be coming with her to her new home).  She will complain for about five minutes and then she settles well.  I have left her for 6 hours with no problems but when she is in the crate for this long she is very excited to see you and may do a small nervous pee when she first gets out.  This is easily remedied by putting a washable pee pad just outside the crate.  She doesn't do this all the time but it is something to keep in mind.

During the day Maude will lay beside your feet on the floor or in her dog bed, either is fine with her as long as it is close to you.  She loves to lay beside you on the couch with her head resting on your leg, but she cannot get on the furniture by herself so if this is something you would like, she needs to be picked up or use a set of doggy stairs.  Maude has used both doggy stairs and a ramp since she has been with me and has mastered both.

At night Maude sleeps on her doggy bed in my bedroom.  She is very quiet throughout the night and is content to sleep 8 hours and probably a bit longer is you let her.  She will also sleep in her crate at night if you prefer but starts to complain after about 6 hours and crating her overnight is not necessary.

Maude is toy obsessed.  She loves her stuffies and will carry them around the house with her.  She loves balls and will play with it by herself for hours, just batting it around with her paws and chasing it.  She loves it when you throw the ball but has not got the hang of bringing it back.  Maude is not destructive with her toys or anything in the house, but if you leave anything like socks or a towel on the floor, she will claim it as her own and put it in her treasure pile of toys and balls.

Maude can't get enough love and attention, I don't think she got much in her previous situation and now she can't get enough.  Ear and belly rubs are her favourite and she has the softest coat. Maude is not a heavy shedder and with 2 brushes a week hair is at a minimum and she loves to be brushed.

Maude has been good with everyone she has met, both men and women and calm children.  Maude has done well with most dogs we have met on our walks and is especially fond of dogs bigger than her.  She is fine with smaller dogs but likes to play with the bigger dogs. 

Maude really wants to please so training is quite easy.  She already knows sit and stay.  When she comes in the house after being outside she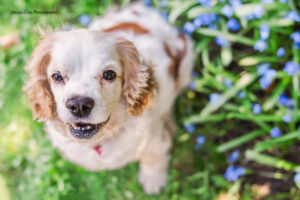 will sit on the mat and wait for you to wipe her paws if you ask.  Maude is not food motivated and does not like most treats (except for Zukes mini naturals) so the best thing for training is praise and a pet.  Maude has zero resource guarding and will let you take any toy or food from her, even those prized socks that she found on the floor.

There are a couple things Maude needs to still master.  She is not fond of car rides and does shake a bit when she is in the car.  She will get in the car with no problem and sit quietly but she is a bit nervous;  this should go away after a while once she realizes good things can happen when you go in the car.  She was groomed recently and the groomer said she was very good except she did not like the dryer so they just let her air dry.  I'm sure once she would go to a groomer more often she will be fine with the dryer.  Lastly, because Maude loves to be by her person all the time she can be a bit of a trip hazard.  She will lay right beside you in the kitchen so you have to be aware of her whereabouts. 

Maude would be fine as an only dog so she can have all the attention for herself.  I think she would be fine with an older well-mannered dog in the home as well as a dog savvy cat.  Maude is a low energy dog so 2 walks a day are perfect for her, but we have done a 4 km hike and she was fine with that.  She would not be a good running companion. Maude would do fine in a home with older children, 10yrs and up, but will not enjoy the noise or energy that comes from a home with younger children.  She would be best in an adult only home that is quiet, and calm.
Maudes ideal home would be with someone who is home a fair amount.  A retired person or someone who works from home.  Whoever adopts this girl will be very lucky indeed.