ADOPTED
Please read our dog bios carefully to be sure that the dog you are applying for suits your family and lifestyle. At Pound Dog Rescue, we believe in the benefits of post-adoption training for our dogs and their families. This allows for continued socialization, and learning and helps to create a well-mannered and balanced dog. Post-adoption training is a requirement in our adoption process.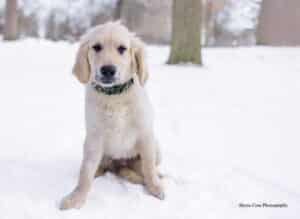 This little sweetheart is Chad and he is a 5mth old Golden Retriever  boy  who could easily weigh 65 plus pounds full grown.  Chad came to us with 2 of his brothers as puppy mill pups who were unsold.  He sadly had no socialization or exercise prior and had to make up for lost time.  Chad also had some fur missing around his eyes and mouth due to filthy conditions and poor nutrition. Chad is now a healthy, happy and friendly Golden boy who would love to join his forever home for his happily ever after!
Chad is a loving Golden Retriever puppy with more of a gentler demeanor.  He is a total love of a dog and is very people focused. He is quite the cuddler and sucky and loves nothing more than to lie on your lap and fall asleep after a good day of playing and trying to put stuff in his mouth.  Chad also really enjoys meeting new people and getting the attention from strangers who are just friends he hasn't met yet.  Chad is a social dog and is one you can bring pretty much anywhere as he enjoys new places and meeting new people.  
Chad enjoys  being outside and running  in the yard, playing with his foster siblings.  He also loves having outdoor toys to flip about and run around with. He is a very happy puppy and gets a lot of joy from playing.  Being a Retriever, he is happiest when he has something to carry around in his mouth.  He has to be watched constantly as he is always trying to steal items to have in his mouth. His top items of theft are towels, socks and shoes, anything that resembles a stuffy or anything made of soft material.  He adores stuffed animals and is generally good with his toys, just wanting to mouth them as opposed to destroy them.  Chad also has a funny habit of trying to flip his food bowl when eating.  See, in the puppy mills, food is often just thrown on the floor for the dogs to eat.  It appears that Chad had never known to eat from a bowl prior to arriving in our care.  We now use a tapered, heavy bowl that is harder to flip over and this is working well for him. He will now eat the majority of his meal from the bowl now before trying to flip it over.  Anyone interested in Chad needs to understand that he can be a messy eater and be ok with this.  He will continue to improve and the day will come where he will eat his entire meal from the bowl, but until then, patience needs to be had.  We feed him in his crate to contain the spilled kibbles and he roots around and eats them.
He is a generally quiet dog and rarely barks which is super nice for the neighbours!  He is very quiet in the home as well and doesn't cause a fuss.  He only protests for a few minutes in the crate if he doesn't think its crate time yet but settles quickly.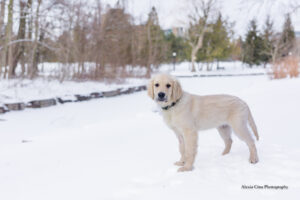 Chad is a very easy dog to live with.  He doesn't ask for much, just some toys, good food, and to be allowed on the couch or chair as this is his preferred hang out locations.  Chad is housetrained and will go to the door when he needs out. He is very quiet about this though so you have to pay attention and notice when he is telling you he has to pee.  It is expected that he will have a set back in housetraining when he goes to his new home but with consistency and supervision he will learn which door to indicate to at his new home as well.   He is also crate trained and is crated whenever we aren't home and at night time.  He is too young and far too mischievous to be left out in the home without supervision at this age.
Chad  can go to a home with or without another dog.  He is a friendly sort, if not a bit timid when meeting a new dog, but makes friends easily.  He would do well with another gentle, confident dog to mentor off of. His foster brother is more of a bull in a china shop type and can be too much for Chad.  But a gentle dog that will play nicely with him and let him cuddle when sleeping would be ideal.  Chad would be a great puppy for a home with a mature dog as he isn't an overly pesky pup and would do well with a more relaxed energy.  Chad would not do well with a boisterous type dog or a rough player, Chad is a softie and very submissive and would be picked on easily.  Chad can also be the only dog and get all of the attention and he would be happy as well.  Chad lives peacefully with cats in his foster home. The foster's cats are very dog savvy though and don't run from dogs or react to them at all. If a cat were to cause a fuss or run, he would certainly chase.  So we can only consider a home for him with a cat if that cat is very dog savvy and won't react to a new dog in the home.  Chad also is keen on getting into kitty litter or the cat food so there would be a need to have these items in areas where he cannot access.  Chad is gentle natured and is suitable for a home with children but only children old enough and responsible enough to ensure that toys and stuffies and food are kept up and away from him as he will absolutely get into anything left lying around or at height that he can reach.   A home with young children would not be suitable for this reason, but we cannot suggest an age of suitable children as there are some very responsible and intuitive 7yr olds whereas some older children are more unaware and can't be counted on put toys away every time.  We ask that anyone with kids who are interested in Chad think honestly about their children's natures and whether or not they can be counted on to keep the dog safely inside.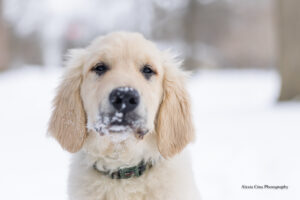 Chad travels well in the car. He is quiet for the ride and settles nicely in his crate.  We crate him for car rides to keep him safe.  He would love to come along on all adventures.  Chad is destined to be some person or people's very best friend and companion.  He is equal parts cuddle bug and outdoor adventurist!  He is a moderate energy dog and needs some good yard running time along with a couple good paced walks every day. He needs his person to be fit and active and able to keep up with him . But he is happy with his walks and doesn't need extensive running to be happy.  He will happily lounge all evening on the couch with you as long as he got his outside time met during the day.  He is not though a dog that will want to be left outside all day alone.  We are not suggesting he be a kenneled dog or a yard dog…he just needs regular outings throughout the day to be happy.  He is very much a family dog and we know that there is a lucky family out there that he will be the perfect dog for! Is that yours?