ADOPTION PENDING
Please read our dog bios carefully to be sure that the dog you are applying for suits your family and lifestyle. At Pound Dog Rescue, we believe in the benefits of post-adoption training for our dogs and their families. This allows for continued socialization, and learning and helps to create a well-mannered and balanced dog. Post-adoption training is a requirement in our adoption process.
Bursting with Puppy Love and seeking Adventure ….Franklin is your guy!!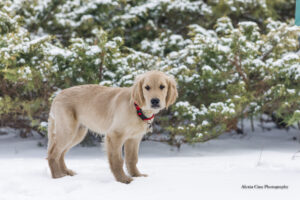 Let me introduce our latest foster, Franklin! He is a 5 month old Golden Retriever with wavy blonde fur.  Franklin weighs approximately 29 lbs and may grow to be 65-75 lbs and 23-24 inches tall when fully grown.  
Golden retrievers need a lot of exercise to keep them happy and healthy.  Adopters will need to commit to two good walks a day plus hikes and other forms of exercise once he is fully grown.    Adopters should be prepared to regularly brush and bathe Franklin to keep his coat healthy and his shedding to a minimum.
Franklin is a fun-loving, high energy pup who will require constant supervision to keep him safe as he navigates through the puppy stage.  He is very curious in his surroundings and will explore at every opportunity.  Franklin is currently teething and will look to any items to chew for relief, including shoes or furniture.  Adopters will need to have teething toys on hand and keep a close eye on Franklin to help him navigate through this teething period.   He does not guard the items he collects in his bed and will let you take back any shoes or items not meant to be a play-toys without much of an effort.  He will require constant supervision to keep him safe during his busy puppy months. Franklin is crate trained and sleeps overnight in his crate without complaint.  When he is left on his own or unsupervised, Franklin will also be in his crate to keep him safe. 
House training is currently on-going although in the last week, I would say he has become fully trained.  There will of course be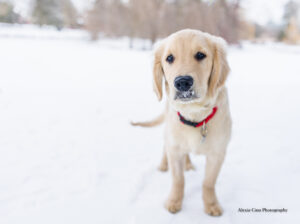 a set back when he goes to a new home, but with proper supervision and regular trips outside he should get back on track quickly.  Franklin will begin to pace and head to the front door when he needs to go outside.  We are still working on his cues but find when he is walked and taken out on a regular basis he does very well.  When Franklin is crated for the night, he will bark when he needs to go outside.  Sometimes this will happen around 4am.  If he is not taken out, he will have an accident.  Puppies at this age have bladders that are still developing and require more bathroom breaks than a mature dog.  New adopters will have to take Franklin out and treat him like a new puppy as he becomes accustom to his new surroundings.  
His loving nature is his best trait!  This bundle of puppy fluff  is happy to by hugged and cradled like a baby.  He enjoys every ounce of affection he can get, he is kind and gentle.  You will never feel neglected as he loves to greet everyone who arrives as if they have been away for a month. He will snuggle and kiss you if you let him.
Franklin loves to play!  He is quite happy to race around the house with his canine companion, dodging in and out of chairs and under tables to avoid being caught.  He will happily retrieve the tennis ball and wait for it to be thrown over and over again.  He seems to love just about any toy that is introduced.
Canine companions for Franklin would be well received.  Any canine that he is paired up with would also need to be young and active since Franklin's playful nature would be too much for an older dog that enjoys quiet time.  On his own, Franklin is a completely different dog.  He is less distracted and more attentive to his humans.  He quickly complies with commands and enjoys one on one cuddle time.  He would be equally fine as an only dog or with another young, playful companion as long as he gets his individual training time and attention.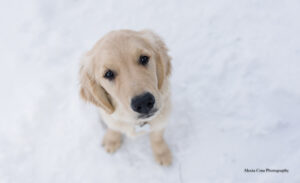 Franklin is intelligent and highly trainable. He will require his new adopters to commit to obedience training post adoption.  The training will help Franklin become his best self.  He currently understands "crate", "sit" and "outside".  When taken outside, he immediately goes to his spot to pee and is very happy to be praised for his actions. His intelligence and need to please his people makes him a quick study for anything new.
Franklin came to his foster family from a puppy mill.  He had spent the first 4 months of his life in a small area with little to no socialization with humans.  Since arriving, Franklin has been introduce to toys, walks and all the benefits of family life, including 2 canine siblings to guide him through his transition.  Franklin did not take long to adjust, within minutes he made himself at home and his previous life remains in the past.  Moving forward, Franklin would be well suited for a family with or without children 8+.  He is very high energy and so would require a family that is quite active and could handle a large dog.  A fenced yard would be ideal for those crazy zoomies that he currently displays inside as he is chased by his canine sibling. 
Snow is Franklin's latest love!!  Diving down and rolling in the snow has become a norm for Franklin after he is praised for his bathroom break.   It's almost like he is about to do a snow angel.  He rolls on his back and wiggles, jumps up and plops right back down again as if he plans to stay outside forever!  His playful nature is coming out more and more every day! This amazing pup makes the most of every new experience.  
Franklin pulls a little on the leash as he likes to explore all of the new smells along the way.  A gentle reiminder and he will come back to continue his walk.  Occasionally he will decide that walking is not on his list of things to do for the day and prefers to just roll around.  Sometimes he needs to be encouraged to continue with a gentle reminder and/or treats as a distraction.
If you have the time, love and patience for a very busy puppy, please fill out an application online.