ADOPTION PENDING
Please read our dog bios carefully to be sure that the dog you are applying for suits your family and lifestyle. At Pound Dog Rescue, we believe in the benefits of post-adoption training for our dogs and their families. This allows for continued socialization, and learning and helps to create a well-mannered and balanced dog. Post-adoption training is a requirement in our adoption process.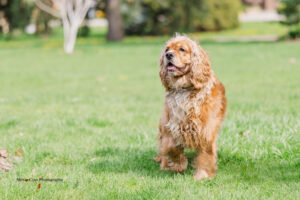 It's time to meet Chutney the 4-year-old Cocker Spaniel that came to Pound Dog as a puppy mill momma where she had many litters of puppies until she was no longer needed. She is so excited to start the next chapter of her life with a new family that will spoil her with all the love and attention she deserves.
When she came to her foster family Chutney had a few extra pounds on her likely due to a poor diet and minimal activity in her previous life. Since then, she has been eating a better-quality food, and going for lots of walks which has helped to lose some of the extra weight. After her recent visit to the vet, she weighed in around 37 lbs, and was given a clean bill of health. However, the vet recommended she continue to lose a couple more pounds in order to be at her ideal weight. In her new home she will need a family able to provide her with regular exercise and who will commit to her continued weight loss.  She is still working on her endurance, and while she has gone on walks as far as 5 kilometers, she prefers shorter walks and is happy to just go around the block a couple times throughout the day.
In her foster home, Chutney lives with another dog, and while out for her walks we've encountered all kinds of other animals including cats, rabbits, birds and squirrels. Chutney does not have a strong prey instinct and is able to get along well with other animals without any major concerns. With that said, in her foster home she has shown a little jealousy towards her foster bother whenever he is getting attention, so a home where she is the only dog would likely be best.
Chutney can be very nervous and timid when meeting new people. Prior to foster care she was living in a barn with no social interactions at all.  She will require a calm home environment with owners who are patience and understanding as she continues building her confidence and working on her training. A family with children would not work for her as the excitement from young kids would be too overwhelming for her. A family with older teenagers could be considered provided they understand the need to remain calm around her, but an adult-only home would likely be the best fit for her.
A common trait of the Cocker Spaniel breed, especially for those dogs that come from a puppy mill environment is they can be prone to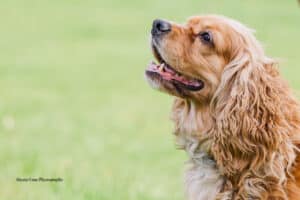 submissive urination which typically happens whenever a dog feels excited, shy, anxious, or scared. This is an instinctual, physical response that occurs when the dog wants to show they are relinquishing dominance to another person or dog to show they are not a threat. When this happens, they will crouch down and release a few drops of pee. When Chutney is nervous or excited this will sometimes happen.  Most dogs are able to grow out of this habit, and as Chutney continues to build her confidence it's likely to help resolve this issue. Her foster family has also learned there are certain ways that work best when approaching her to reduce the possibility of an accident happening.  Her adoptive family will need to incorporate this way of approaching her and also be patient and understanding of a dog that piddles occasionally.  This is not a housebreaking issue, but a submissive behaviour.  
Chutney is doing well with housetraining and is learning how to signal when she needs to go outside. Because she gets anxious, she likes someone from her family to be near by when she goes out to do her business; otherwise, if she is sent out alone she is more interested in getting back inside to be with her family instead of going to the bathroom. Instead of being let out in the backyard, she prefers to go out on her leash for a quick walk, even if it's just for a couple minutes. While Chutney is starting to signal when she is ready to go outside, there isn't always a lot of advanced warning ahead of time. For this reason, we try to take her out at regular intervals throughout the day to avoid accidents.
Chutney is crate trained and goes in her crate at night to sleep, or when she's left alone at home. She hasn't shown any overly destructive behaviour but will occasionally try to get into things she shouldn't if left unsupervised. She has been left alone in her crate for up to 6 hours during the day without any accidents. Her foster parents work-from-home so there is usually someone with her most of the day, and although it's not mandatory that her new owners work-from-home, or be retired, it would be better for someone to be home with her more often than leaving her home alone. A family that has opposite, or over-lapping work or school schedules could also work.
Chutney is quiet and has only barked once or twice the whole time living with her foster family, and while Chutney does have some anxiety, she isn't overly skittish or jumpy. Because of this, she would do well in most types of home environments. Detached homes, townhouses and some smaller apartment buildings could work for her. However, large high-rise types of apartment buildings would not be a great fit.  She needs quick and easy access to outside for her housetraining success and also needs a quiet home environment.  She will not handle the hustle and bustle of a large apartment building with elevators etc.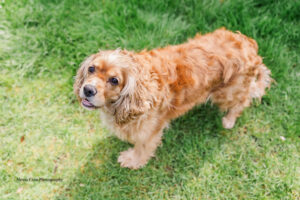 Chutney is a low-shedding dog,  and will need occasional professional grooming with regular maintenance at home.   Her foster parents would recommend getting her professionally groomed once or twice a year just to tidy her up and take care of any minor matting that may occur.  This will also help to reduce her shedding even further, especially during the springtime when she is shedding her winter coat in preparation for the warmer weather.

Chutney has the sweetest personality, and just wants to make her family happy. This girl is a total lovebug who is always up for a snuggle. Her favourite thing to do is hang out on the couch and cuddle up beside you while watching tv.  She loves to burrow into the pillows and will often make pillow forts for herself covering herself up with all the throw cushions leaving only her nose sticking out. It's recommended that her new family have previous experience owning a dog, as they will need to have patience with her while helping to build her confidence as she transitions to her new home. If you can provide a calm and loving home environment, with consistency to support her continued training then please apply to give this sweet girl her new home.