ADOPTION PENDING
Please read our dog bios carefully to be sure that the dog you are applying for suits your family and lifestyle. At Pound Dog Rescue, we believe in the benefits of post-adoption training for our dogs and their families. This allows for continued socialization, and learning and helps to create a well-mannered and balanced dog. Post-adoption training is a requirement in our adoption process.
Let me introduce you to Elsa. She is a 5-year-old Chocolate Lab. Elsa weighs roughly around 80lbs currently but is on a diet and should lose a little more weight. She will fit nicely in a home with a securely fenced backyard so she can stretch her legs and trot around. She has a beautiful chocolate coat and her loving eyes will steal your heart. As I write this, she is calmly sleeping at my feet.  She is a beautiful dog with an even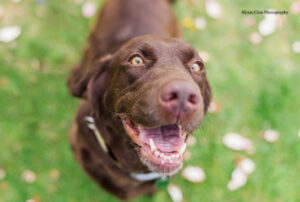 more wonderful temperament and personality.   
Elsa was used for breeding purposes for the first 5 years of her life up until about 4 weeks ago when she came into our care. Elsa has never known a life as a pet but that does not show as she already knows to come, walk on leash, sit and spend time in her crate. Elsa still does have some work to do on her behaviors like adjusting to being alone in her crate and not pulling on her leash during walks but nothing some time and attention won't address. At the end of the day, she needs and deserves a home that will give her endless amounts of love and affection and she will give it right back to you. Elsa loves love and just wants to be by your side getting a pat on the head.
Elsa would do well in most homes but preferably one that can provide her with the attention she deserves and not being left alone too long initially. She craves attention and so will require a home that is able to give her lots of love and time together. She is calm and quiet indoors and likes to trot around outside with other dogs or her family. As she has developed her confidence she will bark, a very sweet bark, from time to time at new sounds or situations going on outside. A quick verbal instruction to stop and she will carry on with what she was doing. Elsa's favorite things to do outside are to explore the backyard and to sit beside you for a chance at a little extra attention or love. She has shown some prey drive towards squirrels and rabbits both in the backyard and on walks and so she should be watched when around these animals. Elsa has been taken on walks around the neighborhood and on trails and she is happy to trot along. She does pull sometimes if she finds a good smell to follow but she is learning and will catch on quick. She is a strong dog so whoever walking her will need to be prepared to handle her.
What Elsa loves best though is snuggles and pets. She is happiest when she's getting pets as she sits by your side or rests her head on your lap. She can't get enough love and affection and she will remind you she'd like more with a gentle heart-warming paw to your arm. Elsa will allow you to do anything to her if she's told she's a good girl and a couple pets or treats accompany it. She is also perfectly behaved as we trimmed her nails and never so much as pulled a foot away. Elsa has been such a good girl during her stay with us and to top it off is now perfectly housetrained. She is also crate trained, although she prefers not to be in her crate and does bark initially when you leave. Some work with her on this will go a long way. She has been an easy dog to foster and an even easier dog to love. Everyone who meets her comments on how sweet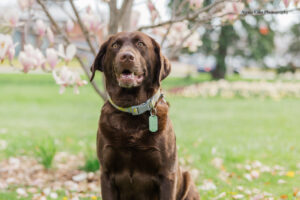 she is and how lucky someone will be to have her as their forever dog.

Elsa is good with other dogs and has settled in nicely with our other two larger dogs. She showed interest in playing with them pretty quickly and we think she would do well in a home with another friendly, well-behaved dog, but this is not a necessity for her. Elsa would do just as well being the only dog and getting all the attention to herself. There are no cats in our house so we are not sure how she would do with them. As noted, she will chase squirrels and rabbits, so best for her to go to a home without a cat. Elsa is not being fostered in a home with children, but we believe with her fun, loving nature, she would do fine with children. She would love the attention she would get from kids who would love to pet her and play nicely with her in the yard.   
Elsa is being taught basic obedience in her foster home and has learned come and "sit". She is treat-motivated and along with some love and praise seems to pick up new items quickly. Elsa's new family will need to commit to continuing her obedience training to bring out the best in this smart dog.  

With regards to health, Elsa has had a check-in with the vet and no issues were noted. She has been spayed recently and should be recovered in the coming weeks. She does have a little more weight to lose but that is addressable with a proper feeding plan and some exercise. Otherwise nothing has been noticed in terms of Elsa's health and she seems to be in great shape.
Elsa's forever family will need to understand that while she is extremely well adjusted for a recent mill dog that continued patience and work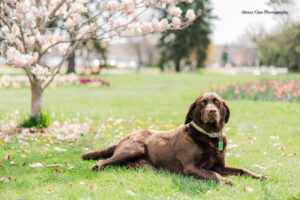 will be required to help Elsa and incorporate her into their family. That being said, Elsa has already made so much progress in the short time we've had her that we know in her perfect family she will fit in right away and start enjoying her new life. Adopting Elsa gives this angel the new chance at life she deserves and gives your family the most special new member. Elsa will repay your kindness with love and affection for the rest of her life.
Elsa is an amazing girl. She has a fun and playful personality that will light up your whole life and she is truly a pleasure to have as company. Her forever family will be incredibly lucky to have her.