ADOPTION PENDING
Please read our dog bios carefully to be sure that the dog you are applying for suits your family and lifestyle. At Pound Dog Rescue, we believe in the benefits of post-adoption training for our dogs and their families. This allows for continued socialization, and learning and helps to create a well-mannered and balanced dog. Post-adoption training is a requirement in our adoption process.
This is Franny also goes by Fran, Franski, Franalicious, she is a 2 year old Shih Tzu with high energy! She is a smaller dog weighing in at approximately 10lbs, she is the perfect size for all ages. Franny is mostly white with grey ears and grey patches on her coat. Franny is playful,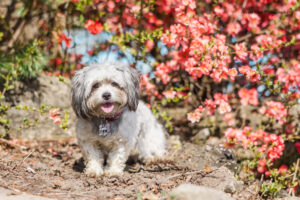 active and very social, she fit right in perfectly to our family and she will with yours.   Don't let this cute little fluffball fool you…Franny is very active and energetic and is looking for her family to be equally as active and enjoy long, fast walks multiple times a day, all year long, all weather. This dog may look like a dainty little thing, but she is far from it!
When choosing Franny's name our family came up with 10 options, our boys decided on Franny, which funny enough is the short form of my middle name Francine. On the topic of children Franny is absolutely amazing with children, she is gentle, playful and energetic with them. Franny is play based and not treat based, she thrives with playing fetch whether it be with a ball or squeaky toy. The boys enjoy chasing her around the house when she has the "zoomies" and playing any kind of fetch game with her.   Her only issue is that she is a door dasher and will take any opportunity to run out a door if left open, so any children in the home need to be old enough and aware enough to ensure that door and gates are securely closed each and every time and to be aware of Franny and ensure she isn't let out. 
Franny was an unclaimed stray at a shelter and she was adopted by an elderly couple that could not handle her activeness and they brought her back. That is when Pound Dog came in to save our sweet girl and brought her into foster. Although a small dog, Franny is a very energetic and active dog and not suited for those who wish for a dog who will be happy with just a short walk.  Franny is busy and athletic and needs to run and play and go for many long, fast paced walks to be happy.  
 Franny is working on sitting and staying, she does well on a leash in the front yard where she can run around a little. Franny would be best suited for a single detached home, backyards need to be fully fenced with NO holes or escape exits, for example no wrought iron fencing with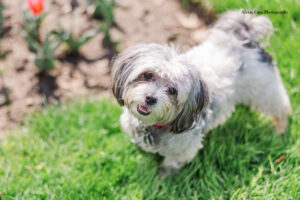 big gaps. 
Franny goes out every morning around 7am and then goes for a long morning walk around 10am. This schedule works very well with her house training. Franny likes to be walked rain or shine so invest in some rain boots because she loves getting wet! She gets let out multiple times during the day for breaks and another long evening walk around 8pm. However, she does get distracted easily (by birds, squirrels, people other dogs) and when this happens, she tends to have an accident in the house.  We have been working on house training and I cannot express enough how much of a routine and schedule she needs!
Franny is great with other dogs, she greets them on walks very nicely, has her sniff and she is out. She loves hanging out on the front lawn when it is nice outside greeting people and pups of all ages. She does get excited and will bark at you to let her over to meet the people and dogs. 
Franny is crate trained and will even go in her crate by herself if she needs a break from all the action. We are home most of the day and she follows us around from room to room. When we are away, max 2-3hrs she is in her crate, on occasion she will bark when you leave the house and she is in the crate, I think that is just jealousy as she wants to join the fun wherever you might be going. At night Franny sleeps in her crate, she does not bark whatsoever and when a family member gets home late, she will not bark and wake up the entire house. 
Franny eats half a cup of food in the morning and half a cup of food at dinner time. Sometimes she will not eat if it is just left out, if this happens, we put her in her crate for 10 minutes and she eats it. Franny also does not like treats, to reward her we say things like "good girl Fran" or reward with play-based activity.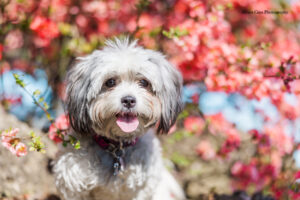 Franny is being taught basic obedience, sit, stay and come she has made big progress on these since staying with us. She will jump and nip ankles when new people come into the home however this is very playful "puppy like" behaviour. Continuing training and routines will benefit Franny immensely. 
Franny has no health issues that we are aware of, she is a happy and active pup who would enjoy living with an active family. She enjoys car rides and is very well mannered in the car, she does great riding on a lap or on a blanket. 
Franny is a loveable, cuddly girl who has helped bring happiness and fun into our home, she loves a good belly rub and cuddle every day! She enjoys laying on the couch for family movie night and will curl up and snuggle in!  If you are looking for an active, outdoorsy dog who can then cuddle up after a day of adventures then Franny is your girl!