ADOPTION PENDING
Please read our dog bios carefully to be sure that the dog you are applying for suits your family and lifestyle. We at PDR believe in the benefits of post-adoption training for our dogs and their families. This allows for continued socialization, learning and helps to create a well-mannered and balanced dog. Post-adoption training is a requirement in our adoption process.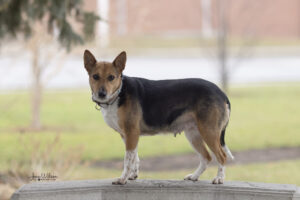 Looking for a super unique, amazingly lovely, cuddle bug of a dog?  Then look no further, this here is Dharma.  She is a bundle of LOVE who is looking for a new start in life!
Dharma is a real mix of dogs….a bit of Beagle with a Bull Terrier body and profile and a dash of Basenji in her face and expression.  We don't know what else is mixed in but we can tell you that whatever she might be, the result is a super sweet, compact and muscular dog who "smiles" showing all her pearly whites.   Dharma is about 4 years old.  She is a medium size and approximately 37 pounds.  She has short straight tri-colour hair which does shed. 
Dharma is crate trained and house trained.  When Dharma is not being supervised, she is in her crate.  Her crate is her security and she quite likes it.  She will go in her crate often throughout the day when she wants some quiet time.    She sleeps in her crate overnight and also whenever she is home alone.  It will be important for her future family to have her crate in a main room of the home so she can have her own space but still be part of the family. 
Travelling in a car is not something that Dharma likes to do right yet.  She is very nervous travelling and will climb on her driver if not confined.  For safety reasons, Dharma needs to be crated during her car travels.  In the crate she will tr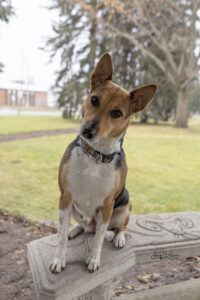 avel quietly and not bother you at all.  But this is essentially how Dharma is with all things…compliant and just wanting to please. 
Since Beagles are known to "follow their nose", Dharma's new home will need to be aware that she may suddenly chase or follow any animals or scent trails without warning.  It is for this reason she can never be off leash outside of a secure fenced yard, ever. If there is no fence, she will need to be on a leash constantly.  She will not be a dog that can be trusted off leash since her natural instincts make her a constant flight risk. 
She is quiet and calm for the most part if she is walked on a regular basis.  Dharma is a medium energy dog who needs multiple walks a day to be happy. She loves her walks and all the sniffs that come along the way!  She is a gentle walker and likes a moderate pace and will be right at your side the whole way. She doesn't pull on leash or cause any disruption.  Dharma is a very, very well behaved dog and is always wanting to be a good girl.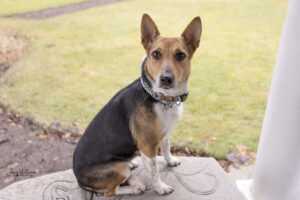 In her previous life, Dharma lived with other dogs and more recently shared a foster home with dogs.    She is dog friendly when introduced properly with time and space. She doesn't want strange dogs rushing her or being rude, and we can't blame her for that.  Dharma enjoys other dogs that are calm like her and other than the occasional spurt of running play in the yard, she likes a more moderate energy friend who will just sniff around with her and then nap. Dharma would like to be the only female dog in the home though. She can have female dog walking buddies but wants to be the queen of her castle and not share that role.  Dharma also lives with cats in her foster home and hasn't given them a moment's notice.   Dharma would also be an excellent family dog for a home with gentle children who want a dog to pet and cuddle with.  Dharma is not a "chase the ball" or wrestle type dog and doesn't really play so younger, exuberant children won't be a good fit for her.  Dharma likes a quiet, peaceful home to match her quiet, peaceful nature.
We have been working on teaching Dharma's basic obedience for the last few weeks. The new family to adopt Dharma will be required to commit to obedience training to bring out the best in this amazing dog.   
Dharma's 'happy place' is snuggling on any available lap or next to you on the couch.   She will slowly work her way up on the couch and without warning you will find yourself face to face with her.  Sometimes this includes a push into your sh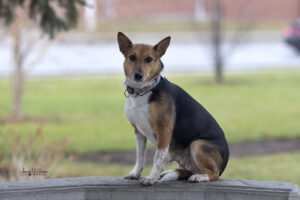 oulder with her head that reminds me of a hug or just a drop and wiggle into the best position to get a good scratch.  She loves the top of her back scratched and will use the coffee table or couch to get the scratching she needs if she can't find a willing participant.  
It is apparent that Dharma had some abuse or rough handling in the past.  She is super submissive and will roll over and expose her belly whenever someone goes to approach her.  She also will "smile" by showing her front teeth in a flash of a grin which is also a very submissive gesture.   She is learning that people are kind and she doesn't have to be so submissive but that will take a long time to fully undo if ever.  This dog is just so gentle and calm and quiet and so very easy to live with and love.  She deserves nothing more than a loving family who will give her a lot of attention and show her nothing but kindness.  In return you will get the sweetest of dogs who will be a loyal companion forever. 
Our time with Dharma has been nothing but pure joy!   Wherever this little lady goes, her gentle fun-loving nature will bring much laughter and love!  If you love hounds then Dharma is sure to be of interest. She is a total doll and we adore her!