AVAILABLE
Please read our dog bios carefully to be sure that the dog you are applying for suits your family and lifestyle.
We at PDR believe in the benefits of post-adoption training for our dogs and their families. This allows for continued socialization, learning and helps to create a well-mannered and balanced dog. Post-adoption training is a requirement in our adoption process.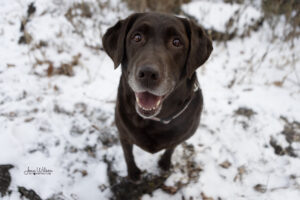 Say hello to this sweet girl Kimber, don't let the gray on her muzzle lead you to believe that she's an old girl, because this big suck is only 3 years young.  Kimber is a beautiful chocolate lab who currently weighs just under 100lbs, though she does still have some weight to lose to become the most healthy version of herself.  Kimber is an extremely affectionate, happy and laid back girl.  She is a true lab in that she lives for affection from her humans and will seek it out constantly.
Kimber is quite possibly the happiest dog in the world. Her tail is constantly wagging, the only time it stops is when she's sleeping! Her greatest pleasures in life come from going for leisure walks, being fed her breakfast/dinner and getting to follow you around the house. She enjoys napping in any room you are working in, or simply resting in a spot in the house where she can see all the action.
Kimber has had to endure quite a bit already in her short life, but she is so full of love and has so much to share with her lucky forever family.  Kimber came to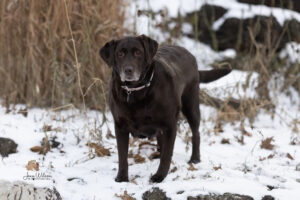 Pound Dog Rescue as a result of being given up by a puppy mill breeder.  It is clear that she has had many litters and she will continue to recover from them over the next few months.  Kimber just finished having her last heat when she came to us, because of this Kimber cannot be spayed for another 2-4 months, and therefore her forever family must be able to bring Kimber back to our vet in Cambridge in order to have her spay surgery completed.  When Kimber first came to us, her nails were so long that they were curled over and were causing her a lot of pain. We got those taken care of right away and started taking her for walks, and let me tell you this girl loves her walks! Kimber enjoys 2-3 walks daily in her foster home, she can keep a good pace and walks nicely beside you. She also enjoys smelling all the smells and asks that her future home lets her sniff, just a little bit! Kimber is walking very well using just a martingale collar and lots of positive reinforcement. After her nightly walk, Kimber is the perfect foot warmer. When you are ready to settle down and watch TV or play video games, you can bet she will come and sleep at your feet until you're ready for bed.
Kimber is fully house trained and she has never had an accident in the house.  Because she's not a puppy she doesn't require being let out super frequently, and she knows that outdoor time will happen and that she can do her business then. She is very consistent with her routine, morning walks and evening walks are for her poops, she can promise you that! Although Kimber has been working on her crate training, it was clear that it caused her some anxiety. With that being said, we feel that Kimber would be the perfect candidate to not need to use a crate at night.  We are looking for a home for Kimber where her family would be happy to let her sleep on a pet bed in their room at night. She is not destructive or disruptive and really just wants to be with her people.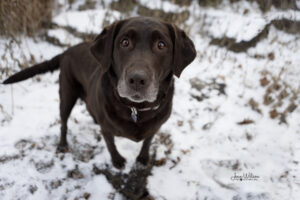 Kimber has lived in a foster home with young teens, other dogs and cats. Kimber absolutely loves  kids, she could go to a home with kids that are aged 8+ that are well versed in proper dog play.  Kimber mostly ignores the cats in her current foster home, other than trying to get a good sniff of them.  If Kimber goes to a home with a cat it should be expected that all interactions be monitored closely for the first little while. Although Kimber has lived with other dogs in a past foster home and gets along very well with them, we believe that Kimber would be better placed in a home where she is the only dog. Kimber gets very jealous of the other dogs in the home and doesn't like to share and we feel it would be in her best interest to be the only dog in the home. Kimber is well behaved in the car, she will look around for a bit then will simply lay down and nap.  Kimber has not had any experience with formal training yet, we are working on some simple commands such as "Sit" and "Wait".
We are looking for a forever home for Kimber ideally where she has her own fenced in backyard to hang out and play in.  She is looking for a family who will spend time with her walking, going to training classes and just relaxing at home with her.  Kimber needs a family who wants to spend time with her and who aren't away from the house for long periods of time.  Kimber is such a sweet and lovely dog, she has so much love to give and will sit and let you pet her for hours.  Could you be the home that Kimber is looking for?