ADOPTION PENDING
Please read our dog bios carefully to be sure that the dog you are applying for suits your family and lifestyle.
We at PDR believe in the benefits of post-adoption training for our dogs and their families. This allows for continued socialization, learning and helps to create a well-mannered and balanced dog. Post-adoption training is a requirement in our adoption process.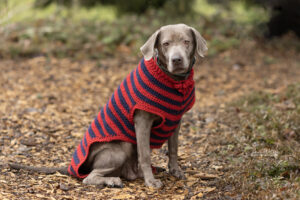 We are thrilled to introduce you to Mona the Labrador, a beautiful soul. Mona is an exceptionally sweet, gentle, affectionate, loving retired mommy who does not ask for much– just her two meals a day, some short exercise, pets on the head, and being close to people. Mona is 3 years old and weighs about 65 pounds. She does not have much hair due to stress caused by her former living situation, but its slowly growing back with healthy food and clean living. Without her sweater or outdoor coats Mona looks a bit like a werewolf with her spiky lab mane along her spine, but don't be afraid – she's more of a teddy bear in spirit! We keep her sweater on almost all the time to make sure she doesn't catch a chill. We don't know how long it will take for Mona's coat to grow back in, or how full her coat will be when it's done. For now though, we are happy to have this complete darling in our house without the shedding and vacuuming that usually comes along with Labradors and their double coats.
Mona came to us from a puppy mill environment where she was not used to living in a home and being shown love by her people. Luckily, Pound Dog Rescue had a spot for her! From here on out she will live the life of a much loved and pamper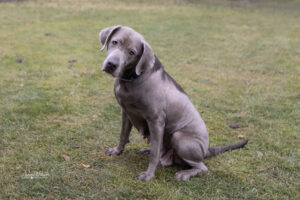 ed pup. Despite her past living situation, Mona settled into our home right away and mastered going up and down the stairs within a few days – with some hesitancy at first. Mona also understood how to use the restroom outside right away, with only one accident indoors which was quickly corrected and has not been repeated. It's been fantastic for us these past several weeks seeing Mona come out of her shell, develop confidence, and learn to be a family dog living it up in the city. She gets along very well with her foster sister with no instances of aggression even when her sister is being a bit pesky. Mona definitely has the infinite patience of a mother!
Mona unfortunately went into heat days before her scheduled spay so we had to hold off on this.  Her heat is over now but she can't safely be spayed for a few months.  She will need to be returned to be spayed, in a few months, which needs to be done our veterinarian in Cambridge and is already paid for by her rescue.  Anyone interested in adopting Mona needs to live within a 45min radius of Cambridge and be able to drop her off the morning of her spay and then pick her back up later that evening.   She will be adopted out on a contract that enforces this mandatory spay return.  We just feel that it's time for Mona to find her forever home and waiting an extra few months in foster care until she can be safely spayed will only delay her happily ever after.
Here is what a day with Mona looks like…
When Mona wakes up and gets let out of her crate, we let her out in the backyard to do her business right away. She can do this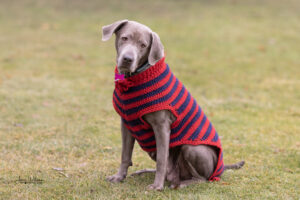 either on a leash, or in a fenced in backyard. We take then take her on a  short (15 minute) walk. Once we get back home, we feed Mona in her crate. With walking and breakfast taken care of, Mona is content to lay on a blanket at the feet of her foster Mom while she works from home. At around noon we let Mona out again for another restroom break and maybe a few minutes of play, then it's back to hanging around the office near one of her foster parents until after work. After work we do another, somewhat longer, walk, feed dinner in her crate, and then Mona gets more naps, pets, and cuddles until it's time for a final restroom break and bed in her crate.
Mona loves spending time near her humans, whether it is following us around the house, the yard, or placing her head on the couch for scratches. If Mona wants more pets, she will put one of her front paws on you gently and look up expectantly. She is also a fan of giving us slick wet nose boops when she wants to say hello. we do not let Mona on the couch or the bed, and other than trying to come up once, she is content to stay on the floor. That being said, if Mona's forever family choose to let her on the couch, she would likely be very happy to snuggle with her humans once she learns that this is OK.
Mona has shown herself to be comfortable getting pets from any new people she meets, including folks she meets for the very first time. This was tested at our home and others during the Christmas holidays. She also proved herself very gentle and non-reactive around babies, toddlers, and small children – again the patience of a mother!
Mona likes going  for short or long leisurely walks. For a dog just learning to walk on a leash, Mona quickly proved to be an excellent walker, and knows how to walk on the left side with a loose leash in the "heel" position. We use a gentle leader to walk Mona and encourage her forever family to continue this. Mona doesn't mind other people or dogs on her walks and we have rarely had her bark at other animals/people. She will get interested in squirrels and try to chase after them, so it's still best to keep a firm grip on the leash but she will quickly come back to heel once corrected.
Mona isn't too playful yet, but will have small bursts of running around outside and inside with her owners. She always shows how happy she is to see us and get pets with her tail wagging almost constantly. She still has some things to learn about the 'retriever' part of being a Labrador. Mona likes her treats, especially beef liver, but she is surprisingly not overly food motivated!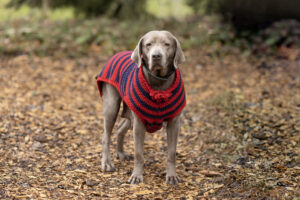 Mona will go out in the backyard on her own to do her business but will quickly come back inside. She is also happy to spend time outside with her humans, either in the backyard or on a walk. We are starting to see Mona come out of her shell and enjoy running around the backyard to chase squirrels. Having a fully fenced backyard would be really wonderful for Mona's forever home so she can continue to learn how to play and have fun in a safe space.
Mona does not go to her crate unless she is asked to. That said, she is getting very good at going in the crate when we feed her her favorite beef liver treats. When we leave the house or go to sleep, we put Mona in her crate where she whines and sometimes barks, but calms down eventually. We feel that Mona would do OK at home during the day in her crate, provided she has ample exercise and attention in the mornings and evenings, and a restroom break with some exercise, pets, and cuddles mid-day. Mona sits quietly in the car, though it does take some coaxing to get her to jump up on the back seat.
Mona is a quiet dog, with the only time she barks or whines when put in her crate for bed or when her people leave, and even then she does settle down eventually. Although Mona is a bigger dog, she is generally very calm indoors so could live in a smaller home.
Mona has no problem sharing her space with her foster sibling, but would also be happy in a home where she is the only dog. She is a very mellow dog so would not be a good match for a dog who is constantly bugging her to play. Mona's foster sibling would sometimes try to initiate play but Mona wouldn't really understand and not go along with it. Maybe one day!  We have not seen Mona with cats but imagine that she would be fine in a home with a dog-savvy cat – but testing would be necessary to be sure. Although Mona has proven to be comfortable around kids, she sometimes would withdraw if their play became a bit too rambunctious. For this reason, we believe she would do best in an adult-only home, or in a home with quiet, older kids (over 10) who would know how to play with her in a way she is comfortable with, and allow her to continue building her confidence.
Mona has yet to learn most basic obedience commands and will need some work on the fundamentals. Mona does know how to sit, lie down, and come to her humans with encouragement, but doing these behaviors on command has proven to be a slow process, especially with Mona being not overly motivated by food. We have spent our time with Mona teaching house manners and building her confidence. Mona will need to go to obedience training with her forever family to practice doing these behaviors "on command".
We have been so happy getting to know Mona over the past weeks. Everyone who has met her has fallen in love with her almost instantly. We know that she will make a great addition to any family looking for a calm, quiet, loyal, affectionate, wonderful, dog.