ADOPTED
Please read our dog bios carefully to be sure that the dog you are applying for suits your family and lifestyle. At Pound Dog Rescue, we believe in the benefits of post-adoption training for our dogs and their families. This allows for continued socialization, and learning and helps to create a well-mannered and balanced dog. Post-adoption training is a requirement in our adoption process.
Introducing our girl, Fergie.  Fergie is an approximately 6-year-old Cocker Spaniel.  She came to us from a puppy mill where she was a breeding dog.  We don't know exactly how many litters of puppies that she has had but we can tell you she has definitely had a few babies.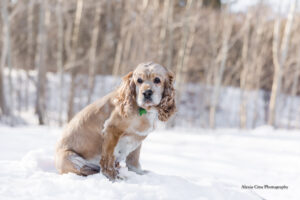 Fergie comes across as a mama dog.  She is a gentle, cautious and has a heart of gold.  She has such a kind disposition toward people of all ages and other animals.
Fergie is tan in colour with little white boots on her feet and some white fur on her chest.  She has great big, soft, floppy ears that she has no problem letting us pet for long periods of time.  Fergie has sweet eyes and a hang-dog expression that will melt your heart.  She arrived to us quite overweight but has since slimmed down a fair bit.  She currently weighs about 28lbs.  With a continued healthy diet and frequent walks, Fergie will be her ideal size in no time.  
Fergie is a breed of dog that needs regular grooming.  Her fur, her feet and her skin were in a bad state when she arrived in our care, and it took quite some time to correct those issues.  It was not a comfortable experience for Fergie, and it was heartbreaking to watch.  She is in wonderful condition now and we want to ensure that she never has to experience those very preventable issues again.  Her new family will need to understand and commit to making sure that she is groomed when required. 
Fergie has had a rough first 6 years and is just learning what it means to be part of a family and to be allowed to be a dog.  Fergie spent her first two days with us in her crate, facing the corner and refusing to make eye contact.  She seemed horrified.  She is a smart and curious girl though, so she didn't stay reclusive for long.  Once she came out of her crate, she decided that freedom was for her.  She is interested in everyone and everything now.   It has been exciting to watch her learn about her world and grow her confidence.  
Fergie is a fairly low energy dog, but she really enjoys her regular walks.  She walks nicely on a leash, often with her nose to the ground smelling all of the new things in her world.  Fergie is cautious about new people and things and can become scared.  She frequently looks to her people for reassurance.  After a walk, she is content to sleep in front of the fireplace or on the couch beside a person.  Fergie has learned that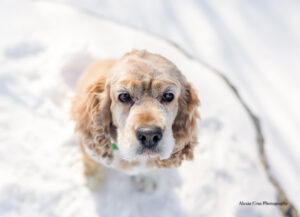 people mean pets and she loves pets. 
Fergie lives with two cats that she is very respectful towards.  One of the cats has taken to sleeping beside her so that they can share body heat.  She is also being fostered with an older, larger breed dog.  Fergie is quick to follow her foster sister around looking for direction.  She is very respectful and submissive.  She would do well living with another mature, calm dog.  Fergie is interested in snuggling with and having the company of another dog.  She has no interest in playing or rough housing with another dog.  
Fergie is being fostered with older children who are gentle with her and respect her space.  She is happy to sit on one of their beds and accept cuddles.  She would do well with older children, over 10 years of age, so long as they are gentle with her and patient with her while she gets to know and trust them.   Fergie requires a calm and quiet home without small children as regular visitors or a lot of commotion.  
When Fergie arrived in care she was physically in rough shape.  Pound Dog Rescue has provided her with the veterinary care that she needed.  Fergie has been groomed, vaccinated, spayed and had a full vet check-up.  She also had a full dental procedure to clean her teeth.  She is a whole new girl now.  She is doing very well and is ready to start her new life.   We do have to note that shortly after her spay surgery Fergie had a short, tremor like episode.  She had not had anything like this before, or since, and even after her dental had no episode.  We don't know if she will ever have another seizure or tremor like episode, we just want her adopters to have all the info on her.   
Despite the hard life that she has experienced, Fergie is a calm, good natured girl.  She has a lot of confidence building to go still, but she is well on her way to being an excellent, loyal companion for a lucky family.  Once she became comfortable and began to trust us, she became a very easy dog to have in our house.  She is very quiet. We have never heard her bark, growl or make any loud noises.  
She quickly took to going outside to go to the bathroom.  She paces near the back door with her nose to the ground to tell us that she needs to go outside.  She has had very few accidents inside of the house and all of those were in the first few days of her arrival, before we learned how to read each other. 
Fergie is crate trained and is completely quiet and calm when we put her in it.  She is not a big fan of her crate though and pouts when she has to go in it.  She would much rather be left to roam free if we would allow it.  For her own safety, she sleeps in her crate at night and during the day when we are not home to watch her.  When we are home, Fergie has free roam of the house.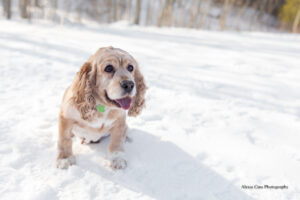 Fergie has spent most of her life living in a confined space, so it has been interesting to see the things that she takes interest in inside of our house.  She has excellent house manners and we have never seen her behave in a destructive manner.  However, we have witnesses her develop some quirky, and frankly quite comical behaviours.  Fergie has turned out to be a great urban hunter.  If you find that you are missing an item of clothing, you should check Fergie's bed for it.  She has taken to picking up items that she finds on the floor and hoarding them in her bed/nest.  Her favourite treasures are socks, gloves and other clothing items.  We have ousted Fergie from out laundry room because when we are loading and unloading the machines, Fergie tries to obtain as much clothing as she can to add to her collection.  She has become bold enough that she will stick her head into the machine, grab some clothing and scurry off to her bed to hide it or fall asleep on it.    
Fergie is ruled by her nose and when she smells something good, she will stand on her hind legs like a Meerkat to scope out what is on the counter.  We suspect that if something smelled tasty enough, she would try to reach it.  Luckily, her short little legs don't allow her to act out her plan.  We correct this behaviour by giving her a stern, "Ah ah Fergie! Get down!"  She is very responsive and stops unwanted behaviour quickly when she is verbally corrected.  She very eager to please her people.  
Fergie has been on many car rides and is so quiet that it is easy to forget that she is there. She rides in her crate and usually falls asleep.  
Fergie is very cautious about new people entering the house.  She has a mat in our living room that has become her place of safety.  When someone new enters the house, she scurries over to her mat, starts shaking and watches them closely.  Fergie wants to love people and if given the time, she can't help but approach them.  With patience and time, we suspect that Fergie will become braver around new people. 
Fergie is such a great dog and it has been a pleasure to foster her.  She is an easy going and fun dog to live with.  Even our friends who describe themselves as "not dog people" enjoy being around Fergie because she is so good natured and well behaved.   She deserves to find her forever family so that she can get on with living her best life with them.