AVAILABLE
Please read our dog bios carefully to be sure that the dog you are applying for suits your family and lifestyle. At Pound Dog Rescue, we believe in the benefits of post-adoption training for our dogs and their families. This allows for continued socialization, and learning and helps to create a well-mannered and balanced dog. Post-adoption training is a requirement in our adoption process.
Ok, so she is a little quirky and walks a little funny, but this little darling will steal your heart in seconds and you will be so glad she did. Meet Gidget, a female Yorkshire Terrier cross that is just under a year old and weighs around 9lbs. She is so full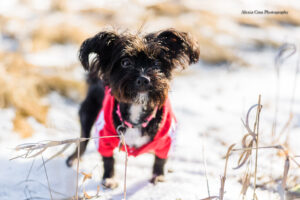 of love, joy and a zest for life. She is incredibly inquisitive and smart, has an adventurous spirit and is so grateful and devoted to her person and what a joy she has been to foster! As much as she is loved in her foster home it is time for Gidget to find her forever family, the people that will never let her down again.
Gidget travelled to Ontario from Quebec where she had been turned into a pound by at least her third home in her short life, because she barked and was too much work with the kids. In her last home she was never walked, went to the bathroom on pee pads and her only exercise or companionship was the family cat. Upon arriving to her foster home, it was very clear that Gidget was craving affection and enrichment so badly, she was so appreciative and exuberant about for every amount offered to her. Gidget is still very much a puppy, and one that has been bounced around a lot during puppyhood with little socialization. All that being said, she is such a wonderful, entertaining and deeply loving puppy that it is hard to imagine why no one wanted to keep her in their family. It's truly mind boggling, but the way we see it is this means her forever family has yet to find her and when they do, what a gift she will be to them!
The first thing her future family needs to consider is that she does have some wonky back legs. It's a lot to explain in detail in this bio, but essentially her back legs do not bend and her legs operate from her hip joints and not her knees or feet. We will definitely discuss this in more detail with her successful applicants, but it is important to know that this does not cause her any pain.  In fact, she gets around incredibly well and has mastered going up and down the stairs with skill and determination. As she gets exercised more, her strength is building in her back end which helps her get into all sorts of shenanigans quite easily.  It was determined in consultation with her veterinary team that surgery and physiotherapy were not needed or recommended. She can still go for walks and LOVES them, but she may need to be carried sometimes to give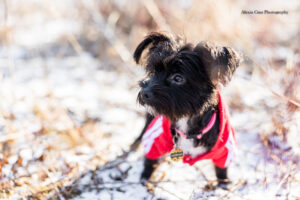 her little body a break while her stamina continues to grow. Her future family will need to be capable of lifting and carrying her but also only do that when she needs a rest, not as her primary means of mobility. She also won't be suitable for a home with young, active children as it isn't easy for her to quickly change direction and get out of the way if little people are playing in her presence and she finds herself underfoot. She could be quite easily stepped or fallen on resulting in injury. We will consider a home for her with children over the age of 10 who can appreciate the fact that you need to be careful about where she is in relation to your feet, but she really will be best suited to an adult-only home or one with older teens.
In the home Gidget has wonderful manners, but she still is a puppy who is catching up on exploring her world. She will find things to put in her mouth and chew and although she is housebroken, she does not yet know how to signal to you that she needs to go outside. You will have to play a proactive role in getting her out to the bathroom and supervising her closely like you would any other puppy. Gidget is crate trained and runs into it readily for treats or meal time. This is very helpful in keeping her out of mischief when you can't keep your eyes on her and prevents her from having accidents that can become bad bathroom habits. Gidget will require someone who can at the very least come home during the day to let her out to the bathroom, but her wish list would be a work from home family or one in early retirement that can provide her all the adventure and activity a young and spunky girl needs. Gidget will also not be suited to an attached living situation as she has opinions on you coming and going from the home and you can be sure your neighbours are going to know all about them. She will require a detached home and if it could also have a fully fenced yard, well nothing would make her happier to be able to safely patrol and investigate it for visitors each and every day.
There is not a person Gidget has met yet that she doesn't like. She wants to meet, cuddle and give kisses to everyone she has come across so far. She has SO MUCH love to give and tucking her head under your chin for a snuggle or nap is her idea of bliss, whether she has known you for a long time or just met you. Gidget also likes other dogs if they are close to her size, confident but kind, respectful of boundaries but also playful. Larger and rambunctious dogs are not her favourite as she finds them intimidating and she will bring out that little terrier personality to tell them to back off. It certainly isn't over the top, but she knows what she likes and what she doesn't and is quite confident in communicating her boundaries. She prefers male dogs over female dogs, but has had no issues with any of the dogs in her foster home. She sometimes forgets her manners when puppy brain takes over and she has been told off a few times for being rude, to which she responded with total respect and understanding. She is not a dog to pick a fight or respond poorly if she has crossed the line and been told so, and she gets along well with dogs that behave the same way. Gidget has a foster brother that is a Chihuahua that is also young and playful, but very respectful and a great communicator and that is exactly the kind of dog we would love to see Gidget live with. She could be the only dog in the home with some dog playmates to engage with, but she truly loves having a dog companion in the home full time and it would be hard to picture her without that.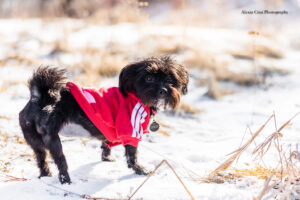 Gidget enjoys car rides and sits quite comfortably in a booster seat with a harness for safety, she would make a great road trip companion. I can't express enough just how much this little girl wants to do life with you, go on adventures, see the world and be by her favourite person's side as much possible. She thrives on activity and social outings, so if you are looking for a couch potato type of dog that is happy with just staying at home, this is not going to be your best fit. The more Gidget gets to be out in the world with you, the happier and more settled she is. She walks well on leash even if it sometimes means she zig zags a bit due to her funky back legs and her pace might not be as brisk as some people like to walk at, but she can still motor along pretty well…and if you are on a trail in a greenspace where she can meander and explore all the bette. She is a strong, courageous, healthy little dog and she is ready to take on the world!
It's really hard to express just how much joy you will get out of having Gidget in your life, but whoever is the lucky person to bring her home is going to wonder what life was like before her. She is a remarkable little girl, and she is looking for her partner in crime and forever snuggle buddy…if you think that is you, drop us a line, we'd love to chat about all things Gidget!