ADOPTION PENDING
Please read our dog bios carefully to be sure that the dog you are applying for suits your family and lifestyle. At Pound Dog Rescue, we believe in the benefits of post-adoption training for our dogs and their families. This allows for continued socialization, and learning and helps to create a well-mannered and balanced dog. Post-adoption training is a requirement in our adoption process.
It is my pleasure to  introduce you to the sweetest, bravest, smartest and most gentle girl named Meeka.  She is a 3-and-a-half-year-old miniature schnauzer with soft black and grey mixed colour. Meeka is small in size and weighs around 15 pounds. Meeka is super gentle, sweet, quiet and loves to be around people. She's always two steps behind you or leading you off to explore the new big world. She's the happiest when she is around people, whether that be following you around the house, napping on the floor in the sun or exploring the great outdoors. The first day I met Meeka she was very shy and unsure of everything, even being pet was new to her. But being the brave girl she is, she overcame her isolated past,  wagged her tail and wanted to interact. Meeka is definitely the perfect best friend, perfect company, perfect cuddler and perfect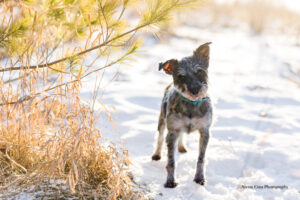 walking buddy.
Meeka spent her first 3 years at a puppy mill having babies and then eventually wasn't needed anymore but luckily Pound Dog Rescue came to her aid and welcomed her in so she can learn what doggy life really is and get the love and care she deserves with the right family. 
Meeka would do well in pretty much any home situation, whether a condo, apartment or a house as she is a small size dog and quiet. In fact I have only heard her bark once. She is medium energy, calm and a quiet dog indoors. She prefers to spend her spare time if she had a choice being outside on walks but of course that's not all we can do. Besides our walks you can find her napping in the sun, laying on the couch beside you, following you around the house or belly up in a big fluffy bed. She has cute little squeaks when she's wandering around the house and sniffing around. She enjoys toys with treats stuck in them, but isn't big into playing with dog toys otherwise. When it comes to food, she is a picky eater and needs some motivation to eat her meals. She came to me very unsure of what kibble was and only wanting to eat soft food but with some time we transitioned her to kibble and she is doing well. To motivate her to eat I normally start off by giving her some kibble in my hand or on the floor and she will then proceed to eat what's in her dish. We learned Meeka wasn't used to eating out of a bowl and was a little scared of it. She is still working on being brave enough to conquer the bowl so right now she eats on a flat dish. 
Meeka is happy to be in her crate and is calm to just lay down. She puts herself to bed in the crate every night and will happily stay there for the night and will not make a sound until she is let out in the morning. After her morning pee and  after I am off to work, she likes to spend her afternoon time on her mat or in a bedroom where she feels safe and secure. Sometimes she likes to come find the sunny spots on the floor to lay in the afternoon sun. It has taken a lot of patience and trust to get Meeka to come around. When I first got Meeka she stayed in one bedroom on a mat for two weeks, too scared to go through door ways, unsure of being able to walk around the house, and unable to do stairs. I am so happy to say she now runs up and down stairs, through doorways and explores the entire house.  Meeka is still a very shy dog and is still learning a lot about how to be a dog in this big world. She is still learning how to handle pet; she sometimes ducks away but pets but when you stop you will receive a little head nudge. 
Meeka does love to be outside and would never turn down a walk or just going outside to pee, unless it is raining of course. Meeka does not like the rain, getting wet in the bath or thunder storms. I think she would really enjoy a fenced in yard she can walk around herself. We have been walking each evening for around 45-60 minutes, during her walks she spends most of her time sniffing and peeing on everything that smells good. Even if she has no pee left, so this requires a lot of patience.  She is very good on a short leash and responds well to "this way" or "come
on lets go".  Meeka is still getting used to the sounds and world around her so she gets scared easily. On walks when she sees another dog she will freeze and want to sit down until the dog or group of people pass by. I give her a second and tell her to keep walking or I give her some space from the dog or people walking by and she is happy and calm to keep walking.  Meeka will require a quiet town, or rural home or in a very quiet subdivision.  She will not do well in city life with a lot of traffic, people passing, bikes etc.  She is still adjusting to life outside of a barn and we don't want to overwhelm her. 
Meeka is a very affectionate dog and comes for pets all the time but is still learning what pets are and how to react to them. She will greet you at the door after work with her little tail wagging or sometimes her entire body and from then on, she will not want to leave your side. When she is excited, I call it her little dance, she will tip toe and tap her front two paws. Meeka has been very well behaved during her stay here and as she gets more comfortable, I learn something new about her personality every day. She is very  smart, in fact she learned four tricks in one night. She knows how to sit, lay down, dance, and shake paw. She enjoys learning new tricks or practicing ones she already knows. 
Meeka is almost fully house trained and has not had a single accident in two weeks, but her last accident was on a very windy rainy day when she didn't want to be outside. That being said her house training will have to continue with her forever family and I believe she will have to learn in a new house setting.
She is also crate trained as I mentioned earlier.  When we are away from home, she is happy in her crate or a confined room that has a mat. She likes laying on mats, big fluffy dog beds couch or a couch if it comes with snuggles. She likes to sleep in her crate at night which I normally just keep the door of the crate open. She has been such an amazing dog to foster, teach and show her the world, walking buddy and even greater company. It was been so rewarding to see her go from being too scared to move from the mat in a room to exploring the entire house. Once she gets comfortable, she will show you her belly and will never say no to belly rub, mostly on the couch or bed. In fact she is belly up on the couch beside me as I write this.
Meeka is good with other small dogs. She is super shy with new dogs but is still calm. She doesn't show interest in playing with other dogs and tends to do her own thing most of the time. Sometimes she is feeling playful and will try to boop her head and jump around her foster brother who is a bull dog. I think she would do well in a home with another calm, gentle, well-behaved dog that's around her age or older,  but it is not a necessity for her. Meeka would do just as well being the only dog and getting all the attention and snuggles to herself. Meeka is not being fostered in a house with any cats but I believe with her calm and gentle personality she would do just fine. She would love the attention.  Meeka could also do well in a home with older children(over 8yrs)  who are calmer.  She won't handle the noise and energy level of younger children as this would frighten her.  She also needs to be considered a flight risk as she is new to the outside world and living in a home, so her new family needs to acknowledge this, ensure her safety, and any older children in the home need to be responsible enough to ensure doors are shut promptly and gates are also secure at all times. 
Meekas new family needs to commit to continuing her obedience training to bring out the best in this smart dog as she has a lot of potential and loves to show off how smart she is.
As a final note, Meeka visited the vet here in Ontario and had a dental cleaning done. She also has a luxating patella but she is showing no signs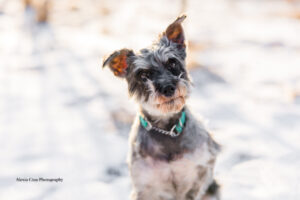 of it affecting her health. Meeka unfortunately went into heat days before her scheduled spay so we had to hold off on this.  Her heat is over now but she can't safely be spayed for a few months.  She will need to be returned to be spayed, in a few months, which needs to be done our veterinarian in Cambridge and is already paid for by her rescue.  Anyone interested in adopting Meeka needs to live within a 45min radius of Cambridge and be able to drop her off the morning of her spay and then pick her back up later that evening.   She will be adopted out on a contract that enforces this mandatory spay return.  We just feel that it's time for Meeka to find her forever home and waiting an extra few months in foster care until she can be safely spayed will only delay her happily ever after.
It has been hard to write an adoption bio that encompasses all the aspects of this dog. Meeka is such an amazing girl. She is so gentle. She just wants to be by your side or outside walking. I cannot overstate how wonderful and smart this dog is and the company she gives. She is truly a happy loving dog and it has been an amazing experience to get to know her, enjoy her company and teach her so much. Her forever family will be incredibly lucky to have her and to give her the bond she is searching for.