ADOPTION PENDING
Please read our dog bios carefully to be sure that the dog you are applying for suits your family and lifestyle. At Pound Dog Rescue, we believe in the benefits of post-adoption training for our dogs and their families. This allows for continued socialization, and learning and helps to create a well-mannered and balanced dog. Post-adoption training is a requirement in our adoption process.
Get ready for 100lbs of love and affection in a 4.5lb package!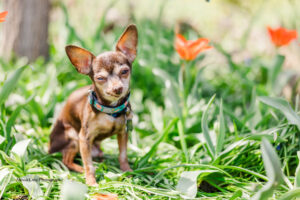 This tiny gentleman is Wolf and he is a 12yr old Chihuahua with a silky soft brown and tan coat. He has big, expressive ears, beautiful brown eyes and crooked little smile. He is a happy, talkative boy with a gravelly grumble and tiny, toothless howl that was part of the inspiration for his powerful name. There is no bad day with this guy around and he can't wait to find his forever family to brighten their lives. Wolf would like you to know that his photos were taken on a very sunny day and his eyes were watering in the sun…he doesn't have any eye issues.  He just wanted to put that out there, ha!
Wolf was rescued from a shelter where he found himself after the death of his owner. The shelter staff knew that it was no place for a man of his age and stature so they reached out to rescues on his behalf and he was whisked away to the loving embrace of Pound Dog Rescue. It's clear that he was loved in his past life and he has been an absolute joy to live with. Now he's just looking for a nice place to retire and spread some more of his love.
Let's get a few things out of the way before we go too much further. Wolf has a grade 3 heart murmur but no symptoms of heart disease at this time. His new family will need to establish a schedule for checkups with his veterinarian a couple of times a year which may include testing to determine whether any medication would be helpful to prevent disease at this stage. Right now though he doesn't need anything for it.  He also has grade 2 and 3 patellar luxation in his back legs which is common with small dogs. He manages well and doesn't really let it slow him down but as a result he does hold his leg up (the one with grade 3 luxation), especially if he's moving quickly. He would potentially be a candidate for surgery in the future if this lameness  worsens or his new family may need to consider pain medication off and on going forward.  Right now though, again, he doesn't need anything for it and it doesn't cause him any discomfort.  As a senior dog his new family needs to be prepared emotionally and financially to support him through this next stage of his life. I can attest, as a recipient of his affection and companionship, it will be worth it.
So back to the adorable stuff! Wolf gets around the house without issue and can even make the small set of stairs up to the couch and up and down the step at the front door. More recently he demonstrated that he can handle a full flight of stairs – up and down! I would not stray too far as he's making this trek but it shows just how well he's doing. He may start having issues with stairs as he ages but at 4.5lbs he's an easy carry so as long as his new family can handle that weight he won't be an issue. His noise and energy would be fine for an apartment but his bladder wants fast access to a 'bathroom' – when he has to go HE HAS TO GO! So his new home needs to have quick access to either the outdoors or an indoor dog bathroom of some sort – he could never last in an elevator. As he can be a bit vocal at times (generally around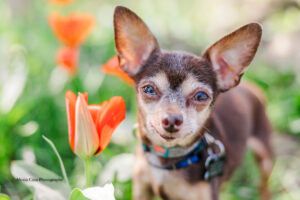 sharing attention, waiting to eat or waiting to go outside) he needs to be in a home where that kind of occasional noise will not be an issue. He is VERY easy to correct and quiet and becomes calmer and quieter the longer he is with us. Wolf loves his outside time and his walks. He's not going anywhere far or fast but he needs that outdoor activity every day so his new family has to be ready for a few leisurely walks a day. Unless there is inclement weather – then he is happy to go out and do his business and get back inside. Wolf is a sweet, affectionate, incredibly friendly little man who wants to feel safe and loved in his golden years. He loves nothing more than a good cuddle on the couch, burrowed in a pile of blankets like any self-respecting Chihuahua. He has a bit of fear of loud noises and quick movements so a home where this is respected would be best for him.
I can't pick Wolf's best trait. He is 100% lovable. He is an expert cuddler, an accomplished critic, an experienced supervisor and a world class suck! Wolf loves to cuddle as close to your face as he can get. Once he's convinced your face is feeling loved he is happy to settle for one of his many naps in the warmth of your lap or the crook of your arm or cozy blankets on the couch beside you. At his wise age he is quite sure that you need his advice about most of the household tasks you undertake so expect guidance in his gaze or his voice. He's not a loud boy but he definitely has opinions and no fear to share them. Wolf tolerates brushing without any issue but has definitely had some strong feelings about his baths in the sink. I need to make sure I have everything I need right beside me because to lose focus is to allow this slippery boy to escape his spa time! I have not had to trim his nails but I am able to handle his feet a bit so I don't think he will put up much of a protest there. It's obvious that Wolf's housetraining happened in his previous life and any accidents in my home have been my poor timing coupled with his tiny bladder. When I am at work he is set up with a dog bed and pee pad in an exercise pen in my living room. During the day he's in there for 5-6 hours at the most while I am at work and he can handle this without an accident. He also sleeps in there through the night without a peep. Wolf would be fine to maintain this schedule if needed as he does a lot of sleeping throughout the day but he would not complain about a home where someone is home more often than not so he can keep an eye on them. Wolf has been on a few car trips now and while secured in a booster seat he quickly settles and lays down.
Wolf is being fostered with 3 small dogs in the home and he has been great with the other dogs after the first few days of stress. In his former life he lived with another dog so he is used to sharing many things although sharing attention is not always easy for him. Thankfully, he is easily corrected with a reminder to be calm and gentle. He has been a loving addition to our little crew and has been found cuddling in beds or on laps with some of the other dogs. Wolf would be fine with another small, calm, mature dog who would be a match for his energy and not want to play rough. He would also be fine as the only dog in the house as his focus is completely on his people. On solo walks he is calm and not reactive to other dogs although he ponders giving (slow) chase to all the little critters – most of whom are almost bigger than him. When I walk him with his old house mate he can become reactive to dogs who bark at him. Again, he is very easily corrected and I think this is just lack of experience in this situation. Continued work on this should see it corrected over time. He is VERY excited to see any people approaching and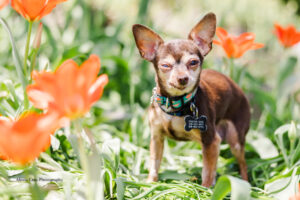 needs encouragement to stay calm – he just wants to give all the love he can to as many people as he can!
Nowhere is this more evident than when Wolf meets children in our neighborhood. Wolf loves anyone who gives him tender love and attention and he does not discriminate on age or height! He is wonderful with the children and easy for them to love because of his size and general toothless nature. Wolf would be fine in a home with children who were old enough to be taught and trusted to handle him properly. He cannot be around rough play or running as his tiny stature and wonky back legs make him easy to knock over and potentially injure. We would consider a home with children over 12.
Wolf is generally an obedient dog by nature, wanting to be with and please his people. He is starting to get a handle on 'sit' and 'wait' but more attention will need to be paid to these commands to help them stick. Wolf has his own little trick where he paws at the thing he wants with his teeny tiny paw. He wants to be lifted up on the couch instead of bothering with the stairs? You can find him pawing at the stairs and staring at you. Empty water bowl? Paw and stare. He's a bit bossy but at least he's clear.
Wolf was neutered while he was in the shelter and is all healed up now. He came in without teeth so there was no need for dental and everything else with his health was addressed previously. Not having teeth doesn't affect his eating at all, he can eat his meals without issue.
We have loved having Wolf in our home. He is sweet and saucy in all the best Chihuahua ways. He needs a home who is ready to take on any future medical needs with him while also allowing him to be as independent as possible. He's looking for someone to advocate for him and make sure he gets everything he needs and never again ends up in a shelter. He needs soft voices and even softer blankets. Lots of blankets. And he deserves a family who will adore him with the same dedication that he adores his people. Could this be you? Drop us a line – Wolf will be waiting here, snoring in his blanket fort…