ADOPTED
Please read our dog bios carefully to be sure that the dog you are applying for suits your family and lifestyle. At Pound Dog Rescue, we believe in the benefits of post-adoption training for our dogs and their families. This allows for continued socialization, and learning and helps to create a well-mannered and balanced dog. Post-adoption training is a requirement in our adoption process.
Let me introduce you to Mr. Peabody. He's 3-years old, part Miniature Schnauzer, part Poodle.   He's a small dog, perfect for a companion! He's only 10lbs so he's easy to take places with you. Even though he's full grown, he has the proportions of a puppy – people stop us all the time on walks saying how cute he is, and they're surprised when they hear he's 3. He's got a light brown and white coat with your typical Schnauzer hair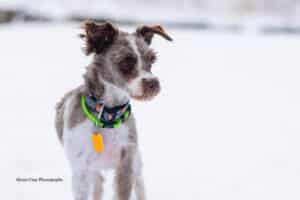 and the furrier he gets, the more he looks like a cute little Ewok.  He is low shedding and needs regular grooming appointments as well as daily brushing. 
Peabody currently has his head on my leg while I write this. He's the most loving, devoted and loyal dog ever. He is a dog who will not leave your side and will be your best buddy forever, and he's fiercely protective of his people. What Peabody loves best are snuggles and pets. He is happiest when he's getting head or bum scratches as he sits by your side, or when he's getting belly rubs as he's lying at your feet. He can't get enough love and affection. He likely didn't get any attention in his previous life so he's going for all he can get now!
His little nub of a tail wiggles when he's happy and it's the most adorable thing. And he's so happy when you let him out of his crate in the morning that his whole body wiggles and he just wants to hug and kiss you. It's such a wonderful way to start the day.
Peabody came to us from a life of being a kenneled dog in a large-scale breeding for-profit facility; a puppy mill. He had no exposure to the world outside of the kennel, had no socialization to people other than the kennel owners and experienced nothing in his life but an overcrowded, loud, barn. His life changed for the better the moment that he came into rescue care. He has come a long way already in his foster home and is ready to move on to his forever home!
In regards to his health, Peabody had terrible teeth when he arrived into Pound Dog Rescue's care. His teeth were so bad in fact he had to have many teeth removed! He's healed wonderfully and has enough teeth to eat regular kibble, though he's really enjoyed wet food & softened kibble for the last week.
Peabody is only just learning how to play with toys and does not yet play fetch so, currently, his only source of exercise are walks. He's been taken on walks about town and in wooded trails. He loves both but prefers the trails as there are more things to sniff and mark, and fewer loud noises. But either way he's eager to get outside and say hello to everyone and everything. He gets so excited when he sees his foster "Mom" pull out the leash that he'll barely sit still long enough to get his collar on, he just keeps hopping up and down, on his hind legs.  He would love a home where there are great wooded trails to explore. He would not be suitable for a busy city environment as he is scared of road noises.  Peabody requires a quiet town, rural area, or quiet subdivision to call home.
He especially loves car rides and immediately bolts to the car door when he gets outside, always thinking he's going to the park (even when he's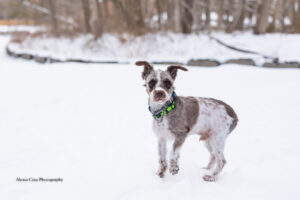 not). And once you do get going, he'll whine, but out of impatience, not fear. He'll stare out the windows or stretch across the backseat to put his paws on the centre console, but if it's a long car ride he'll eventually settle enough to sit or lay down in the backseat.
Once at the park he's such a happy boy. He wants to run and sniff and mark and see what all the other dogs are up to. When a 2 or 4-legged friend comes near he'll either try to run up to them to give hugs, or he'll stand up on his hind legs, reminding us of a meerkat. It's so hilarious and endearing.  Having said that, if it is pouring outside or freezing cold he can make do with quick trips out for potty breaks in addition to other mental stimulation inside the house.
Peabody has been such a good boy during his stay with us. During his first 2 weeks he had two accidents inside the house and one in his crate, but with proper attention and encouragement he has learned to wait until he is outside. His new family needs to understand that he is bound to have some accidents when he goes to a new home, but with supervision and consistency he will get his housetraining on track in no time. 
Peabody is good with other dogs, when given proper introductions. He met a few other dogs in his foster-life (including one very large dog) and did very well with all of them. After the initial introductions he was curious but calm. He shows great interest in other dogs on his walks and is vocal about wanting to meet them but what he'll do if he actually got to run free with them is a mystery to us all. He didn't show any interest in actually playing with the dogs that he's met but we think he would do well in a home with another friendly, well-behaved mature dog he can pattern off of, but this is not a necessity for him. Peabody would do just as well being the only dog and getting all the attention to himself.  
He's not been cat tested but could likely be ok with a calm, dog-savvy cat in the home.
Peabody is not being fostered in a home with children.  Peabody is a sensitive dog, with a gentle nature, and children would be too much for him. We are looking for an adult only home for him that is quiet and calm and doesn't have children visitors.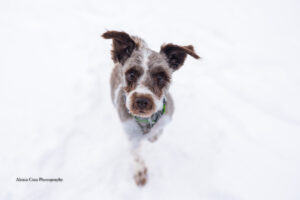 Peabody has a dependent personality so he will need a family who will share the responsibilities so he doesn't become too attached to just 1 person, or he will become dependent and over-protective and develop separation anxiety. Due to his foster Dad's work schedule, Mom has taken on the majority of the care and over time he's shown signs of over bonding to her. His people will need to work with him to help him gain confidence and ensure that he doesn't enter into hyper bonding with any one person in his home. That being said Peabody has already made so much progress in the short time we've had him that we know in his perfect family it won't take long for him to accept them and start enjoying his new life.  He would also love a home with just one person who he can adore and bond to and be their best buddy for life!
Small dogs deserve training, mental stimulation, and enrichment activities just as much as big dogs and with a dog as intelligent as Peabody it is a must for him. His forever family will need to commit to continuing his obedience training to bring out the best in Peabody. He'll repay your kindness with love and affection for the rest of his life.
We are looking for a family or person for Peabody who is experienced with Terriers.  Peabody is very much a Schnauzer in temperament.  He requires someone experienced with the terrier nature.  He is not a suitable dog for a first time dog owner.  Peabody has all the spunk and sass of a Schnauzer mixed with the devotion and intelligence of a Poodle to make for a great companion for all of life's adventures and cuddle times.