ADOPTED
Please read our dog bios carefully to be sure that the dog you are applying for suits your family and lifestyle. At Pound Dog Rescue, we believe in the benefits of post-adoption training for our dogs and their families. This allows for continued socialization, and learning and helps to create a well-mannered and balanced dog. Post-adoption training is a requirement in our adoption process.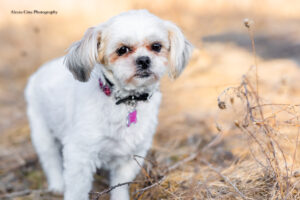 I am so excited to introduce you to lovely little Juliet. Juliet is an adorable white Shih Tzu who recently turned 3 years old. Juliet is about 12 pounds and has a very soft coat of fur and beautiful tail that resembles a feather duster! Juliet is incredibly joyful, loving, playful, and silly! She's a wonderful dog whose greatest desire is to enjoy life with her people by her side! If you're looking for a sweet, affectionate, and playful companion read on because Juliet just might be the dog for you.
Juliet was recently saved when a puppy mill decided to go out of business and offloaded all their dogs. Juliet did not have a nice life during her first 3 years but she's happy to make up for it now! Juliet is not interested in dwelling on her past and is ready to find her happily ever after.
Shih tzu's are not hunting dogs, herding dogs, or water dogs. Shih tzu's have been bred solely to be companion animals. Juliet takes her job of being a companion VERY seriously and is quite good at it. Juliet adores people. Juliet warmed up to us quickly and simply loves to be around her foster family. She her favourite things are snuggling on the couch, following her family around the house, and playing! 
Juliet is a younger dog and due to her history she never got to explore a puppy hood before now and it's so fun learning how playful she is! She loves her toys and we've really enjoyed watching her learn how to play with them! She is so grateful that all these fun items are for her!! As I write this she's playing with her toys next to me on the couch, occasionally bringing them over to me to show me because she's so proud of them. Juliet never guards her toys from her humans and loves to share, mostly when new things get shared with her. 
Given the tough life she's had so far it's amazing how loving and trusting she is. Juliet is incredibly sensitive and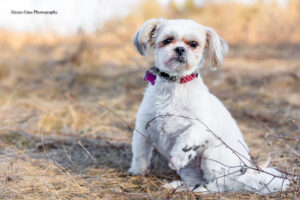 intuitive and can tell if you're feeling upset or down and she immediately tries to make you smile. Juliet adores loving and being loved and just wants to share as much affection as she possibly can. Whenever you get home or come back into a room she'll get excited and scoot up to you and immediately flip on her back for belly pets and love. She'll jump up and down and put her paws on you in joy even if you haven't gone anywhere. She's so snuggly and loves being right by your side or under your feet and especially loves when she can rub her face right up against yours.

Juliet gets along fine with other dogs, but she's MUCH more interested in the people in her family. Juliet would be fine to have a dog small – medium sized dog sibling but ideally she would like to be the only dog to soak up all of her humans attention. Juliet is more comfortable around smaller dogs as big dogs can be a bit frightening. One time she saw a golden retriever on a walk and she immediately started shaking like a leaf and asked to be picked up! She did not know dogs could be that big and it was quite startling for her! In general, she's people oriented and is incredibly indifferent to her foster dog siblings. Juliet has not met a cat but given her behaviour and demeanor she would likely be fine to coexist with a cat sibling. 
When we leave the house Juliet is wonderful in the crate. Though she's never gotten into anything when we're home, a crated dog is a safe dog! We have a camera and can see that she sleeps and settles well. Juliet has been home alone for up to 5 hours at a time. Juliet is incredibly people oriented and would do best in a home with people home more often than not. However she can be left alone daily for a few hours a day if need be. 
Juliet does occasionally lose her confidence and still gets scared sometimes. She had no exposure to the world and she requires an adopter who realizes that though she's confident 90% of the time, there are moments when she falters and is unsure! She's had a tough go and a bit of patience, gentle encouragement, and showing her she's loved gets her right out of her fear. Sometimes she asks to be picked up if she's too scared and that's ok too, she just needs a second before carrying on with her life! Some things that make her nervous are the garbage truck going by, the vacuum, and car rides are a bit scary too! As Juliet gets used to the world fearful moments will become further and further apart but she will need someone who pays attention to how she's feeling.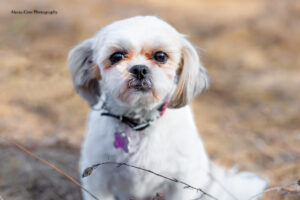 Juliet is still learning how to walk on leash and she needs the conditions to be just right in order to enjoy her walks! Going for walks is an area where you are quickly reminded that she's lived a very sheltered life and that her world was once very small. Juliet loves quiet trail walks when the weather is warm and the sun is shining and she can take her time sniffing every smell her heart desires! Juliet does NOT like walking if there are loud cars driving past, it's cold, it's raining, or if there are lots of sounds. Juliet would do best in a quiet neighbourhood and with a fully fenced backyard. When she is out of a secure fenced area then her adopters must know that she is a flight risk if startled and can only be taken outside with a secure leash and martingale collar. 
As Juliet is still unsure of loud noises and unpredictability so she needs a home where all family members are 9 years old and over. Children in the house must respect that though she loves playing she can't be played with roughly as she's little. Juliet loves getting as close to you as possible so she's often under feet. She would not be suited for a home where family members aren't mindful of where they are stepping. She's curious about the world and this will continue to grow so older children would likely be great friends of hers!
Juliet has been checked by the vet and is in great health. The only thing they noted is that Juliet was a very slight amount overweight and so her adopter will need to ensure she isn't overfed. When Juliet arrived she was heavily matted and needed to be shaved right down! Her adopters must be sure to book her regular grooming appointments to look after her soft, beautiful coat. 
Juliet is housetrained but she is still learning how to signal. We take her out every 4 – 5 hours while she's awake and that works well for her. She can hold it easily overnight for 9 – 10 hours but during the day she gets excited to be awake and can't hold it as long. Juliet rarely has accidents but sometimes when she's SUPER excited she does let out a tiny tinkle. If a foster parent gets home after a day at the office she might have a tiny little leak on the floor because she just is SO happy. Juliet struggles to go outside if we've had a bad snow or ice storm. Her dainty little paws get cold easily and she gets confused as to why the bathroom area no longer smells like the bathroom! After a bad storm she can't figure out where on earth all the grass went! On those days she'll hold it and needs to be taken out multiple times until she finally gets it and goes outside. 
In general Juliet is such a wonderful houseguest and friend. She is a little bit of a chatty girl and loves to communicate. When she's in a playful mood she'll grumble and play growl. She is a bit of an alert barker if she hears the door or any bangs outside. This behaviour is settling as she gets comfortable and realizes that sounds don't have to be scary but she will always be a bit more on the vocal side. Due to that an apartment setting would not be a good fit as you might get a few noise complaints. When we're out of the house she's quiet in her crate but when we're home she is just engaging with her humans and chatting back when we talk to her. 
Juliet is learning basic commands and is very engaged whenever she is being interacted with. She seems to know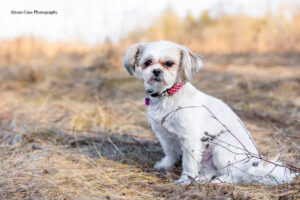 sit but I think she just likes to fall into a sit position when waiting for treats, affection, toys, to be picked up, etc. She is eager to learn and interact with her family so she will do well with further training. 
Juliet is a WONDERFUL little dog full of love and affection. She's sweet and loves everything about her new life. She is looking for a forever family who will include her and love her endlessly and she will give back all the love she receives and more!