ADOPTED
Please read our dog bios carefully to be sure that the dog you are applying for suits your family and lifestyle.
We at PDR believe in the benefits of post-adoption training for our dogs and their families. This allows for continued socialization, learning and helps to create a well-mannered and balanced dog. Post-adoption training is a requirement in our adoption process.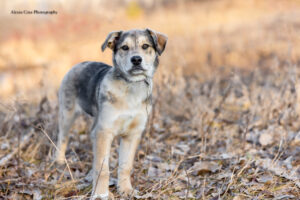 We are pleased to introduce Nutmeg. She is a 15-week-old Lab/Shepherd/Collie mix who loves the outdoors, belly rubs, and dinner time! Nutmeg weighs 21 pounds and we expect her to reach about 50-60 pounds fully grown. Nutmeg has a beautiful coat which has a super soft tan base, back hair on her back, and the cutest curly tail. She is a sweet puppy who is full of love and mischief. 
When Nutmeg arrived at her foster home she was very nervous as it was the first time she had been away from her siblings. However, she quickly adjusted to her new life and now loves meeting new people. Nutmeg is currently being fostered in a home with another dog she loves. If her future home had another dog it should be a male dog, young enough to keep up with Nutmeg's puppy energy and tolerate puppy antics such as jumping on them, nipping, and general silliness. Because she is a puppy, she is still learning to be polite when interacting with dogs and will learn as she grows. Nutmeg is not being fostered in a home with children; however, she is a puppy in her mouthing stage so we are looking for a home with children over the age of 8 who are well-versed in proper dog play.
As a younger dog, Nutmeg will require structure and guidance to understand the rules of her new home. Though she is a lovely lady she can be mischievous at times and given the chance she would gladly put her feet up on the counter to see what food you are making, chew on something she's not supposed to, or steal shoes or blankets. Nutmeg responds well to a firm 'no' or 'uh uh' along with redirection to an appropriate outlet for her energy. As a puppy, it is essential that Nutmeg's forever family set her up for success by beginning obedience classes right away. In addition, the family should be aware of the time and energy commitment a young puppy requires.
Nutmeg has learned so much since arriving in her foster home. Her house training is going well however, she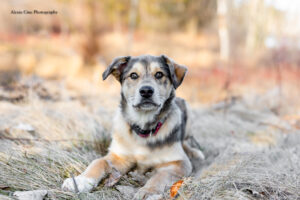 needs to be watched closely to avoid accidents. Nutmeg is still very young so we are looking for a home where someone is around to let her out regularly. In addition, Nutmeg has begun crate training and has made a lot of progress. She does bark and whine for a few minutes when she is initially put in but will settle and fall asleep. Nutmeg is a young and mischievous puppy so if she is not directly supervised her crate is the safest place for her. Nutmeg gets a bit nervous about car rides but her foster family has been taking her on small outings to build positive associations. Nutmeg has begun learning the basic house rules, walking on a leash, how to indicate she needs to go outside and coming when called. With patience and consistency, we think Nutmeg will be able to learn anything that you'd like to teach her as she is very smart. 
This little pup enjoys walks and cuddles. Nutmeg is learning to walk on her leash and pay attention to her human when distractions arise. Nutmeg is not being fostered in a home with cats or small animals however she has shown interest in squirrels. Nutmeg is a high-energy dog. She requires walks, plays, and time outside to feel happy and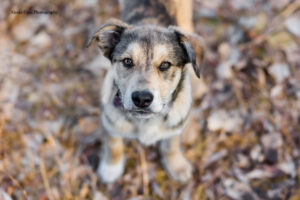 fulfilled. The cold doesn't bother this little lady, she will happily lay in the snow with a stick when she has finished running or playing in the backyard. Nutmeg is also a very talkative girl when she plays. She loves to yip and groan when she gets excited. She also loves people, when you enter a room this little lady hops on over for pets and usually ends up laying on her back for belly scratches. 
Nutmeg has been given a clean bill of health by the vet, had all of her shots, and has been spayed. This means she is ready to find her forever home! Nutmeg is ready to give a family all the love, laughter, and cuddles they could ever ask for!