ADOPTION PENDING
Please read our dog bios carefully to be sure that the dog you are applying for suits your family and lifestyle. At Pound Dog Rescue, we believe in the benefits of post-adoption training for our dogs and their families. This allows for continued socialization, and learning and helps to create a well-mannered and balanced dog. Post-adoption training is a requirement in our adoption process.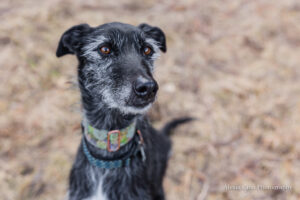 Behold, the legend that is Zelda. This twilight princess is a beautiful Scottish Deerhound mix. She is 6 years old and weighs approximately 50lbs. She can look deceptively small, but she is all legs and height and bounce! She has the typical build of a sighthound, lean and long!
Zelda ended up in rescue after her owner lost her job, and she was surrendered to animal control in Quebec due to the cost of her care. Zelda does have some special needs: she has been diagnosed with exocrine pancreatic insufficiency (EPI), and also may have irritable bowel disease (IBD). These conditions are well-managed for her currently with her diet (Royal Canin Hypoallergenic), and pancreatic supplement to help her digest her meals. She will require a pancreatic supplement such as Pankaid for life, and monitoring of her bloodwork and overall health with a dedicated veterinary team. Both the veterinary diet and supplement can be purchased through your veterinarian.   Anyone interested in Zelda needs to be in contact with their vet team to research the cost of her food and her Pankaid (or similar supplement) as these are must have's for her and she cannot be switched food or go without the supplement.   Please also research her condition. It is totally manageable and dogs live normal lives with it, but it has specific diet requirements as mentioned. 
Zelda is generally quiet but will use her voice for specific reasons. If she needs to go outside, she will maintain eye contact while gently whining and woofing at you to communicate her needs. She will also briefly bark at dogs and critters outside.  
Zelda is a moderate energy dog. She is excited by walks and enrichment activities with her person, and loves training. She is food motivated, but her forever home will have to be careful with the amount and types of treats due to her special needs. She is currently walked for an hour a few days a week, and on colder days she gets more training and indoor playtime to stimulate her. She is a big fan of catching a ball, if not a full game of fetch, and loves squeaky toys. If she does not have a lot of physical activity she will happily rest on her bed and is quiet and calm in the home. She will require a jacket during the colder months as she is quite lean with her breed mix and medical condition.

In terms of her walking manners, Zelda does tend to walk with purpose. If allowed, she will apply pressure to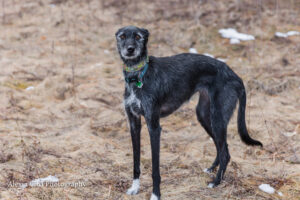 whichever walking apparatus she is currently wearing, be it a martingale collar or gentle leader. She is very attentive and will stop and change directions with you automatically, and is improving in her focus on her handler. She is being trained to automatically "check in" by touching her handler's hand. She is otherwise scanning the horizon for the next interesting thing to look at as all sighthounds do! Zelda does seem to have some prey drive, and is highly interested in squirrels and cats outside. Her initial reaction is to jump high in the air, bark once or twice, and try to pull you to the object of interest. She will need continued training with leash reactivity, as she tends to become excited by other dogs on walks if she can see them. If she sees (not hears!) another dog, she will jump in the air and bark and whine loudly to try to get their attention. Zelda is working on "settle" at has made great improvements already with her manners. She likely greeted dogs on leash a lot in her past life, which has caused her to be frustrated and reactive when she cannot sniff every dog! A gentle leader is strongly recommended to help train Zelda in these moments, and she is already well-conditioned to walking on one.

Although she is dog-reactive on leash at this time, she is generally dog friendly. She may be too much for some dogs as she does tend to be "forward" and insist on smelling dogs where and when she wants to and likes to play in a run-and-chase (FAST!) manner. She is currently living with 3 other medium-sized dogs. Zelda will be best as the only pet in the home, but would appreciate dog friends as well. Likely being a solo dog in her previous life, she can be particular about other dogs waking her up, or being near toys she wants. When she first arrived in foster care, the sound of a dog tag jingling across the room would make her upset, and she would wake up with her teeth bared. Our approach to this was to toss her a treat as soon as she was waking up, so now she wakes up expecting good things to happen! She has made improvements in realizing she does not need to control her space in our home, but the behaviour of wanting other animals to respect her space (and sleep) will likely persist in her forever home.  But we know that her ideal forever home will be one without other animals, where she can get all of the attention and focus.
While she is currently fostered with two very dog-savvy cats, she does display some tendencies that will be stressful to cats. In a similar manner to her behaviour with other dogs, she is very forward with cats. She has improved in her time with us, and was listed as "cat-friendly" at the shelter she came from, but her behaviour is inconsistent. She is always leashed around our cats as sometimes she will ignore them and be very polite, and other times she seems to want to approach them rudely with barking and jumping, and is much too large and long-legged to be behaving that way with cats. We will be wanting  a cat-free and other small animal free home for her as a result.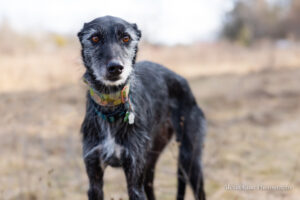 Zelda is excellent in the car. She jumps in effortlessly on her own, and lays down in a little space-saving ball for the journey. She travels quietly and does not seem stressed or uncomfortable. Zelda is crate-trained, and will enter the kennel whenever you ask. In the morning, if she senses you are awake and it is time for activities, she may softly whine in the crate but is otherwise silent. She appreciates a nice stack of blankets to nest in! We cover her kennel with a light blanket at night as she is most stimulated by sight, and we find this helps her settle if there is activity around. 
In terms of her feelings about other people and strangers, Zelda can be aloof at times as is typical of her breed. Like most sight hounds, Scottish deerhounds are very sensitive, one-family dogs. They are friendly, but not gregarious, toward strangers. She is extremely devoted to her handler. She is not afraid of new people, but does not always care to meet them beyond a quick sniff or pat. She is fond of belly rubs and will lay down with all her long legs in the air. She also enjoys back scratches. She has not been exposed to children but we do not anticipate her disliking them. She has no issues sharing toys, food or space with people. Zelda does have a tendency to jump in the air to the eye line which can be very shocking to people! She will need continued training to learn an alternate outlet for her excitement.  She could go to a home with children that are at an age to be responsible with closing doors and gates firmly behind them.  Zelda will quickly be gone if given a chance to run out the door or out of the yard…as a sighthound she will run rapidly and could be a considerable distance away from home in no time, so caution around doors and gates to ensure they are securely closed is mandatory.
Zelda is excellent for handling. She tolerates baths, nail trims, wearing her jacket, etc. with ease and has no problem with anything! Her coat is generally low maintenance, although she does shed. Her coat is somewhat wiry.
Zelda will do well in many types of living situations, as long as her handler is comfortable working with her leash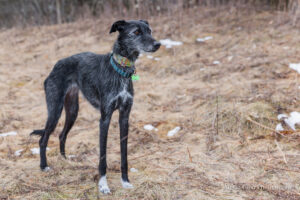 frustration around other dogs. She will not be a suitable dog for 1st time dogs owners, but for those who are confident dog handlers and can work through her over excitement on leash, she will be an easy, lovely dog to live with.   She is not afraid of common urban situations like buses, recycling bins by the road, children, large vehicles, busy traffic, etc. We have not really found anything that Zelda is afraid of! Zelda would love a confident handler to be her friend and companion and take her on many new adventures. Please adopt Zelda!