ADOPTED
Please read our dog bios carefully to be sure that the dog you are applying for suits your family and lifestyle. At Pound Dog Rescue, we believe in the benefits of post-adoption training for our dogs and their families. This allows for continued socialization, and learning and helps to create a well-mannered and balanced dog. Post-adoption training is a requirement in our adoption process.
Do you need more Joy in your life?  This aptly named little bundle could be just what you're looking for!
Let me introduce Joy.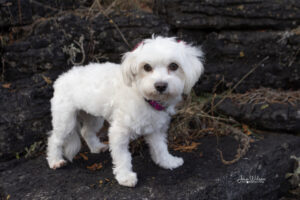 Joy is a 4-year-old Maltese girl with the warmest golden eyes, little button nose, and the softest white fur you've ever felt that she likes to keep nicely trimmed so you can see all of her cutest bits.  Joy is just under 10 pounds now and she's in perfect body condition; a nice trim waistline and delicately muscular.  She'll melt your heart with her happy, calm personality.
Joy came to Pound Dog just before Christmas and was a happy and curious girl from the beginning, so Joy seemed like the perfect name for her.  She took to her foster home right away and has even taught her foster brothers and sister how to cuddle, by resting her little head on their back, or tucking in beside them on their dog beds.
Joy spent her first four years breeding puppies in a mill, until the fateful day that Pound Dog Rescue came and changed her whole life for the better and you can just tell that she's exceptionally grateful.  She settled into life as a pet with ease and grace and I have no doubt she'll do the same with her new forever-family.
Joy quickly learned how to do her business outside by going to the backdoor and staring at you.  Her new family will have to get used to her subtle hints, but they become obvious as you get to know her.  She learned her name and that when you call her, she comes to you with her tail raised and a happy expression on her face.  She's still a bit nervous when it comes to learning new commands, but she's a smart girl and once you've gained her trust and find the right techniques for her, she'll pick things up quickly.
Currently Joy's days start with getting out of bed at 6:00 and heading outside for a pee with her foster dad, while her foster mom prepares breakfast for her.  Even in these cold days, she's a trooper about going outside and taking care of business.  Then she returns inside to ask for breakfast (more about her talking later), and she heads back to her comfy bed while her humans get ready for the day.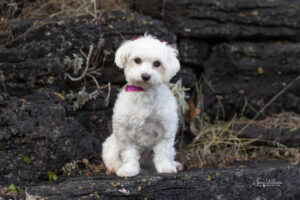 After coffee, we head back outside to say good morning to the chickens and have another, more relaxed, bathroom break where she'll sniff around, exploring the yard for just the right spot.  Then we have morning playtime which involves bouncing around after a ball (fetch still eludes her, but the chasing is fun), tossing her toys around and finding the one with the best squeaker to wrestle with.
Some days have her foster mom working from home in the office, and she's more than happy to curl up on her pillow behind me on the floor and snooze, occasionally looking up with her soft eyes to check in.  Some days, her foster mom has to go into town to run errands or do some work, and she'll tuck herself back into her crate in her fluffy donut bed.  A few times a week she has to get dressed in her warmest outfits and head to work, helping her foster mom walk dogs in Kitchener and Stratford.  No matter what her day brings her, she flows into it effortlessly.  New experiences for Joy are entered into with a brief moment of shyness, followed by a determined expression on her face and a raise of her tail.
Joy's joy can be seen, heard and felt.  Her little tail curls up and touches her back when she's her happiest, we call that her "Joy Meter".  When she's happy, she tells little "Tales of Joy", little woofs and noises with her inside voice.  And when she's cuddled up on the couch or she just wants to show you some affection, her love language is little "Joy Kisses" on your hand, or will gently place her paw on your arm.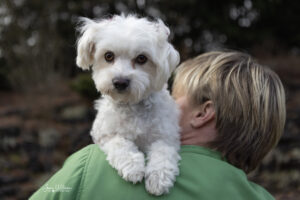 Joy's understated confidence is subtle but nothing less than impressive.  She's comfortable walking in a big pack of pups of all sizes in the city, or on a country road.  Either way, she likes to show off her impeccable leash manners.  She learned quickly that going for car rides is a great time to sneak an extra nap into her day.  As long as she has a little bed to curl up in, she can spend the whole day driving around.  But Joy impressed me the most during our holiday party.  We had a bunch of people, their children, and their dogs in our house and after she said hello to everyone, we found her sound asleep in one of her beds in the middle of the room for the rest of the night.  Needless to say, we were very proud foster parents that day.  I've seen her keep her calm demeanor with a big lab sniffing her, a cat pawing at her head or even the chickens (who are taller than her) running around her.
Joy is great about using her crate, she's often found in there having a little nap, and when we're all ready for bed she hops in and will sleep the whole night without a peep.  Her only request is that she gets to have a fluffy donut bed inside, because she went through several beds before she found the perfect one.  That being said, Joy would very much like to sleep in her new human's bed if they'd allow it.  She's an expert cuddler if you invite her to join you on the couch or on the bed, happy to fall asleep on your lap, and with her little size, you'll barely notice she's there.
Joy is in great physical health.  She came to Pound Dog Rescue and got her spay and then a good dental cleaning.  She's missing a few teeth, but she still has lots of teeth left, but is much happier to have a clean set of chompers to chew on her toys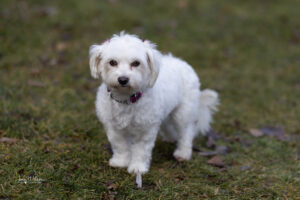 and eat her kibbles.  Her new foster family will have to make sure she gets regular brushings and groomings.  Her fur is so fine that it will easily mat if it's not maintained.  However, her groomer (shout out to Fur-Ever Loved Pet Salon) said she was a good girl for her first grooming and will continue to improve as she gets used to the process.  She'll also need to get regular dental cleanings as her mouth is tiny and it's hard to clean her teeth well.  As she ages, she may start to develop knee issues, but with regular exercise and a healthy diet, she will continue to thrive.
Joy's perfect forever home could be anything from an apartment in the city to a sprawling country home, she's an adaptable little girl.  A fenced yard isn't a necessity, so long as she has someone to take her out on her leash to explore the world and do her business.
Joy tells me that she wouldn't mind having a brother or sister, because she likes to cuddle with other pups and occasionally invites her foster siblings to play with her.  But she'd also be happy being a spoiled, only fur-child as well.  So long as her new family includes her in their life, she'll be grateful.  She would also be open to a home with children over 8yrs of age who are gentle natured and would like to pet and cuddle her, not so much rough house.   She likes a quiet and peaceful home so that is of importance for her forever home.
So ask yourself… Do you need a little Joy in your life?