ADOPTION PENDING
Please read our dog bios carefully to be sure that the dog you are applying for suits your family and lifestyle. At Pound Dog Rescue, we believe in the benefits of post-adoption training for our dogs and their families. This allows for continued socialization, and learning and helps to create a well-mannered and balanced dog. Post-adoption training is a requirement in our adoption process.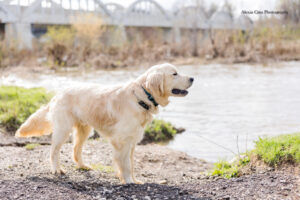 Let me introduce you to Larry! He is a 1-year-old Golden Retriever who really is as sweet as he looks. Larry is a big boy, weighing in around 60 pounds with some more filling out to do over the next year. He has a very fluffy blonde coat that will require regular brushing and grooming as he does shed a lot and is not considered a low-maintenance dog. Larry has a very goofy look about him sometimes and his temperament and personality match! 
Larry was used for breeding purposes for the first year of his life and had no exposure to what life is like as a loved family pet. He can be very rambunctious in the house and doesn't understand his size at times, but with a strong handler and firm training he has made big progress with learning house manners. Even though he was never exposed to a typical life as a family dog, he came to us very social and confident from day one and hasn't slowed down since. His forever home will need to understand that he is essentially a 12-week-old puppy in a big puppy body and will need to be trained as such. He is basically learning everything from scratch and will need a confident leader who can continue to teach him proper manners and basic obedience. 
Mister Larry loves physical attention and has enjoyed his baths and grooming sessions, which is a great thing because he can be a messy boy when outside and he has that beautiful double coat that is very prone to shedding. Larry will require regular baths and brushing to maintain his beautiful white fluffy coat. If Larry sees a body of water, he wants in and enjoys getting into anything muddy so it's a good thing he likes baths because his forever family will likely be giving him lots! 
Larry would do best in a detached house with a fenced-in yard as he can be vocal and is very busy, so he needs room to run and play. He will require a good amount of exercise and forms of mental stimulation to keep him physically and mentally tired. We call him a busy boy because he is always rummaging through the toy box, running laps outside and trying to jump into the pool. He is a high-energy dog and enjoys his daily walks and play time with his foster brothers and would be happiest with an active family that can take him on long walks, runs or hikes to keep him physically content. 

What Larry loves the most are snuggling and toys, all forms of toys. He literally can't get enough love and affection and is very dopey about it. If you are sitting on the floor with him, he will try and plop his head on your shoulder to beg for love. Again, he just doesn't understand his size so he needs to be reminded as he can easily topple a small child over until he learns. Larry hasn't had any accidents in the house and has caught on to housetraining quickly. Constant supervision is important while he is learning as he has tell-tale signs that he must go and sometimes might not alert you, so bringing him outside after play sessions, crate time, etc. will continue to teach him that he has to do his business outside. We've seen him circling around thinking about doing it inside, so just staying on top of him is important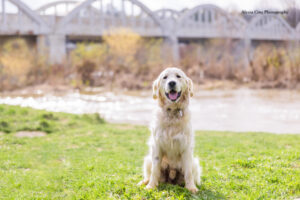 in continuing his training. Larry is also crate trained and sleeps in his crate at night and stays in his crate while we are away from the house. He will go in willingly (with a tasty treat) but might not immediately settle. He can be vocal about his displeasure with the crate time for a few minutes, but he needs to understand structure and house rules and requires the crate to keep him safe and secure. While he is outside of the crate he will settle on a dog bed or blanket with toys scattered around him. When working from home, he will lie down near you once he has expelled his energy with a walk or playtime. 
In terms of other animals, Larry is currently being fostered with two large-sized dogs and 1 cat. He loves his dog brothers and wrestling with them, but sometimes his energy level can be a bit too much for them as they are older, but they will let him know they are over it and he understands and then goes to play on his own with toys. Larry has demonstrated a couple of instances of resource guarding with his brothers if he is particularly fond of a toy, but then on other occasions he brings the toys around to share. Animals that he lives with should be respectful of his clear communication, but otherwise, he is not bothered by animals in his space and can be found sleeping alongside his brothers. He has not demonstrated any resource guarding of toys, food or beds with people. Larry is very driven to chase the cat we have to keep them separated. Larry will not do well in a home with a cat or other small animals. In terms of children, Larry would do best with older children (over 8yrs of age) who can play nicely with him and participate in training as he is a bit too rambunctious for smaller children.

Larry has the potential to be a VERY smart dog as his brain is always working, always looking for things to do and toys to play with. He is being taught basic obedience in his foster home and knows "sit" and has been taught to calm down when greeting people (when he arrived in our care he was very jumpy, and has been learning to settle). Larry's new family needs to commit to continuing obedience training to bring out the full potential that we know he has to offer – we can see him doing multiple levels of training and think he would greatly benefit from it.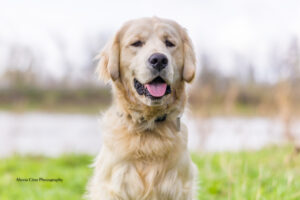 This goofy boy is ready for his forever family, he has shown so much progress in his short time with us and is going to make the best memories with you! We can see Larry going on camping adventures, hikes, travel, you name it, we think he would be down for it. He is great in the car and enjoys taking short trips around the city with his family, so road trips would be down his alley! We think Larry would be a very strong swimmer as any time he sees a body of water he wants to go straight in and have a party. While he was getting his adoption photos done near the Grand River, he just kept wanting to go in and take a swim (even though it was a little chilly). Larry would be a great companion for an active family who will love him for the rest of his life and love his dopey, goofy nature.  It won't take long for Larry to settle in with you as he has already taken to his foster family and just loves being loved and spoiled. We just know Larry is going to put a smile on your face day in and day out – if you think he is the right dog for you please apply!