ADOPTION PENDING
Please read our dog bios carefully to be sure that the dog you are applying for suits your family and lifestyle. At Pound Dog Rescue, we believe in the benefits of post-adoption training for our dogs and their families. This allows for continued socialization, and learning and helps to create a well-mannered and balanced dog. Post-adoption training is a requirement in our adoption process.
Let me introduce you to Lester who is a Bernese Mountain Dog / Poodle mix, otherwise known as a Bernadoodle. Lester is about 4 months old and he is a really big boy already currently weighing around 40 pounds.  Lester still has lots of growing to do and he is going to be a fairly big boy and we guess he will weigh close to 100lbs fully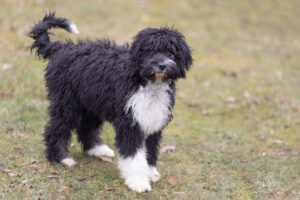 grown. Lester is a giant fluff ball of a puppy with thick puppy fur that has that typical doodle curl, he is all black and has some white markings on his paws, his chest and his cute little chin. Lester is a very bouncy and joyful puppy who is always up for some kind of play, you can see in his dark brown eyes just how energetic he is.
Lester was unfortunately on the list to be culled from a puppy mill and was rescued and taken in by Pound Dog to give him the best chance at finding his forever home.  Lester settled in quite nicely almost immediately when we brought him into our home, he wasn't too afraid or timid and he was pretty happy to go up to just about anyone to receive love and affection.  This boy loves to seek out affection, he will come running over to you and let you give him neck and body scratches, he also loves getting chin scratches!  Lester also loves to give his humans some playful nips on hands and clothing to let you know that he wants to play.
Lester would do well in pretty much any home situation as he is a pretty easy-going guy. He absolutely loves his foster dog siblings and wants to run around and play with them when they are outside, once he comes in he tries to play with them a bit more but eventually settles for chasing some toys or finding a good chew bone.  Afterwards, he will find a quiet place to lay down and take a good long snooze.  Due to Lester's coat and being so warm, he will typically get up and find a new place to snooze about every 10-15 minutes.  Lester's ideal home would have another playful dog for him to get some energy out with and to help him navigate his new surroundings and experiences.  Lester is also currently living with a cat, while he has never given chase to the cat, he is very much interested and will bark at the cat until you tell him to stop, and the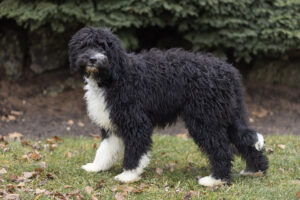 n he will finally leave her alone.  Lester also lives with two kids in the house and he has always been fairly gentle with him, but in his puppy excitement he does tend to try to jump up on them every once in a while.  We think Lester would do well in a home with kids that are aged 8+ and understand proper and respectful play with a dog, especially since we expect Lester to be a bigger boy.
Lester would love a big fenced in backyard to be able to run around and play in, he loves playing outside so much and it is probably his favourite thing to do. His most favourite thing is snow, as soon as we have some fresh snow he goes diving nose first into all the fresh snow banks and will jump up into them!  He loves the snow and outdoors so much that sometimes we will bring all the dogs in and Lester will happily just laze about outside for another 5-10 minutes before he is ready to come inside. Lester is crate trained, so when it is bedtime or time for the humans to leave the house he walks into his crate and waits for a couple of treats.  Lester initially was quite frightened of his crate and would hide when it was time to go in, we would have to gently direct him to the crate and give him a little bump in.  However, Lester is far passed that now and will sometimes bound into his crate so quickly that it moves with the force of him running in.  Lester will on occasion make some noise while he is in his crate, sometimes it's just once he knows you're home, or first thing in the morning when he hears you waking up and he is just so excited to get out and start the day, but for the most part, Lester is very calm and quiet in his crate.  We currently feed Lester in his crate to help foster a positive relationship with it, and he will certainly bark to let you know when he's all done his meal if you're not paying attention to him.  Because he sometimes makes noise we suggest a detached home would be best to avoid disrupting any neighbours, Lester's bark is quite loud and if you have close neighbours it could become problematic.
Lester has been doing very well with his house training, initially he was your typical boy that felt like he could go when and wherever he wanted to, but he has long past that point and he understands that he must do his business outside.  With that being said, there is still the occasional accident (especially if it's a particularly rainy day) and it should be understood that his forever home will need to work diligently to ensure that he understands he must continue to do his business outside.  Lester knows to come when he is called and he knows to sit before he can get his meals and we generally get him to sit before giving him any affection. Overall though, Lester is such a well-mannered little guy that he has been an absolute dream to have. Once he gets some playtime outside he mostly sleeps on the couch or pet bed until it's time to play again! While Lester is a very active and busy boy, he certainly knows how to rest and relax during the day and at night.  Lester is a busy body, and while he hasn't gotten into many things in our do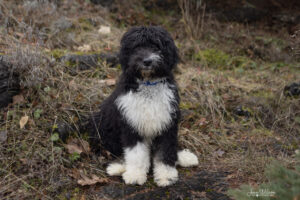 g-proofed home, it is extremely important that puppies be watched constantly in the home for the safety of the dog, as well as to make sure that you are there to avoid unwanted behaviour.
Lester has been a good passenger in the car the few times that we have taken him out, he usually sits in the backseat and will just lay down or occasionally get up to look out the window, he does tend to drool a lot on his car rides. Lester has been on many walks and he really enjoys being out and about to see and smell new things.  Lester is currently being walked on a gentle leader and his new family should be prepared to use the gentle leader head halter to continue to help him master his walking skills. Lester's new family will need to make sure they continue working diligently with his leash training to ensure he continues to have a happy relationship with it, with consistency and training he will continue to improve each day. Obedience training will be a must with Lester as it will help him develop a wonderful relationship with his new family, but also it will help him to understand what is expected of him and help set out rules in his new home.  Lester will need an obedience and manners class immediately closely followed by an advanced obedience or level 2 class.
We are also looking for a family or person that is fully aware of the time commitment of a puppy and the work involved.  Puppies are a total joy and bring so much love and happiness into a home, but you cannot underestimate the work and time involved in raising a puppy properly.  They need constant supervision while young to expedite the house training stage and to ensure they aren't chewing on anything inappropriate.
Lester is looking for his forever family with someone who will spend lots of time with him walking, playing and training.  Ideally he would like to have a large fenced yard with another young playful dog to keep him company and run around with. Lester is such a handsome, calm and sweet natured dog and he is looking for someone who will love him forever and be active with him. Lester has been such an easy dog to love, his eyes and mannerism say it all in how sweet he is, if you're ready for your days to be filled with looking at him and your heart breaking in a happy way because of how sweet he is then maybe you are the home for him!