ADOPTED
Please read our dog bios carefully to be sure that the dog you are applying for suits your family and lifestyle. At Pound Dog Rescue, we believe in the benefits of post-adoption training for our dogs and their families. This allows for continued socialization, and learning and helps to create a well-mannered and balanced dog. Post-adoption training is a requirement in our adoption process.
The time has come for Lobo to find his forever home!!  This adorable Golden retriever puppy has quite the story.  His journey in rescue care has been featured on our social media and he has a lot of supporters out there who will be so happy to see him so healthy and happy and ready for the next stage of his puppyhood. 
Lobo was born February 8, 2023 in a puppy mill.  He was a smaller pup than the rest of his litter and was having a hard time making his way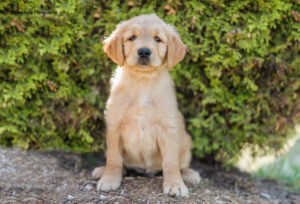 through a large little of puppies to get to nurse, and when he did, he was pushed off by his littermates.  As such Lobo wasn't getting nourishment and grew weaker and weaker, eventually pushed aside by his mother.  Sadly, the mill operator did nothing to intervene and did not supplement Lobo in any way, leaving him to starve.  This is the way of life in the puppy mills…puppies either make it on their own, or they die.   It was only for the intervention of a woman we call Lobo's "guardian angel" who managed to convince the mill owner after 2 weeks to relinquish the pup who was at that point on deaths door.  She reached out to us and we responded right away to take him into our care.   Lobo needed round the clock feedings, warmth and veterinary intervention.  It was touch and go for the first few weeks but he had a very dedicated team of people surrounding him, and we have to say, this pup has a strong will to live.  Lobo rebounded and over the next many weeks grew strong and started to thrive.  Fast forward to today and Lobo is a happy and healthy Golden Retriever pup in every way.  At his vet appointment at 8 weeks of age he was given a clean bill of health!! Remarkable considering his start to life.  
Before we get into his ideal family and home we have to ensure that anyone considering him has the schedule and time to accommodate the needs of a puppy.  We will only consider a home for Lobo where someone is home or has the capabilities to come home throughout the day.  Puppies need to be taken outside for bathroom breaks very regularly when they are small and will not be able to hold it for an 8hr work day.  We are also looking for a family that is fully aware of the time commitment of a puppy and the work involved.  Puppies are a total joy and bring so much love and happiness into a home, but you cannot underestimate the work and time involved in raising a puppy properly.   Middle of the night pee breaks followed by a crying puppy who just wants to play at 3am are a thing! Puppies also need constant supervision while young to expedite the house training stage and to ensure they aren't chewing on anything inappropriate.  We are also looking for a family that will crate train Lobo  as we fully believe that this is the best for pups and offers them a quiet and secure "den" to call their own.  A crate trained pup is a blessing as it offers a safe place to put them when you can't be watching them all the time.  
We will be expecting our adoptive families to attend puppy socialization class with Lobo immediately upon adoption, along with, at minimum, level 1 obedience school after. The guidance and lessons learned in puppy classes are very important to getting your pup off to a good start.  We handle Lobo every day and will be offering him everything he needs to be the best puppy he can be when he leaves our care but we need the adoptive family to take over for us when they get him home.  We take our responsibilities to this pup very seriously and only want the best for them.  
Lobo is too little to be neutered before adoption so potential adopters must live within a reasonable distance (within an hour) of Cambridge as he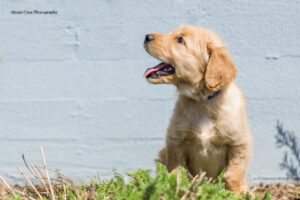 must be returned to our vet to be neutered (included in adoption cost). Adopters must be able to drop him off in the morning and pick up later that day for this surgery.  Adopters will be responsible for the continuation of his vaccinations and all other required vet care at their veterinarian of choice.  He will have had everything medically that his their age should have and has been microchipped as well.  His forever family must also not have any holidays away planned for months coming up after adoption or be planning to move in the near future.  Stability is key in months after adoption.
Lobo has been hand raised since 2 weeks of age.   He is very people social as such which is fantastic. He has never met a person that isn't a best friend in the making.   But we have also ensured that he gets daily interactions with our dogs so that he learns social skills and dog language and mannerisms.  These interactions take the role of the lessons he would have learned with littermates. He would do well in a home with or without another dog, as long as he continues to have safe and proper socialization with other calm, well-mannered dogs who can be his role models.  He lives in his foster home with cats and doesn't pay them much attention.  
Lobo has some requirements of his adoptive family/home:
-People who are actively looking for and wanting a Golden Retriever and are fully prepared for the grooming requirements, energy level, and training requirements of this breed.  Lobo's story touched a lot of people's hearts and we know that many people saw his posts and felt that tug of emotion to adopt him, but we will be only wanting people to apply who are fully prepared for a Golden Retriever and have the space to house one, the fitness level to adequately exercise one, the dedication to daily brushing, regular bathing, proper drying, grooming appointments, and a keen interest in obedience training to keep his working breed brain busy. 
-Lobo will not be suitable for a first time dog owner.   The very trait that kept this puppy alive, his strong will, is the trait that will make him unsuitable for inexperienced owners.  Lobo is a sassy puppy with a strong personality.  He is a fun, lovely, busy, happy and confident pup, but he has a stubborn side and can be obstinate at times.  He likes to challenge the rules and needs a very consistent, firm but fair leader who will not give in to his sass or let him call the shots.  He will be an AMAZING dog with a confident, experienced leader but could become a total jerk of a dog with passive or permissive people.  We need to ensure that everyone in the family is experienced and confident dog handlers. We won't send Lobo to a family where there is a "weak link", someone who will let him get away with his sass. We are looking for his person/people to be dedicated to and experienced with obedience training and advanced classes. He is very food motivated and he loves to learn.  He is highly trainable and we want his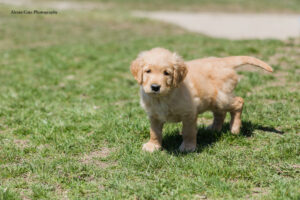 full potential to be realized.  If you love a working dog, and want your next project, this is your pup!! He is high drive and wants to work!
-Lobo will require an adult home or one with children over the age of 10years.  He has very sharp puppy teeth and when he goes though the puppy mouthy, bitey, jumpy stages he will be too much for younger children. He is also, as mentioned, a very confident puppy, and will not take a back seat to small children
-Lobo would love a detached home with a fenced yard.  He loves being outside and exploring.  We would consider a semi detatched or town home with yard as long as the yard is large and offers a big dog room to run around.  This of course does not take the place of the daily walks and runs he will need, but offers him a safe and secure place to play and hang out with his family.  
-Lobo is going to be a very active dog and so wants equally active people to go on adventures with.  This will be your dog for camping, hiking, running..you name it, he is up for it!! He is an all weather, the dirtier the better, type dog!  
If you love the Golden Retriever breed and have the time and attention a puppy needs and are wanting all the fun…but also exhaustion, frustration and work a puppy can bring, then please send us in an application.  On your application please be sure to tell us about yourself and your family and let us know why you feel that you are the ideal fit to be Lobo's happily ever after family.  Our super sweet Lobo is eagerly awaiting meeting his new family…maybe that's you??