ADOPTED
Please read our dog bios carefully to be sure that the dog you are applying for suits your family and lifestyle. We at PDR believe in the benefits of post-adoption training for our dogs and their families. This allows for continued socialization, learning and helps to create a well-mannered and balanced dog. Post-adoption training is a requirement in our adoption process.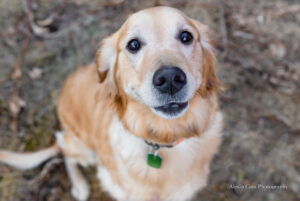 Taking her name from the kingdom of the Moonshadow Elves, Rayla is pleased to make your acquaintance! Rayla is not a moonshadow elf, but is a 4 year old Golden Retriever. She was a puppy mill mom but now she is ready to experience life to the fullest! She is about 50lbs and is quite petite for a golden. 
Upon her arrival in foster care, Rayla was a very scared little dog. Being unused to indoor life, she would only sit on the mat next to the door for several days. With time and patience, she started to slowly inch into the rest of the house. We quickly discovered that the way to her heart is through head pats; she will lean into your hand and rest her head on your hands, and will even fall asleep as you cradle her head. With her desire for physical affection being so great, she slowly gained confidence and now has come to realize the rest of the world loves her too! She believes strangers passing in the street are potential friends, and while she does still exhibit some hesitancy, more often than not she will be brave and approach on her own to ask for affection. She enjoys belly rubs as well, but head and face pats are her favourite. She has the sweetest face and will stare at you lovingly as you pet her. Rayla loves to give kisses to hands, and this is often her way to ask for more affection. We spaced our couch and footrest apart so that Rayla could approach us for affection, and she is also starting to ask to be on the couch with us. She will fall asleep in her little "petting parking space" between the footrest and the couch. While Rayla has not met children, we don't expect her to have difficulty meeting children that are mature enough to let her come to them if she is unsure. Rayla takes a lot of guidance and confidence from her handler.
It is a good thing Rayla likes physical affection so much because her fur is incredibly soft and it is easy to pet her forever! She has a beautiful golden double coat, which is high shedding. She will require regular baths and brushing to maintain her coat. When she first arrived in foster care, she was very itchy and had spots of thin hair and scabbing along her back. After some oatmeal shampoo baths, conditioner with regular brushing and good nutrition, her coat is starting to fill out more. Her tail is not fully grown out at this time. We have also started introducing her to doggy toothpaste. She tolerates nail trims and brushing fairly well, but the bath is a work in progress for her.  A "happy hoody" grooming tool has been helpful in reassuring her in the bath tub. With a slow, calm approach she will continue to gain confidence in the bath. She is food, praise, and physical affection motivated. She really just wants to please you.
Rayla is crated overnight and sleeps without a peep. She is also crated for some varied periods of time throughout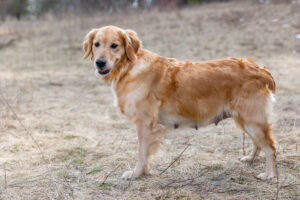 the day to practice her confidence in being alone during the day. While Rayla initially accepted crating during the day quite well, as she becomes more attached to humans she is becoming less fond of being by herself. She will whine and may escalate to barking for about 15 minutes when crated during the day, but will settle down. Rayla will always go into her crate when asked without fuss, despite her dislike of being left alone sometimes. It is very important that she have her alone time in the crate though as independence is a very important life skill that a dog needs to learn.  We do not want to encourage separation anxiety and so her forever family needs to fully be on board with the independence training we are instilling in Rayla.  In the morning, she may cry once you wake up and get out of bed, because she loves to get the day started with you!  Although we are stressing that time alone during the day is important for Rayla to learn that she doesn't need to be attached to her people at all times, she wouldn't enjoy a home where her people are gone for a full workday or most of the day.  Someone home more than away will be best for her.
Initially, Rayla found the wide open world quite overwhelming, and could only go for approximately 5-10 minute walks before she got overwhelmed and tried to pull back home. She had very limited leash experience prior to foster care, and would thrash and flail at the end of the leash without any input from her handler. Rayla has made a lot of progress with her ability to walk on leash and now understands to follow her handler. She is walked on a martingale for safety (so she is unlikely to slip her leash, but she no longer struggles on the leash with people she knows). Rayla does not always completely understand that you are a solid object, and in the early days of her leash training would aim for your legs and bounce into them repeatedly while walking. Attaching a second traffic lead to her martingale and using the shorter leash to "make space" has been very helpful, and now that she accepts treats on walks she is walking in straighter lines! We still keep the traffic lead attached, as sometimes she will get a "bee in her bonnet" and think she needs to speed off in one direction while pulling. She generally walks beside you on a loose leash, but does have the moments where she needs some extra guidance that the short leash helps provide before continuing on. We have started conditioning her to a gentle leader in case her future home finds it helpful, but she has been having such success that we have not fully implemented it outdoors yet. Rayla now enjoys 30min plus walks, and will likely continue to enjoy longer walks as her confidence grows. She has a moderate energy level. She has demonstrated an occasional interest in squirrels on walks, and likes to look quietly at other dogs and may stop progressing forward, but is easily redirected.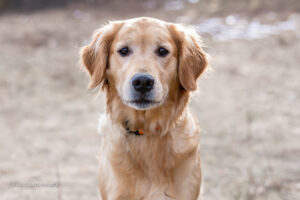 In terms of her interactions with other animals, Rayla is currently fostered with two medium-sized dogs, 2 cats, and one other larger foster dog. She generally gets along well with all of the animals! She is very cat friendly, and only has a passing interest in them. She does not spend time sniffing or investigating them at all. On occasion she has tried to play with our dogs, but is not quite sure what to do. Rayla has demonstrated some resource guarding with other animals if she is particularly fond of a toy, but on other occasions will bring the toy out to share. Animals that she lives with should be respectful of her clear communication (she will take the toy away and growl). Otherwise she is not bothered by other animals in her space. She has not demonstrated resource guarding of toys, food or beds with people. She would do well in a home either as a solo dog or with other respectful dogs, and can live with cats.
Rayla loves the car! She jumps in on her own and lays down on the backseat during the drive. She initially will greet you as you sit down in the driver or passenger seat, but settles in for the ride. She may take some time to become acquainted with a new vehicle, as she did cry for a few moments when she was driven in a different car than her usual ride, but did settle very quickly. Rayla loves to inspect cars as we walk, and would likely try to jump into a strange car if the door was open!