ADOPTED
We at PDR believe in the benefits of post-adoption training for our dogs and their families. This allows for continued socialization, learning and helps to create a well-mannered and balanced dog. Post-adoption training is a requirement in our adoption process.
Say hello to Piccolo!  This little guy is a six year old Yorkie who is small in stature but has a huge heart! He weighs 9 whole pounds!  He is looking for a home that will offer lots of cuddles, snuggles and pets.  He loves nothing more than sitting on your lap for hours.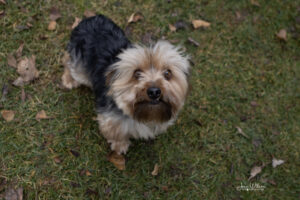 The fact that Piccolo loves to be close to people is surprising because he has spent his whole life in a puppy mill, being used for breeding.  Until now, he has not known life outside of a barn, so he has had his whole world opened up and he is very curious about everything.  As well, he was very neglected and has now finally had some medical attention, and a much better diet, so he has begun his path to better health.
Piccolo is tan and black and has the softest coat that he loves you to touch.  He will roll over as soon as you touch him because he loves belly rubs! He is extremely quiet, and will only give a tiny yelp when his people go downstairs for something.  He lays at the top of the stairs on his belly with his head looking down to find you and makes no effort to attempt the full flight of steps, but if you come back and carry him down, he'll happily follow you around and explore.  When he's in your arms and feeling content he even makes a little humming sound that is similar to a purr.  He will fall asleep in your arms or snuggle close beside you.  Piccolo can startle easily and if there's a lot of laughter and noise, he gets a little concerned and will want to hop into someone's lap to get close and observe what is going on.
P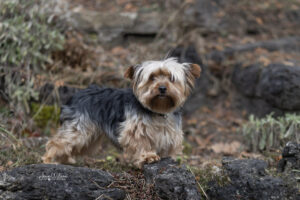 iccolo has had two surgeries in December.  The first was his neuter, and the second was dental surgery.  Piccolo had never received any dental care, and he had been given such a poor diet that his teeth were in rough shape and you could smell his mouth even when you were steps away from him.  He had to have most of his teeth removed.  The few that are left will need regular cleaning and care so that Piccolo will not have to go through surgery again.  Despite this, Piccolo has a healthy appetite and is eating regular meals twice a day and takes treats.  We are currently giving him kibble soaked in water as his mouth heals. Before the surgery he liked to chew on a piece of rawhide, and he may like to do that again once his gums have completely healed.
Piccolo had never been in a home before he came to us, so once he was neutered, we really have been working hard at house training.  Most days are good, and we are able to take him out every hour to two hours.  He doesn't go to the door to give us a sign that he needs to go out, but when he heads to a throw rug and begins to circle, we know that it is important to get him out right away or it will be too late.  Often when we tell Piccolo it is time to go pee, he will walk the opposite direction!  He does not love the cold. In fact, he will often try to come back in without doing his business.  We have found that standing with him helps, or walking away from the door helps too, so he then turns and goes more quickly. "Piccolo, go pee" is the phrase we say so he knows what is expected of him.   House training will have to continue in his permanent home because he will need to learn which door he goes out and where he is allowed to pee.  It will be important for his new family to have eyes on him and be watchful of time to continue the successes we are seeing now.
Once the weather warmed up after Christmas,  Piccolo was more willing to go for walks. Going for a walk is another new activity for Piccolo and he wants to sniff and look at everything. At first, the leash was a new thing that Piccolo didn't like and he refused to go in the direction I wanted or pulled the opposite way.  Now he will follow along behind me as I give him lots of encouragement to walk. He will poke along, stopping to sit and look around at this new world.  We are starting to get him to move along and keep going, but he really just likes to watch people, animals, birds, you name it!  Sometimes if a dog passes us, Piccolo is motivated to follow along for a few moments.  Gradually, his walks are getting shorter in time, while still covering the same general path.  The cold weather ahead of us will no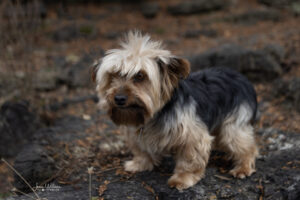 t help, but in the spring, Piccolo could be encouraged to walk longer and to spend more time outside.
Piccolo is great at meeting new people, and immediately walks to them to be introduced and petted.  He loves being picked up and held by anyone we have met.  Piccolo has also done very well with meeting other dogs and spent Christmas day surrounded by our family and one other dog.  Once the dogs had met, they gave each other lots of space.  Piccolo doesn't really play with toys and tends to be a little scared of the squeaky ones (he walks away immediately) but may learn to play if another dog is gentle or another dog could play with toys so Piccolo could learn what to do with them.  Other dogs have barked at him and he'll perk up his cute pointy ears to listen, but he has never responded, or even pulled to get closer or to get away.
Piccolo has learned to sit for a treat.  He is very eager to get the treat, so he should do well with the mandatory training that he must complete with his new family.  He especially likes freeze dried liver treats and is motivated to try and do whatever you are asking, to get them.
Piccolo is crate trained.  He goes in willingly and is quiet.  He sleeps the night in his crate and is left at home during the day in his crate.  At first, he didn't want to go in, but now he knows the routine and that he gets a treat when he's there so he steps right in.  His crate has lots of blankets and towels to keep him warm.  When he is resting outside of the crate, Piccolo never chooses a dog bed. He will sleep on the floor, and we have pulled out some blankets from the crate that he will now lay on as well.  In the evenings, he wants to be up on the sofa or chairs with his humans.  He can't get on the furniture himself, so he will always stand on his hind legs asking for you to pick him up.
One new thing that Piccolo did not like was a bath!  He has had several in his foster home and each one has gotten easier.  After the last bath we actually saw Piccolo running around and he almost had some zoomies!  He will rub his face and ears into the towels and roll onto his back to help dry himself.  He has been great to brush and his soft fur will need to be brushed regularly.  He is low shedding and will need regular grooming to maintain his coat that is getting even more lovely from being on a much better diet for the last few months.
In the car, Piccolo is an easy traveller. He's been out in the car crate, in someone's lap and when the car is full, he will nestle in between the people in the back seat.  When sitting with the people he makes no effort to get near a window.
Piccolo is very gentle and needs to be cared for with that in mind.  He doesn't play or want any rough handling and if he is scared or anxious about something he goes on his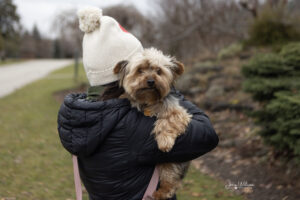 stomach and lays flat out.  He will be awesome with a single person or couple looking for a companion that will never be far from him when they are home.  He would do really well on his own, or with another gentle dog.  Piccolo likes children when he has met younger children, but is not a constant playmate and needs his quiet time, so a home with teenagers who will handle him with care and look for only snuggles from him will be best.  He truly loves being a lap dog!
Piccolo has been rescued from a puppy mill where he never received any love or kind handling from humans, despite that, he is so affectionate and just loves to be held close and petted.  Piccolo is so open to being loved, he is definitely a dog looking for a permanent home that could spoil and pamper him! Please apply for him through the Pound Dog website and give him the life he deserves!