ADOPTED
Please read our dog bios carefully to be sure that the dog you are applying for suits your family and lifestyle. At Pound Dog Rescue, we believe in the benefits of post-adoption training for our dogs and their families. This allows for continued socialization, and learning and helps to create a well-mannered and balanced dog. Post-adoption training is a requirement in our adoption process.
Zoomies, licks and lovin'!  Walt is a true puppy in every sense of the word!  Looking for Puppy Love with non -stop action then you have found your match!!
Walt is a 5 month old, high energy Maltese.  He has been recently neutered, microchipped, vet checked and vaccinated.   Walt is a creamy/white colour with beautiful soft fur.  He has a little black nose and button eyes that make you fall instantly in love with him.  The face of an innocent little puppy and the personality that is ten times his size!  He has a delicate frame(as do all Maltese)and can easily be injured.  The potential adopters must be aware that he is not a dog that you would have with young children specifically for this reason.  Walt would be appropriate for children 8 years and older.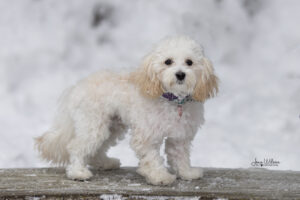 Mighty Walt was rescued from a puppy mill as an unsold puppy due to be culled.  He has spent his entire life, up until a few weeks ago, with a large group of small dogs in a puppy mill.  He was terrified during his first few days, as he has had little to no socialization with humans.  Luckily for Walt, we had recently acquired another foster who happened to be a perfect match.  When he was put close to her we felt his anxiety immediately subside.  Slowly as he watched her interact with us, Walt began following suit.  Within a few days, Walt did a complete turn around and found confidence to interact within his new foster family.  We are looking for a home for Walt that has a small to medium sized confident and puppy friendly dog that can be his role model and guide to all things dog. Walt needs this guidance and support and having another dog will make his confidence building so much easier as he really patterns off of the dogs in his foster home.  Cats in the home will be fine as he will just need to learn appropriate behavior with them and be trained not to chase them.
The Maltese sheds very little and for this reason will require constant maintenance to avoid the fur from matting.  As he is white, he will have tear staining and can get quite dirty and require bathing on a regular basis. Potential adopters must be prepared to maintain his coat through daily brushing and bathing when necessary.  He will also need regular grooming appointments. 
This bundle of joy loves his snuggles.  He loves to have cuddle time on the couch every morning.  A belly rub and a scratch behind the ear in between playtime with his toys.  
Walt has found his voice.  He likes to bark at most things.  If someone walks into the room, if he hears a noise or anything changes.  He also will bark in the middle of the night should he require a bathroom break.  We are currently  working on correcting this behavior when the barking continues past the warning stage.   Due to his alert barking he wont be suitable for apartment or condo living and will need a detached home.  He also requires an experienced dog owner who has the skills and abilities to work with a dog who alert barks to most everything and can continue the work we are doing to minimalize this and teach Walt that he doesn't need to voice all his concerns.  He won't be suitable for a first time dog owner as he needs an experienced hand. 
This little fellow has a very high activity level and is willing to play with just about any toy.  Playing fetch with a ball is Walt's favourite indoor sport.  He loves to chase after and bring back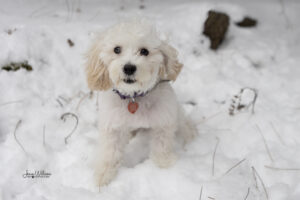 the ball until he is distracted by anything new that is introduced.  He does not guard his toys or his food.
Walt is currently teething and will occasionally nibble on fingers as he seeks relief.  Adopting families will need to make sure Walt has teething toys for this time to help him get through this stage in life.  
Walking is a must for Walt.  He prances proudly down the street each morning and evening.  He is very curious on his walks and will go from side to side investigating the new smells and scooping up the odd mouthful of snow.  Walt will need at minimum 2 walks a day and a lot of play time.  Exercise is key to keeping him settled and quiet. He is a high energy dog and needs a lot of exercise to be sated.  Fast paced, long walks will suit him well, this is not a casual stroll type pup!
Housetraining for Walt is still in progress.   When taking him out on a regular basis, he will go to the door and look over at us when he needs to go out.   Paying attention to his cues is key to his housetraining success as it is with all puppies.  He is bound to regress some in his housetraining moving to a new home so his adopters need to ensure that they are aware of this and treat him like a non-trained dog, constantly supervising him when not in his crate and taking him out regularly until he catches on to where he needs to go in his adoptive home.  He cannot be counted on to tell his people that he has to go…he needs his people to be proactive and take him out. 
Walt is crate trained, he will go to his crate to eat and also when he is unsupervised.  It is necessary to have Walt crated at night and anytime that he is unsupervised to keep him safe.  He is quite happy every night to go to his crate to sleep.  We usually put him in his crate a half an hour before we go to bed so that he has time to settle. 
Walt is smart and highly trainable.  He has been working on "sit" and "quiet".  These commands will need continual repetition as his new adopters take on his training.  The potential adopters will have to be committed to post-adoption training.  Walt's new family will be required to enroll him in obedience training.  This will aid in his socialization and boost his confidence to allow him to be his "best self".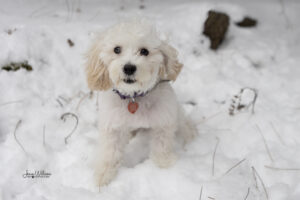 Walt does not like to travel in the car.  He will show signs of stress for the first part of the car ride.  Driving in a car is a new thing for Walt and his adopters will have to be patient with him as he gets over his fears.  Short trips to fun places may help him adjust to driving in the car. 
The best thing about Walt is his personality.  He spends most of his day exploring his surroundings.  He will collect items from the house that he thinks he can move, socks, sweaters…..coats. He will drag pretty much anything across the room if he likes it! You have to watch him to ensure that he is only collecting proper items!  His curiosity makes him entertaining to watch. He has sparked many laughs as he tries to move things 5 times his size!
The ideal home for Walt would include an active person or couple with or without kids 8 years and over.  A family who is prepared for a busy little puppy with lots of spunk.   Constant supervision while he works through his puppy stage would be ideal.  A fenced yard would be nice but not necessary as long as he is exercised regularly.
If you are up for this high energy little guy "Walt", he is not so patiently waiting for you!!