ADOPTED
Please read our dog bios carefully to be sure that the dog you are applying for suits your family and lifestyle.
We at PDR believe in the benefits of post-adoption training for our dogs and their families. This allows for continued socialization, learning and helps to create a well-mannered and balanced dog. Post-adoption training is a requirement in our adoption process.
To apply for adoption and for more information on our process and requirements, visit our website at https://pounddog.ca/adoption-info/.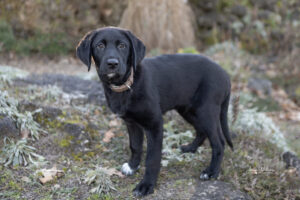 Let me introduce you to Vader. This handsome boy is about 11 weeks old and he is a black lab puppy. Vader is one of those puppies that has such a sweet personality with such a zest for adventure. Vader currently weighs about 25lbs and he certainly has lots of growing to do still as he will be a big boy. He has soft black fur all over his body, except for one front paw which is partially white with speckled black, which is also a bit on his back feet, he also has some white on his chest. What is very unique to Vader is that he has dew claws on both of his back feet, because of this we lovingly call him toe-vader on a daily basis. Vader has the sweetest brown eyes, and you could honestly get lost looking in his eyes for hours. Vader loves to make eye contact with you when he is receiving affection and you can see in his eyes that he is giving you 100% of his trust. Vader is a perfect mix of calm puppy that likes to lounge and play with his toys, and rambunctious puppy that loves to get the zoomies and run around the house.
Vader and his siblings were unfortunately puppy mill discards that didn't find a home, so Pound Dog Rescue took them in to give them the best chance at finding their forever homes. Vader was full of joy and excitement when we brought him into our home and it didn't take long for him to warm up to his surroundings! He loves to explore the house and see what is hanging around that he should and shouldn't get into.
Vader is living in a very diverse home with children, big dogs and little dogs, old dogs and young dogs, as well as a cat. Vader doesn't discriminate when it comes time to play, he will approach anyone to see if they want to wrestle or play tug with a toy. Sometimes if another dog doesn't want to play, he needs a reminder that he needs to move on to find a different playmate, but he is generally very good at reading cues and leaving the dogs alone if they want to be. Vader loves to play with his toys, he likes stuffed toys, squeaky toys, pretty much any toy! He has not shown any destructive tendencies yet, but it's important to keep an eye on those squeakers because if one falls out, he will definitely want to continue playing with it. When it comes to the cat Vader is very interested, but the cat has not engaged and therefore he moves on pretty quickly. It's important to note that if his forever home has a cat, the interactions will need to be monitored for several months to ensure that no one is taking advantage of the other, and that it could take months for the cats to get used to having a dog in the house. As far as kids go, Vader LOVES kids. Our kids are young teens, however he could go to a home with kids that are 8 and over. It's important that interactions with young kids be monitored and that kids understand appropriate play with dogs.
Vader has very good house manners, he knows to wait patiently for his food while it is being prepared, once it is ready he will run top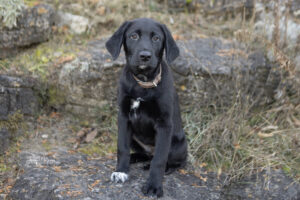 speed to his crate and run inside so that he can eat as fast as he can. Vader would probably benefit from a slow feed bowl just to help slow him down a bit. Vader is currently crate trained, which means that he eats all of his meals in his crate, and whenever we go out or are unable to keep an eye on him, he gets to go into his crate and have a rest. Vader loves his crate and has no problem at all with going inside, especially with a few treats thrown inside! Vader will sleep all night long in his crate without making a peep, sometimes if we take too long to go to bed he will let out a few whines, but that's it. In the morning when he hears you wake up, he will definitely show his excitement by letting out a few barks, but other than that he's a very quiet boy in his crate. Vader has been doing very well with his house training, the beginning was a little rocky but he was still a very young pup. He has been doing very well now though and there are almost zero accidents. Vader is also very good at letting you know that he needs to go outside. He will very loudly paw at the door, and if you don't hear him the first time, he will go and paw at the door again. It's important to note though, that if you don't let him out after this, he will pee on the floor by the door.
In speaking of food, Vader loves his food. But it's important for his forever family to know that Vader has an extremely sensitive stomach. When he first came to us he was experiencing diarrhea with some bright blood in it. We spent some time trying to figure out what was going on and ruled that it was likely stomach intolerance and/or allergies. Through trial and error we have figured out what food Vader needs to be on in order to feel his best, and we have landed on a lamb and wild boar blend by the company Go!. It's extremely important that his forever family be committed to keeping him on this food and watch the intake of the type of treats he eats, and that he never get any table scraps. One positive thing about his love for food is that any meds he may need to take are an absolute breeze! All we do is put the pill in a little bit of wet food on top of his kibble, and guaranteed it will be gobbled right up!
Vader loves to be outside and exploring the backyard, having a fully fenced backyard of his own would be a must for this boy. He loves to be out and exploring, looking for sticks and just hanging out with the other dogs. When it comes to taking walks, Vader has been very skeptical and doesn't really like to go for walks. He is still pretty young so this will come in time with continued exposure and lots of positive reinforcement and treats! We think that Vader would do well being the only dog in a home, but he would also love having a doggie sibling! It's important that his sibling be young with lots of energy as Vader has lots of energy to run and play and will want to initiate play all the time. He currently has 7 other dogs in the home for him to solicit play time from. Vader has been on a few car rides, he currently rides in the back seat and is usually pretty content to just lay down, or look out the window at the passing cars. Obedience training will be a must with Vader as it will help him develop a wonderful relationship with his new family, gain confidence, but also it will help him to understand what is expected of him and help set out rules in his new home. This should be followed by an advanced obedience class to help him to be the best boy he can be.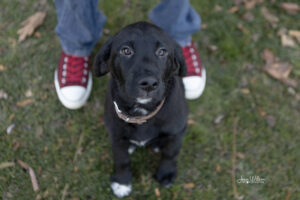 Being Vader is still such a young puppy, we will only consider a home for him where someone is home or has the capability to come home throughout the day. Puppies need to be taken outside for bathroom breaks very regularly when they are small and will not be able to hold it for an 8 hour work day. We are also looking for a family or person that is fully aware of the time commitment of a puppy and the work involved. Puppies are a total joy and bring so much love and happiness into a home, but you cannot underestimate the work and time involved in raising a puppy properly. They need constant supervision while young to expedite the house training stage and to ensure they aren't chewing on anything inappropriate.
Vader is looking for his forever home with a family who has lots of time to spend with him walking, playing and going to training class. He wants a family who will help him become the best dog he can be and bring him on all sorts of adventures. Vader wants a family where he knows he will be forever cherished and never left behind. Ideally he would like to have a large fenced yard with another young playful dog to keep him company and run around with. Vader is such a handsome, calm and sweet natured dog and he is looking for someone who will love him forever and be active with him. Vader has been such an easy dog to love, his eyes and mannerism say it all in how sweet he is, if you're ready for your days to be filled with looking at him and your heart breaking in a happy way because of how sweet he is then maybe you are the home for him!