AVAILABLE
Please read our dog bios carefully to be sure that the dog you are applying for suits your family and lifestyle. At Pound Dog Rescue, we believe in the benefits of post-adoption training for our dogs and their families. This allows for continued socialization, and learning and helps to create a well-mannered and balanced dog. Post-adoption training is a requirement in our adoption process.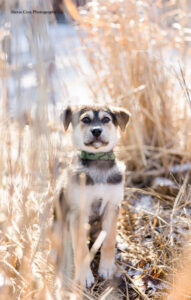 Looking for an intelligent male dog with a lot of spunky sass?  This cutie is looking for his forever family and he will be such a fun pup for the right person or family.  Read on to learn more about this great pup.
Vinnie is an adorable 3.5 month old, 15lb (and growing) German Shepherd mix puppy who will grow to be the size of a large breed. He is a high energy working dog. He will not be a good fit for those with allergies, as he does shed and it can be quite a bit, seasonally.  He has short black fur with tan legs, face and belly.
Vinnie was abandoned and unclaimed at the shelter by his owners when he was just 10 weeks old.  We expect the realities of puppy ownership didn't meet the romantic visions of puppy ownership and Vinnie was abandoned.  This situation is extremely unfortunate but will be for the best.  He will find a forever home with a family who loves this sassy dog as much as we do!
Vinnie has many German Shepherd characteristics which will require an experienced adopter who is familiar with a working dog. The adopters must be confident and maintain clear and consistent boundaries.  Someone who has experience with this breed is preferred.   Vinnie is driven and persistent with a working dog energy. He is also a bit of a dramatic dog who likes to sometimes play dead when he doesn't get his way. He will roll over on his back and stay very still for 30 seconds, then without warning he will roll back over and spring to his feet as if nothing happened.
  An active household is required to best suit Vinnie's needs.  He would not be the type of dog to sit around the house or in the backyard without activity.  He would be a good choice for an adopter who is interested in dog sports and Agility.  He is highly intelligent and learns quickly.  He needs a lot of mental and physical stimulation to be happy. His ideal home would have plenty of room with a backyard for a large active dog.  A fenced yard is preferred to allow for outdoor play.  
Vinnie is a very busy puppy who likes to spend his day exploring every toy that was ever invented for dogs.  He loves to chew on rawhides or any soft chew toy that he can find.  Since he is currently teething, any potential adopters will need to help him navigate through this stage.  He will need plenty of chew toys and constant supervision to prevent him from eating anything that may harm him.  Adopters will need to be patient and firm with him as he learns what he may and may not chew.  When unsupervised and overnight, Vinnie stays in his crate to keep him safe.  He will go into his crate easily with a treat but will occasionally vocalize when he is left on his own.  Vinnie is also a friendly and happy puppy who loves his people and getting a lot of cuddles..in between play sessions of course!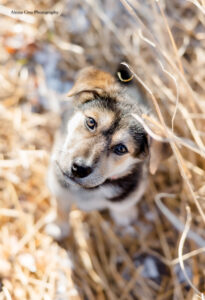 Walking in the big wide world is still a little scary for Vinnie at the moment.  He prefers to walk around the yard and sometimes across the street or a walk around the block.  This will be short lived, as his confidence level grows; he will want and need much more activity. He will need plenty of playtime and at least an hour walk every day to keep him happy and healthy.   Vinnie is doing well with housetraining and will go to the door or pace to let you know he needs to go out.   Occasionally he will vocalize if it is an emergency. 
Car rides are not Vinnie's favourite pastime.  He does not like to get into the car and will require a little encouragement (usually with a treat).   He vocalizes for the first few minutes of his trip. This can easily be fixed if he is slowly introduced to small car rides and increasing the distance as he becomes more comfortable. 
Toys are very important to Vinnie.  He holds high value in many of his toys which he constantly brings to his bed.   We have traded out toy for toy and more recently toy for treat.  He prefers the treat over toys every time.  He will give up anything he is holding immediately with a liver bite.
Liver bites are Vinnie's favourite treat.  He is extremely food driven and will give full attention to any hand holding a treat. He is very much like a black hole when it comes to food as he can never eat enough!  He is quick to please when there is a treat at stake.  He knows the command sit and come very well.  Although his love for food is helpful for training, the adopting family will need to make sure he is not over fed. 
 Vinnie is not a dog that is suited to young children.  If there are children in the house, they should be at least 12+. He is very mouthy right now and his puppy teeth are very sharp. Vinnie loves other dogs and we are looking for a home for him where he is an only dog to allow the adopters to focus on his socialization and training or one that has a well mannered, well trained dog that can be a good role model for Vinnie, but also will enjoy the energy of a playful pup. Vinnie is going to be an amazing dog with loads of potential but he needs his people's main attention at this point in his life so he can be trained to his full potential.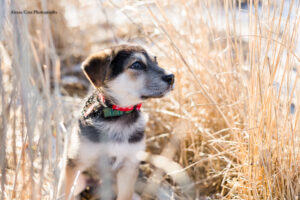 Any adopter must be confident and experienced with dogs.  Vinnie would take full advantage of a passive or weak handler and become a doggie jerk.  We want Vinnie to be the very best boy he can be and a well-trained and well-mannered dog.  Vinnie is very respectful of a confident leader and wants and needs that firm but fair direction.  He is not a pup for those unwilling or unable to be the leader but he will be a dream dog for those who are confident, experienced dog handlers and who will have high expectations for their dog.  Vinnie will need guidance and positive reinforcement training to live his best life.  Those adopting him will need to commit to obedience training post-adoption, to advanced levels.  Attention to proper socialization and training will be necessary. 
Vinnie is on the lookout for his forever home!  If this sweet pup is what you are looking for, please fill out an application on our website.