ADOPTION PENDING
Please read our dog bios carefully to be sure that the dog you are applying for suits your family and lifestyle. At Pound Dog Rescue, we believe in the benefits of post-adoption training for our dogs and their families. This allows for continued socialization, and learning and helps to create a well-mannered and balanced dog. Post-adoption training is a requirement in our adoption process.
This adorable Bulldog is affectionately named Bruiser (Brew). He is 4 years old with short brown and white fur. Brew is approximately 30 pounds and would be considered a medium-sized dog. He is smart, quiet, and such a sweet dog, making him a great companion for many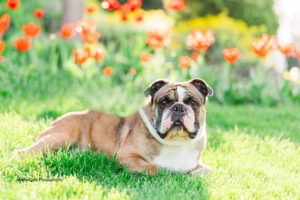 activities.
Brew spent his entire life in a puppy mill. The puppy mill bred Brew for puppies, and once they were done with him, they 'discarded' him, which inevitably changed his life for the better. Brew was different from our other foster dogs. Immediately, he ran over to us, wanting unlimited pets and snuggles. He continued to become more and more comfortable in his new space and has even shown us his playful side.
Brew went to the vet and was neutered. During his check-up, the vets brought his vaccinations up to date. He seems so much happier.
When we first got Bruiser, we began the house training process right away. When male dogs from puppy mills are introduced into a house, they tend to mark everywhere. Once he knows that the space is his, he doesn't mark anymore. Brew has adapted to our schedule very well and is able to go to the bathroom outside. We haven't had an accident in a very long time. In new spaces, Brew would need to have frequent bathroom breaks to ensure that he doesn't mark too much. Once he is confident in the space, this behaviour will diminish.
Brew loves his crate, and since day one, he has slept through the entire night. He will be fine spending his day in a crate even if his adopters work out of the home since currently, he spends 7-8 hours in the crate. Bruiser will need to be crated in his future home when left alone to ensure that he doesn't get into anything, especially in new spaces.
Brew is very treat-motivated. With the love of treats, he has been able to learn a few tricks like 'sit' and 'crate'. Being in a pen for most of his life, Bruiser had never encountered stairs. This was one challenge that he took on, and it is safe to say that he has mastered the stairs. Brew's new family will need to commit to continuing his obedience training to bring out the best in him.
Brew loves to meet other dogs and people. When meeting other dogs, it is helpful to take them for walks prior to entering an unknown home. When Brew meets other dogs, he gets excited, wagging his tail and letting the other dog sniff him. We have found that other dogs find him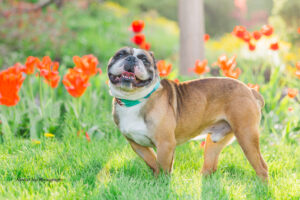 strange, as he makes funny sounds (as bulldogs do), but as they become comfortable with him, he has made some great friends.
Bruiser is a fun-loving and sweet dog. He loves finding different things to chew on. If he begins chewing on something less desirable, like a piece of clothing or a slipper, you can easily take it away from him and give him a toy instead. Bruiser is such a cuddly dog! He loves getting affection from us and will often join us on the couch for some cuddles at night. He has now begun to roll on his back for belly rubs, which we love. Something that we have loved about Bruiser since day one is how he sits. At first, he looks like how a typical dog would sit, but upon further investigation, he makes sure that his hind legs are crossed. Such a funny quirk!
When it is time to go for a walk, Brew willingly comes up the stairs. When we first started walking him, any tension on the leash caused him to cower down and resist the walk. Now, he walks with little tension on the leash, especially in quiet areas. We are still working on his tolerance of louder cars and trucks. He gets very nervous around busier streets and begins to pull a lot. When Bruiser does pull on his leash, a shorter leash , keeping him at your side is what benefits him. Bruiser will require a home in a quieter area, like a rural area, small town, or quiet subdivision.  The traffic noise of city living will not suit him.
Brew will sometimes chase small animals like birds or squirrels. We recommend a martingale collar to add a level of safety when walking him, as those types of objects can be very unpredictable, and we wouldn't want any accidents. Bruiser has been curious around cats, but hasn't been around them a lot. If there was a cat at Bruiser's adopter's home, we predict that he would try to sniff them and once he felt comfortable, walk away and cohabitate. The cat would have to be comfortable with a dog approaching it.
Brew would love to join a family that can give him endless cuddles and love. He doesn't require too much for walks – we give Bruiser two 15-minute walks, and we usually do a longer 1-hour walk on the weekends, which he can handle. Sometimes at night, Brew will get the zoomies, this can usually be fixed with a quick walk outside. When he does start to run around inside, he may begin to nip in excitement. We have been working on decreasing this behaviour by giving a brief "A-ah" when he begins. This has been effective. Bruiser hasn't been introduced to children, but he would be okay with children aged 12 and up as he still needs to work on his over excitement nips which are totally play related, but a work in progress.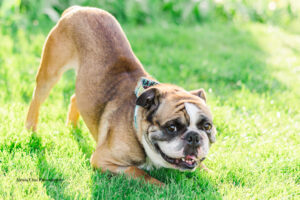 One thing that we love about Brew is how excited he gets when he is fed. He is so happy, wagging his tail while running backward, then forwards, then back again, and even throwing in a small spin. With all the excitement around mealtime, Bruiser is not possessive of his food. Brew eats twice a day, and his eating times are flexible. He currently eats dry food.
Brew is such a sweet, loving, playful, and fun pup. He deserves the best owner or family that will give him the attention he wants and needs. Bruiser is such a joy to have around our house, and although we are sad to see him go, we are so excited for him to find his forever home and share his affection.