AVAILABLE
Please read our dog bios carefully to be sure that the dog you are applying for suits your family and lifestyle. At Pound Dog Rescue, we believe in the benefits of post-adoption training for our dogs and their families. This allows for continued socialization, and learning and helps to create a well-mannered and balanced dog. Post-adoption training is a requirement in our adoption process.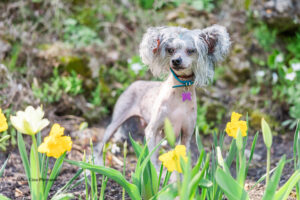 Meet the charming, mischievous and uniquely handsome Cedric. He is a taller Chinese Crested dog that at the age of 12.5 yrs young found himself being turned into a pound with his littermate. It appears that his family was moving and after being with them from early puppyhood he was now homeless and very confused about what was happening. When we saw him, we knew we needed to give this guy a chance to find his family that would be with him until the end. Don't let his age fool you, he has a lot of spunk and life left in him and he makes such an endearing companion. 
When Cedric came into our care it was obvious he had been neglected for some time. He had ear infections, his skin was dull and flaky and what hair he had was dirty and brittle. After a bath, a grooming session, some good food, and some moisturizer on his skin, you could tell he felt so much better. His ear infections have been an ongoing issue, but they are cleared up now. Cedric's future family will need to ensure he gets a weekly ear cleaning to keep them in a good place, but he doesn't mind having it done so that is half the battle. 
Cedric did come into rescue with his sister, but they were not bonded. In fact, she bossed him around quite a bit and he has enjoyed having a little more space and freedom from her. He does live with other dogs in his foster home and although he does well with them, he is quite happy to have a person all to himself at this point. Cedric does not need another dog companion, but he would accept a laid back and easy-going one. If he had to choose between his person and another dog, he would always choose his person first. On walks, he loves meeting people and everyone new is a just a friend he hasn't met before. When it comes to dogs though, he can be reactive. Mostly it is exuberance, he is not aggressive, just vocal. He will need someone that can work with that and keep him in check. He is very responsive to crystal clear, confident leadership in those situations, but if you have a weak spot, he will exploit it. We are looking for a home that has experience with guiding a stubborn, vocal dog through these situations. It's truly not difficult, it just needs attention.
Everything in Cedric's life revolves around four things…his person, food, neighbourhood walks and napping…and those are in no particular order of importance. Ok, maybe the food is number one and everything else ties for second place. In the home, he is well mannered but will get into a garbage can if you let him…he wants all the food things! He is house trained and paces to let you know he needs to go outside to the washroom. He loves to lounge on the couch and conduct neighbourhood watch and rest assured, he is a great alert dog. There is zero chance someone will approach your home without you knowing…zero. For this reason, he is best suited to a detached home and if that home has a completely fenced backyard he can claim as his kingdom, well that is just bliss. Cedric likes to follow you around the home, prancing like the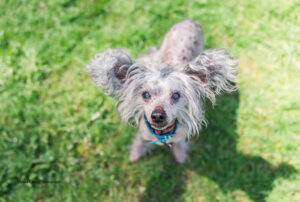 little prince he is to keep up with you. He is very easy to live with and does not ask for much beyond some cuddles daily, a nice walk in the hood, a full bowl and the ability to lounge in the yard…with sunscreen on please! Cedric is crate trained and currently eats in there so he doesn't sneak off and steal someone else's food or feel he needs to protect his from them. He sleeps in the crate at night and usually only barks a few times for the first 5 mins before he settles in for the night.
Cecil would like a quiet, adult home or one with teens without a lot of comings and goings please.  He just wont enjoy the energy and activity of a home with young children.  He is in his retirement years and would like to enjoy this time in relative peace.  
Cedric travels well in the car and will curl up to sleep about 10-15mins into a ride. He rarely lets out a peep and is happy to join you on your adventures…he will make a wonderful road trip buddy! If you are heading to a greenspace where he can explore the trails on leash alongside you, all the better. And if you want to hit a patio after to grab a drink and snack, where Cedric can try using his jedi mind tricks on other patrons to hopefully get some of their lunch to come his way, well don't say we didn't warn you that he will be the most popular guy there. In fact, he is quite the conversations starter and he LOVES the attention.
In terms of health, Cedric does have a grade 3 heart murmur but it does not require any treatment and it doesn't impact his day to day life in the slightest. As indicated earlier, you will have to keep an eye on his ears to ensure they stay clean and clear of infection. Cedric's teeth are also in good shape and he doesn't require a dental cleaning at this time. We are looking for someone that has Chinese Crested experience or knowledge for him as his skin does require maintenance that is different than other dogs…if you know, you know. He loves being groomed and doesn't find the bath to be an issue either, so no worries here! He is now on a top-quality diet which is making a world of improvement for his skin and hair condition, and this should continue to be part of his over wellness plan.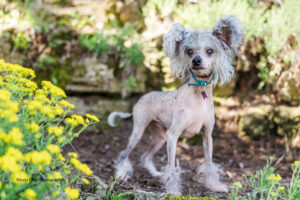 Cedric might be a senior guy, but he has personality to spare. He is full of life and although a little more laid back much of the day, he still has spring in his step and spunkiness in his soul. He's on the hunt for his forever people, he just knows they are out there…if you think that is you, drop us a line!