ADOPTION PENDING
Please read our dog bios carefully to be sure that the dog you are applying for suits your family and lifestyle.
We at PDR believe in the benefits of post-adoption training for our dogs and their families. This allows for continued socialization, learning and helps to create a well-mannered and balanced dog. Post-adoption training is a requirement in our adoption process.
I would like to introduce  you to Dawn a 2 year old, 45lb Labrador and Poodle mix, often called a Labradoodle.  Dawn came from a puppy mill after bearing one litter.  When we got her, her fur was dirty and heavily matted.  After a long bath and several days of brushing her tight curls loosened up and her gorgeous apricot colouring shone through.  She has since had a professional grooming but I have done some brushing as well on her head.  The enormous afro that emerged on her head after brushing was quite comical to see until it was trimmed.  Her longer body fur gives her warmth for the daily walks which she loves.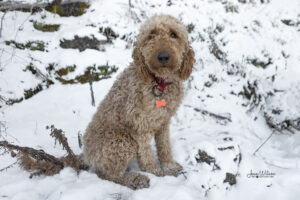 Dawn fortunately didn't manifest the traits that many puppy mill dogs show in being completely shut down.  Although a bit shy at first she demonstrated an incredibly quiet, gentle nature.  Dawn is extremely friendly and enjoys the company of people and dogs.  She is very accepting and showed no reaction when a neighbour's dog snarled at her and another small dog got loose and barked at her.  Dawn simply stood quietly by my side until the owners got their dogs under control.  Dawn is very affectionate and loves all sorts of attention given to her.  Her tail wags non-stop and she is a very happy dog who's joy for life is infectious!
Dawn absolutely lives for her daily walks.  She needs a good 30 minute walk first thing in the morning in order to fully do her business.  Most days we hike at local conservation areas in the afternoon for 5-6 km.  We have encountered many dogs, families and children on these hikes and she has always had positive interaction.   Dawn is used to going for at least 4 walks a day so prospective adopters should enjoy the outdoors ad be very active.  Dawn has come to love her car rides as they lead to fun places to explore.  She needs a boost still to get in the car, but once in settles in nice for the ride.  She would benefit from a fenced in yard where she could wander and explore safely.  Dawn loves the outdoors and we would like her to have her own private outdoor space to hang out on a nice day and take in the sights and sounds around her.
When she first came to me Dawn ate very little and she was not treat motivated for training.  It took her about a week to feel comfortable and more confident.  Dawn is the most laid back dog I've ever had.  Her training has caused me to laugh a lot.  She will recall most of the time unless she's distracted but it's at a slow saunter.  Her sit is almost done in slow motion.  When I introduced the command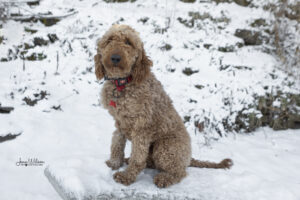 down she did it perfectly for a treat but when no treat was offered she went down and immediately turned over for a much loved tummy rub.  Her personality has slowly emerged as she gained confidence in her surroundings.  At first Dawn followed me everywhere but she now lies down in another room for half an hour while I work elsewhere and then she comes to find me to get petted.  She adores full body rubs and if you stop before she wants you to she'll give a small bat with her paw.  If you come into a room Dawn's tail thumps on the floor and she rolls over for a tummy rub.  Although she hasn't really caught on to playing with toys she adores her Kong and can't wait to try and get her kibble treats out.  She has on a few occasions brought it to me hoping I'll fill it up for her.  I know she will learn to love other toys as well, there is just so much for her to learn about now that she is living the life a dog deserves to live!
When company comes into the house Dawn simply greets everyone and quietly finds a spot to lie down.  After 20 or 30 minutes she gets up and does the rounds to get a pet from everyone and then goes back to her spot.  I've tried to introduce toys and balls to her but as yet she's not too interested although when she did a visit to my neighbours home, after playing with their dog she went to the toy box and took one toy at a time out and carried it around the room and dropped it and repeated for several toys.
Dawn is crate trained when no one is at home and at night.  She sleeps quietly at night for 8 hours.  I crate her at home for periods of time for independence training as Dawn does have some separation anxiety.  It is important that her independence training continue in her forever home as she is on her way to learning to be ok by herself and not need someone with her every moment of the day.  As long as I'm in the house she's quiet and relaxed.  When I leave the house she can get upset but as she in her crate she doesn't wreck anything in the home. She will require a forever home where someone is home most of the time, but her people also need to understand that leaving her alone for short periods every day is essential to her confidence building and independence training and they must be committed to continue working this. Dawn can be vocal when left so won't be a good candidate for apartment, condo or other joined living spaces and will require a detached home.
Dawn can sometimes pull when on lead.  She is inconsistent.  Some days she will walk well without pulling and other days she is super motivated to pull especially if she sees a squirrel or rabbit.  She will benefit from the obedience training our rescue requires of our adopters to help correct this issue.  I would advise that until she is more consistent that anyone walking her should be fairly strong and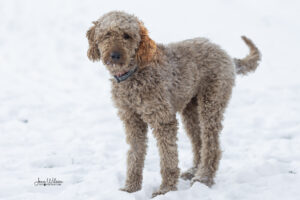 aware that she may do a sudden pull if she sees a squirrel; they are really hard to resist chasing!!! Because of this prey drive for all creatures small and fast we are looking for a home for her without a cat in it.  Dawn would do well in a home with other dogs though as she does enjoy her dog friends.  Dawn would like to be the only female dog in the home though. She is fine to have female dog friends, but would prefer a male dog as a housemate.   She would be fine as the only dog in the home as well, if her people were home with her more often than not.  Dawn has not been around young children and as she is still learning about life outside of a puppy mill, a home with children over the age of 8 will be required. Ideally an adult only home or one with teens would best suit her.  Dawn enjoys a quiet and calm household and will be too overwhelmed with the energy and noise of youngsters.
Because she was from a puppy mill she came with no name and I was given the privilege of naming her.  I chose the name Dawn for 2 reasons–the dawn of a new and better life for her and the beauty of the morning dawn which we witness every day together.  Dawn will make someone an amazing companion