ADOPTION PENDING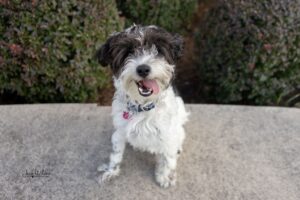 I would like to introduce you to Felix a spunky little 12-pound, approximately 9-month-old Poodle/Terrier mix. Felix came to me as a foster recuperating from a broken leg.   Sadly this was his second broken leg in his life…we don't feel that he had a great first home and are happy to give him this chance for a happily ever after.
For several weeks he had to go many times a day for short walks until his leg grew stronger. He is all healed up and now goes for half-hour plus walks and is full of energy and curiosity.  Felix really enjoys being outside and spends time on a tether while I do my gardening. He is fascinated with birds, butterflies and squirrels and wants to run after them.  He would really benefit from a fenced in yard where he could run and jump freely without always being on a leash.  He travels well in the car and often falls asleep on the ride; he is a great travel companion.
Felix is very intelligent.  He quickly learned the commands come, sit and down and is currently working on stay.  He needs a lot of mental stimulation and obedience skills work so only those wishing to partake in advanced obedience courses should apply for Felix.  He is far too smart and driven to work to only do the basics or not keep working his mind by teaching him new skills.  Felix has a lot of energy and on days when it's raining or super hot and we can't get in as much walking he enjoys chasing a ball down the hallway.  He will bring it back a few times and then goes on to another toy.
He needs mental stimulation as he's a smart boy.  He would be an excellent dog sports dog as well should his person be so inclined.  Agility or flyball would be right up his alley!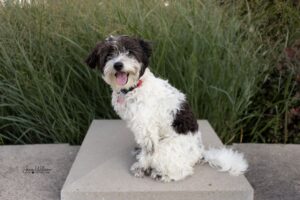 Felix is a very loving pup.  He is quite social and adores people and being petted.  He often just rolls over for his favourite tummy rubs. He loves cuddling and once when I was visiting a neighbour he fell asleep on my lap for over an hour.  This little guy loves his creature comforts. Felix loves to go for his daily walks and automatically sits when I say hook up.  When we return he does the same for unhooking unless he's tuckered out from an extra long walk or a hot day walk.  He then just lies down and waits for me to unhook his leash so he can get a drink and have a nap. He is a very high-energy young dog so requires lots of walks in his day and playtime.
Felix is crate trained and goes down quietly for 8-9 hours at night.  During the day I crate him 2 or 3 times a day for 1 1/2 to 2 hours at a time.  If I'm in the house he's quiet but when I leave he still barks in his crate.  He won't be suitable for apartment or condo living because of this and will need a detached home.  He needs continued work on his being left alone so that he learns to be independent and secure.  He is a dog that wants to be with his people all the time so we specifically work on him being alone in his crate to teach him independence and that he is ok to be alone at times.  He needs his adoptive person or family to keep this up and not feed his separation anxiety by never leaving him alone or doting on him hand and foot when they are with him.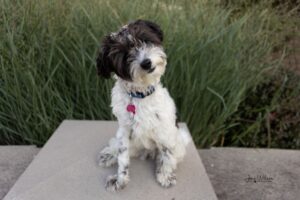 When I groom him with a grooming glove he automatically rolls over so I start on his tummy. He loves grooming time.  In the house, Felix spends a lot of time just sleeping on his bed or playing quietly with his toys which he usually brings into whichever room I'm in.   He is very easygoing although he will try to get his own way. He is part terrier so is strong-willed at times.   Felix requires an owner who will be a confident and experienced leader and let him know his restrictions.  He is a puppy who would be easy to spoil, so he does need to know his limitations.  He will not be suitable for a 1st-time dog owner and we are looking for his person to have a good base of advanced training knowledge and who knows how to be a confident dog handler.   Felix will be an absolute dream of a dog with a confident handler, but with a passive handler, he will take advantage and start calling the shots which will undo all the work we have put into him and turn him into one of those ill-behaved small dogs that no one enjoys.
Felix has had no experience with children or cats since he's been with me. The environment he's in currently is fairly quiet and calm.  I think he would do best in an adult home or with children over the age of 12.  He could live with a dog savvy cat that will tolerate a high energy puppy but again, his people need to be well experienced in training and ensure proper introductions are done and all interactions are supervised.
Beware if you're watching a television programme with a dog in it he will react and bark at the screen.  He once awoke from a sound sleep when a dog barked on screen.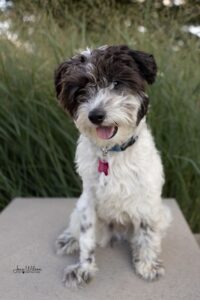 He is over-excited when meeting other dogs and will pull and bark.  He just wants to meet them and hasn't learned proper manners yet.  He will need more work in this area and obedience training classes will help.   I have chosen to introduce him one at a time to neighbour's large dogs who are gentle and he's done amazingly well.  When he meets them now he doesn't bark or pull.  He just wants to greet them and then go on his own way.  I really think Felix would benefit from the calming influence of a mature dog in the household.  This dog would need to be one that will tolerate an enthusiastic puppy well and wish to play.
Felix is a gentle, loving puppy who, although some work still needs to be done, will make an amazing companion. Felix is such a positive puppy, eager to please and learn.  He has a fun, outgoing personality and his antics, especially with his toys/ never fail to make me laugh or put a smile on my face each day.  If you feel that Felix is the dog for you please send us in an application and be sure to let us know about your dog training experience!