ADOPTION PENDING
Please read our dog bios carefully to be sure that the dog you are applying for suits your family and lifestyle. At Pound Dog Rescue, we believe in the benefits of post-adoption training for our dogs and their families. This allows for continued socialization, and learning and helps to create a well-mannered and balanced dog. Post-adoption training is a requirement in our adoption process.
Let me introduce you to Frenchie, or French Fry as she's affectionately known around her foster home. This brave little nugget came into foster care and from a breeding mill and was quickly whisked away to the amazing hands of Furever Loved Pet Salon to be cleaned up and dematted.  Unfortunately that meant getting a shave down that left her with very little hair and pink skin.  Who's the warmest, kindest, and most friendly of the Pink Ladies from Grease? Frenchie of course, so the name is very fitting.  She is a 3yr old ShihTzu weighing about 12lbs.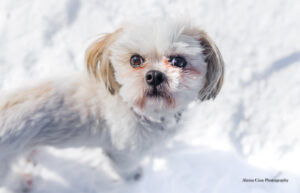 Luckily Frenchie is a fan of wearing a variety of sweaters, t-shirts and coats to help keep her warm while her fur grows back.  She's developing a beautiful coat of white fur with brown and grey low-lights and the most adorable ears that form a little bob the side of her face that bounce happily when she walks.
While her past life might not have been the best, she's more than making up for it now by taking advantage of all things warm, cozy and comfortable.  Napping is her favourite past time, especially if she can do it while cuddled up tight against a warm body.  She'll nuzzle her little face tight against your hip, or her foster sister, or her older foster brothers, or all of the above if she can swing it.  And if no one is around, she'll happily curl up on her own like a little peanut on the couch.
Frenchie approaches life with caution but will let others guide her through life.  She's learned so much about how to give and receive affection from her foster brother, she's learned how to play and be silly from her foster sister, and she's learned how to be gentle with other critters and take it easy from her oldest foster brother.  She's learned to trust that when her foster daddy takes her outside, even on the coldest nights, that everything will be ok if she just follows his lead.  She's learned that going in the car with her foster mom means going somewhere new and different but that she'll be protected and can face the world with her humans at her side.
Frenchie might still be nervous of this big world, but she never lets her fear win out over the potential for a new adventure.  
Frenchie is good in the car, you might hear her collar shake from the back seat, but she still wants to go with you and will eventually calm down, especially if there's a cozy bed to curl up in.  But just to be safe, make sure she wears a leash that's attached to the car just in case her fear overwhelms her and she decided to make a run for it.  But she's been on lots of road trip, long and short, and she's always been a good girl for us.
Frenchie is wonderful with her foster siblings who are calm and relaxed.   Over the family day weekend she spent the whole weekend in a strange house filled with family and nine little dogs and she was a perfectly well behaved little lady.  Frenchie has had the important job of intern with her foster mom's dog walking business which means meeting lots of new dog friends.  So long as she had direction from the ones she trusts, she knows how to handle herself.  If a new dog is being too forward with her, she'll stands her ground and politely tell that dog that no means no.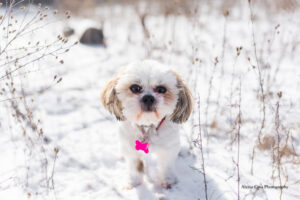 She sleeps very well in her crate at night, sometimes opting to go to bed earlier than everyone else.  Her morning routine starts by getting up with her foster dad at 6:00 and heading straight outside to take care of business, then she excitedly awaits her breakfast of kibble and water.  Once she's done, she marches herself right back to her crate for the first nap of the day until her foster mom makes her get up for the day.
Frenchie is a good little girl who's quite adaptable.  She would do well living with someone who worked from home where she could watch you work from her nap spot.  Or if you have to go to work, she's more than happy to find a comfy spot on a couch and nap away until you return.  Right now, she has a foster mom who works from home and foster dad that goes to the office.  Once her foster dad returns though, it's the best part of her day, she gets the zoomies and runs to see him and then they play and she gives kisses and can be very affectionate.  
As far as being active, she's content enough to go for walks, but nothing too big, especially in the cold as her fur is still very short and she gets cold.  So long as she gets to go outside for bathroom breaks and to explore around or just stretch her legs.  She's not in any hurry to go anywhere on her walks and is more prone to stroll rather than get where she's going.  I'm excited to see how she does in the warmer weather, I have a feeling she'll like to relax in the sun and explore the world that lives under the snow.
Some medical things to keep an eye on with Frenchie;
Her ear canals are fairly narrow and she will be prone to ear infections.  This can be mitigated with regular at-home cleanings to help keep any wax build-up to a minimum.

She has loose kneecaps (aka: luxating patellas) which is common in small breed dogs.  They appear to pop back into place on their own so for now, awareness of the condition is all that's required.  In the future if she starts favouring wither hind limb, or hesitates to jump it could mean that her knees are bothering her which will require meeting with your vet to come up with a plan to keep her comfortable and manage her condition.

She has experienced some constipation while in foster care that was caused by very full anal glands.  So regular expressions will help keep her bowels moving.  This can be done at your vet's office or at the groomer.

She's prone to tear staining on her face, but this is more of a beauty problem than a medical problem, especially with her pretty white fur on her face.  Luckily she's pretty content to get a nice facial with a warm washcloth to help keep her sparkling.
Frenchie knows how to sit and will willingly do it for you.  You'll need to find a treat that really tickles her fancy to teach her other things.  She requests cooked meat and fine cheeses.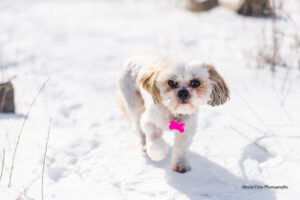 Frenchie has only met a couple of children in her time with us in foster and was perfectly fine with them, so I have no doubt that she would be fine in a family with children at least 7 years old that know how to be gentle with dogs.  She hasn't had the pleasure of meeting any cats yet and we're not absolutely sure how she'd do, but I imagine she'd be more than fine, especially if she was allowed to cuddle with a feline friend.  She's met the foster house chickens and was perfectly pleasant with them, so I don't anticipate her suddenly finding a hunting streak and terrorizing a cat.  Besides, she basically spends her day the same way a cat does at home; warm naps, eating, cuddling with humans.
I suspect Frenchie will be fine in a house, or an apartment, however, she's had two instances where she was quite vocal about being alone in the house in her crate so understanding neighbours might be required as she finds her new routine and settles into her new home.
All in all, if you're looking to have a warm cuddle buddy in your life to take on the world with, Frenchie could be your new best friend and might even surprise you with her funny little personality.