ADOPTION PENDING
Please read our dog bios carefully to be sure that the dog you are applying for suits your family and lifestyle. At Pound Dog Rescue, we believe in the benefits of post-adoption training for our dogs and their families. This allows for continued socialization, and learning and helps to create a well-mannered and balanced dog. Post-adoption training is a requirement in our adoption process.
Ophelia is an adorable 3-year-old white Shih Tzu with brown spots. Ophelia is about 11 pounds and has a very soft coat of fur and has ears that occasionally stand up! We are pretty sure Ophelia is mixed with Yorkshire Terrier somewhere up the line, but she is predominantly Shih Tzu.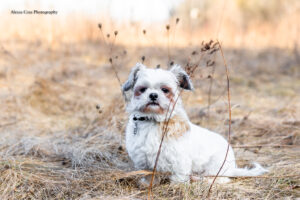 Ophelia is a sensitive dog who is playful and snuggly when she's feeling confident! She's got a soft soul and still deals with fears and requires a gentle adopter who is patient with her as she settles into her forever home.
Ophelia was recently saved from a puppy mill when they offloaded all their dogs. Ophelia is still unsure about the world and the humans in it and though she wants to be near people, she needs to come around on her own terms. When she's feeling safe and trusts the people around her, she is a wonderfully sweet and snuggly girl whose tail wag can wiggle her whole body! She loves to sleep curled up as close as possible to her favourite humans and jumps up and down with her feet in the air when she is excited about something. 
Ophelia is very affectionately nicknamed "Potato" in our household, as she doesn't have much of a neck and sometimes rolls onto her back into a little ball which we refer to as "potatoing". 
She has excelled in learning house training and learned quickly how to signal to go outside. Ophelia goes straight to the backdoor when she needs to go and will take herself outside with no issues navigating steps or thresholds. She learned where to "go" quickly and impressed us when she had a bad tummy and would wake us up in the night and lead the way outside. Ophelia LOVES being in the backyard and feels safest using the bathroom in her private space, however she is not a fan of loud noises and sometimes a noise will send her running for the door to get back inside.  She is a little more fearful when going out at night, but manages well if her humans are standing nearby. A fully fenced yard is needed to make both your life and her life easier.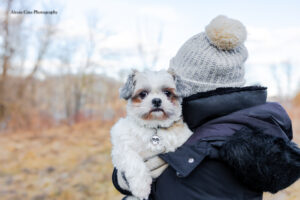 When we leave the house Ophelia is great in the crate. Though she's never gotten into anything when we're home, a crated dog is a safe dog! We have a camera and can see that she sleeps and settles well. Ophelia has been home alone for up to 5 hours at a time. Ophelia has had some occasions where she whines when alone as though she can be nervous of people she prefers to have them around rather than to be home alone. She is a wonderful work from home buddy and would like to be in a home with people home more often than not but Ophelia can be left alone daily for a few hours a day if need be. 
Ophelia has been to the vets and is in great health. The only thing they noted is that Ophelia was a very slight amount overweight, but she's been able to lose the pudge and build muscle through playing in the yard and taking the stairs! Ophelia is a picky eater which has made it easy for her to lose weight, but luckily we've figured out what food she will eat with minimal prompting! Ophelia came into our care heavily matted and needed to be shaved right down!  Her hair is growing back, but as she is a non-shedding dog her adopters must be sure to book her regular grooming appointments to look after her beautiful, thick coat and to keep her comfortable.
Ophelia occasionally plays in the backyard when she's outside and it is very cute watching her run full speed on her short little legs! She likes to zip and zoom around and doesn't seem overly bothered about the snow, but I can only imagine how much she'll enjoy the summer months! She likes to play with socks and toys too and tosses them in the air and takes them up to her bed to play with! She has a playful and spunky streak in her it's just a matter of getting her to feel safe enough to show it!

Ophelia has foster dog siblings and is ok with other dogs. She is polite in general and doesn't crowd her housemates but also expects the same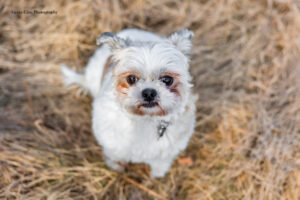 respect from the other dog. If the other pup is too in her face she will ask for space and she can be a little rude about it, preferring to watch from the couch so that her larger sibling can't reach her. Being so small she's been trampled and pushed and has needed to find her voice to stand for herself.  We would recommend her to be the only dog in her forever home, or to have a relaxed dog sibling who doesn't try to force their friendship. Ophelia has not met a cat but she would likely be fine to share her home with a cat, so long as they ignored her completely she would likely do the same.
Ophelia is still unsure of loud noises and unpredictability, so she needs a home where all family members are at least teenage or older. Our little Potato is sometimes a little spicy and will communicate her discomfort with a bit of growling. She's never snapped at people and her growling is done out of fear and uncertainty. As Ophelia can growl sometimes it's best to have an older family who can realize that she's not trying to be scary, and she needs her space to be respected. She very rarely growls at her fosters (in fact she's NEVER growled at her foster dad, only her foster mum) but guests in the house must realize she won't be rolling out the welcome wagon right away! Though she never acts on the growls, it's best not to push her or scold her as she's just sharing that she feels unsure and is wary of the strangers in the house. After she gets used to the guests she does warm up and has let our company pet her, but only after some time has passed and realizing they aren't coming to harm her.
Once she trusts you Ophelia is a very snuggly dog who loves to curl up next to you and get ear rubs. Ophelia loves rubbing her face into your hands and also loves soft belly pets. She loves hopping up on the bed or the couch to be right next to you and will snuggle up with her head on your leg. She loves to be close by and will follow her people up and down the stairs during the day to be part of the action.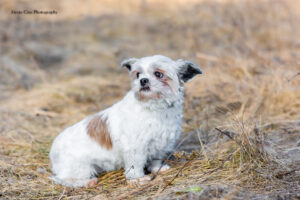 Ophelia has enjoyed some walks if it's nice and quiet out, but she does not like being outside if the neighbourhood is busy or loud. She's really enjoyed our trail walks but is a bit uninterested in walks where there aren't good sniffs to sniff! Ophelia is a flight risk as she is easily startled and extremely fast, so needs to be walked using a martingale collar and a securely clipped leash. 
Ophelia is a bit of an alert barker and likes to notify us when she hears a strange noise. Due to that, an apartment setting would not be a good fit as you might get a few noise complaints if she can hear goings on around her.  She is generally quiet but will let us know if she can hear something happening in the house or just outside that she is not sure about.
Overall Ophelia is a very sweet dog who just wants to be loved, but she takes a bit of time to warm up and to trust. She's been given no reason in her life to think that humans aren't so bad but she's still doing her best to learn how to be a member of a family! Ophelia will be the best companion to her forever human once that trust and bond has been established and she can share all of the love she has to give. If you're looking for a special little lady and a snuggly best friend with plenty of spunk, Ophelia just might be the girl for you!